Play the Slate News Quiz
With Jeopardy! superchampion Ken Jennings.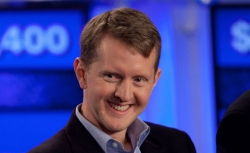 Welcome back to Slate's weekly news quiz. I'm your host, 74-time Jeopardy! winner Ken Jennings.
Every Friday I'll be testing your knowledge with 12 challenging questions on the week's news events, big and small, including happenings in science, sports, politics, and culture both high and low. The questions are multiple-choice, and time is of the essence: You have 30 seconds to answer, and as the seconds tick away, the question's point value drops from 50 all the way down to zero, so you'll want to click on your answer as fast as you possibly can. There's no penalty for an incorrect answer, so feel free to take a guess if your puny human brain fails you.
At the end of the quiz, you'll be able to compare your score with that of the average contestant, as well as to the score of a Slatester whom I've talked into taking the quiz on the record. This week's contestant is Vocabulary.com executive producer Ben Zimmer, who writes for Slate's new blog about language, Lexicon Valley.
Think you can ace my quiz and beat Zimmer? Good luck!
The small town of Sabang in Indonesia's Aceh province is in hot water this week for a questionnaire it handed out to junior high students, in which both boys and girls were required to report the size and appearances of their private parts. "There is no need to measure the size of students' genitals for any purpose," scolded the nation's education minister. Time to see how you measure up when it comes to the news stories, large and small, on this week's Slate News Quiz.
Question 1
of 12
Apple announced its long-awaited new iPhone this week, the 5C. In the tech press, what was the letter C widely presumed to stand for?
The iPhone 5C will be available in five colors: white, green, blue, pink, and yellow.
Question 2
of 12
According to a new United Nations report, what is true of one-third of the world's food?
The $750 billion worth of wasted food also makes up the world's third-highest source of carbon emissions, says the U.N.'s Food and Agriculture Organization.
Question 3
of 12
A Dutch-based initiative announced Monday that 202,586 people had registered to do what in the year 2023?
The Mars One project aims to settle Mars without any plans for a return trip. More than 2,700 people paid the fee to become an official candidate.
Question 4
of 12
An American attack on Syria was put on hold this week while the administration began pursuing a possible diplomatic solution. That solution appears to have been proposed accidentally by whom?
Speaking in London on Monday, Kerry said that only Assad turning over his chemical stockpile could avert an attack. Russia surprised everyone by jumping on the "offer."
Question 5
of 12
A New York court awarded Brandi Johnson $280,000 last week because her ex-boss, Rob Carmona, made what mistake during a lecture on professional behavior in the workplace?
Both Johnson and Carmona are black, but the judge dismissed that as irrelevant.
Question 6
of 12
Right-wing politician and former Ironman triathlete Tony Abbott may have become the world's most physically fit head of state Saturday after winning election in which nation?
Question 7
of 12
On Monday, a conference of 1,200 parents and scoutmasters announced the formation of Trail Life USA, a version of the Boy Scouts of America without what?
The organizers broke with the Boy Scouts of America over its May decision to allow gay Scouts.
Question 8
of 12
What is Sunset at Montmajour, a recently rediscovered lost work announced in Amsterdam this week?
The painting spent decades gathering dust in a Norwegian attic. The Van Gogh Museum dismissed it as a forgery in the 1990s, but it changed its mind after performing new tests.
Question 9
of 12
What did quarterback Peyton Manning tie an NFL record by doing seven times during the Broncos-Ravens game last week?
Question 10
of 12
On Sunday, who released a statement saying, "The police have a difficult job to do. ... I am grateful for their apology and look forward to a safe walk in the garden in the future"?
In an embarrassing mistake, the Duke of York was mistakenly detained by police at Buckingham Palace last week.
Question 11
of 12
Texas scientists have discovered the world's largest what, which they named Tamu in honor of Texas A&M University?
The Tamu Massif is an extinct supervolcano the size of New Mexico, located at the bottom of the Pacific Ocean off the Japanese coast.
Question 12
of 12
In recent weeks the tiny town of Deer Trail, Colo., has received hundreds of applications for $25 licenses for the privilege of hunting what?
The town won't vote on whether to approve the licenses until October, but that hasn't stopped more than 1,000 people from applying.
You got 8 out of 12 answers correct in 20 minutes 30 seconds.
Answer quickly to earn more points!
September 13, 2013
Anonymous User
Log in to track your scores!
vs.

Ben Zimmer
Blogger for Slate's Lexicon Valley
It's genetically modified
Take a one-way trip to Mars
Join a new underwater nation
Repeatedly called her the "n-word"
Appear in that damn Papa John's ad
Average
0 points
You
0 points

Ben Zimmer
Blogger for Slate's Lexicon Valley
0 points
Recent Quizzes
Loading your quiz history...
←
→
Quiz Template by Chris Kirk and Andrew Morgan