Play the Slate News Quiz
With Jeopardy! superchampion Ken Jennings.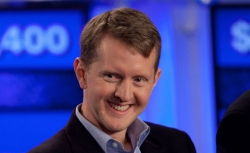 Welcome back to Slate's weekly news quiz. I'm your host, 74-time Jeopardy! winner Ken Jennings.
Every Friday I'll be testing your knowledge with 12 challenging questions on the week's news events, big and small, including happenings in science, sports, politics, and culture both high and low. The questions are multiple-choice, and time is of the essence: You have 30 seconds to answer, and as the seconds tick away, the question's point value drops from 50 all the way down to zero, so you'll want to click on your answer as fast as you possibly can. There's no penalty for an incorrect answer, so feel free to take a guess if your puny human brain fails you.
At the end of the quiz, you'll be able to compare your score with that of the average contestant, as well as to the score of a Slate-ster whom I've talked into taking the quiz on the record. This week's contestant is Carl Wilson, Slate's music critic and the author of Let's Talk About Love: A Journey to the End of Taste.

Think you can ace my quiz and beat Wilson? Good luck!
British scientists announced this week that snails are much faster than previously believed. In order to study the spread of a lungworm parasite that can be fatal to dogs, researchers fitted garden snails with little LED lights, and found that many could average speeds of 1 meter per hour! But be warned: You still won't ace this week's Slate News Quiz by solving it at a snail's pace.
Question 1
of 12
Which of these organizations did not briefly go down due to a critical systems outage during the past eight days?
NASDAQ trading was halted for three hours, Amazon's cloud service was down for one hour, and the Times was hacked by pro-Assad Syrians.
Question 2
of 12
On Monday, Secretary of State John Kerry promised a forceful response to what, which he called a "moral obscenity"?
Question 3
of 12
The city of Chicago settled on Monday with Jennifer Fitzgerald, who previously owed the city $106,000 for unpaid what?
The record fine was for a single violation: a 1995 Chevrolet Monte Carlo that her boyfriend left at O'Hare for three years. She bargained the city down to $4,500.
Question 4
of 12
A forthcoming biography and documentary about J. D. Salinger both make what surprising claim about the late author?
Question 5
of 12
Researchers at the University of California, Santa Barbara have announced that what manly activity releases 17 percent more testosterone than playing sports?
Question 6
of 12
Fill in the blanks. Controversial newsmaker ______ raised eyebrows this week by touring a ______ factory.
Question 7
of 12
Thousands of protesters took to the streets of what island nation over the weekend, calling for King Hamad Bin Isa al-Khalifa to step down?
Question 8
of 12
On Saturday, Muriel Siebert died of cancer. She was the first woman ever to own what?
She bought her seat in 1967, almost 10 years before the second woman to do so.
Question 9
of 12
San Francisco has declared a state of emergency because 80 percent of its water supply is currently threatened by what?
The massive fire in Yosemite National Park has reached the Hetch Hetchy Reservoir, the source of much of the Bay Area's water.
Question 10
of 12
This week marked the 50th anniversary of what milestone event of the 20th century?
Tens of thousands reconvened near the Lincoln Memorial to commemorate the "I Have a Dream" speech.
Question 11
of 12
Scientists in Maryland have used an "ytterbium optical lattice" to create the most accurate type of what device ever invented?
The atomic clock is so accurate that, if it had started running 13.8 billion years ago, at the estimated moment of the Big Bang, it would now be off by just one second.
Question 12
of 12
An American visiting Yukon's Dawson City was fined $500 on Saturday night for swallowing what unlikely ingredient of a famed local cocktail?
The hotel that serves the "Sourtoe" cocktail hopes that someone will donate a replacement toe. The fine for swallowing it has also been upped to $2,500.
You got 8 out of 12 answers correct in 20 minutes 30 seconds.
Answer quickly to earn more points!
August 30, 2013
Anonymous User
Log in to track your scores!
vs.

Carl Wilson
Slate's music critic
Syria's alleged chemical weapons attack
Ben Affleck being cast as Batman
He had a secret second family
He has five books set for posthumous release
He was so goddamn phony all the time
George Zimmerman, shotgun
A major league baseball team
A seat on the New York Stock Exchange
Illegally dumped pharmaceuticals
Dr. King's march on Washington
The Beatles on Ed Sullivan
A pearl onion that looks like Jesus
Average
0 points
You
0 points

Carl Wilson
Slate's music critic
0 points
Recent Quizzes
Loading your quiz history...
←
→
Quiz Template by Chris Kirk and Andrew Morgan