Play the Slate News Quiz
With Jeopardy! superchampion Ken Jennings.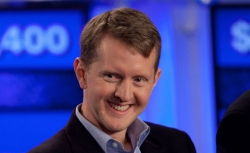 Welcome back to Slate's weekly news quiz. I'm your host, 74-time Jeopardy! winner Ken Jennings.
Every Friday I'll be testing your knowledge with 12 challenging questions on the week's news events, big and small, including happenings in science, sports, politics, and culture both high and low. The questions are multiple-choice, and time is of the essence: You have 30 seconds to answer, and as the seconds tick away, the question's point value drops from 50 all the way down to zero, so you'll want to click on your answer as fast as you possibly can. There's no penalty for an incorrect answer, so feel free to take a guess if your puny human brain fails you.
At the end of the quiz, you'll be able to compare your score with that of the average contestant, as well as to the score of a Slate-ster whom I've talked into taking the quiz on the record. This week's contestant is Seth Stevenson, a frequent contributor and the author of Grounded: A Down to Earth Journey Around the World.
Think you can ace my quiz and beat Stevenson? Good luck!
It was reported last weekend that 69-year-old Penny Freeman and her brother were trapped in their Yorkshire, U.K., home for four days, due to the terrifying menace of ... two seagulls. "I felt like a prisoner. The birds were very threatening," she told reporters. Every time she tried to leave the house, the gulls would vomit on her. If, like Ms. Freeman, you're stuck indoors with a little time on your hands, you could do worse than take a shot at the Slate News Quiz.
Question 1
of 12
Who or what was described in the news this week as "this cross between a Concorde, a rail gun, and an air hockey table"?
Hyperloop, as envisioned by billionaire Elon Musk, is a solar-powered regional transportation system in which pods carry travelers inside elevated tubes.
Question 2
of 12
According to an ongoing Reuters poll, fully 30 percent of Americans say they have no friends who are what?
The rate drops to 10 percent for Americans under age 30, however.
Question 3
of 12
At least 91 people were killed Saturday as a string of car bombings rocked Eid al-Fitr celebrations in which country?
Question 4
of 12
Whose long-lost early film, Too Much Johnson, was recently rediscovered in an Italian warehouse?
Question 5
of 12
Attorney General Eric Holder announced Monday that the Justice Department will no longer enforce mandatory minimum sentences for many offenders of what laws?
Question 6
of 12
According to a new profile in the New York Times this week, Edward Snowden first identified himself to journalists Glenn Greenwald and Laura Poitras by arranging to hold what unusual item?
According to a prearranged code, the journalists were to ask what time a nearby restaurant opened, and Snowden was to answer that the food was bad.
Question 7
of 12
To protest EU agricultural policies, farmers in Brittany, France, have been doing what every night outside tax offices?
A surplus has led to a 37 percent drop in French egg prices over the past year.
Question 8
of 12
Two lawsuits were filed on Monday challenging North Carolina's new law—one of the most stringent in country—restricting what?
The ACLU and NAACP suits claim that the new voter ID law discriminates against minority voters.
Question 9
of 12
Police opened fire Wednesday on the enormous opposition encampment outside the Rabaa Adawiya mosque in what city?
Hundreds have died amid security forces' crackdown on Islamist protesters.
Question 10
of 12
Who spent a day listening to the opinions of regular folks while disguised as a taxi driver—though it was later discovered that some of the passengers were paid participants found via a casting call?
Question 11
of 12
On Monday, a federal judge ordered whom to give up the practice of "stop and frisk"?
Question 12
of 12
Organizers in Edinburgh, Scotland, staged a "pride march" Saturday for members of what oppressed minority?
"All hail! The red, orange, and pale!" read some of the marchers' banners.
You got 8 out of 12 answers correct in 20 minutes 30 seconds.
Answer quickly to earn more points!
August 15, 2013
Anonymous User
Log in to track your scores!
vs.

Seth Stevenson
Frequent contributor
The Orlando, Fla., sinkhole
People they've met in real life
Willing to help them move
Shearing obscenities into sheep
Piling manure in doorways
The mayor of San Francisco
The prime minister of Norway
The New York Police Department
The Drug Enforcement Agency
San Diego Mayor Bob Filner
Average
0 points
You
0 points

Seth Stevenson
Frequent contributor
0 points
Recent Quizzes
Loading your quiz history...
←
→
Quiz Template by Chris Kirk and Andrew Morgan