Play the Slate News Quiz
With Jeopardy! superchampion Ken Jennings.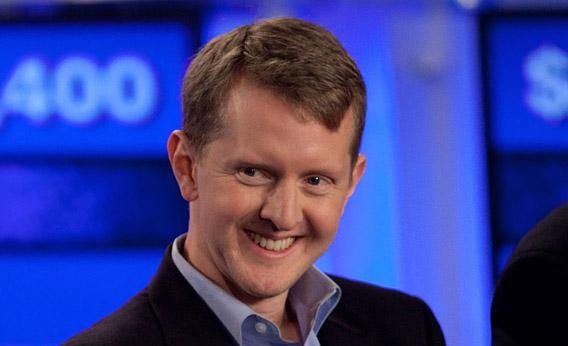 Welcome back to Slate's weekly news quiz. I'm your host, 74-time Jeopardy! winner Ken Jennings.
Every Friday I'll be testing your knowledge with 12 challenging questions on the week's news events, big and small, including happenings in science, sports, politics, and culture both high and low. The questions are multiple-choice, and time is of the essence: You have 30 seconds to answer, and as the seconds tick away, the question's point value drops from 50 all the way down to zero, so you'll want to click on your answer as fast as you possibly can. There's no penalty for an incorrect answer, so feel free to take a guess if your puny human brain fails you.
At the end of the quiz, you'll be able to compare your score with that of the average contestant, as well as to the score of a Slate staffer whom I've talked into taking the quiz on the record. This week's contestant is Slate's deputy editor, Julia Turner.
Think you can ace my quiz and beat Turner? Good luck!
Sometimes it's hard not to be endlessly shocked by the news. This week, for example, Fox News was combative to a Muslim interviewee, and the Guardian revealed an NSA tool for tracking Internet conversations. There was unrest in Cairo, and in the Anthony Weiner campaign. A baseball player is suspended for using steroids, and a football player used a racial slur—at a country music concert! I hope you weren't so amazed by these impossible-to-predict stories that you weren't paying attention to the rest of what happened. We're about to find out.
Question 1
of 12
Which of these charges was U.S. Army private Bradley Manning not found guilty of in a military court on Tuesday?
Question 2
of 12
A farmer told the New York Times this week that, to stop the spread of disease-bearing bacteria, he's tried injecting what crop with DNA from a virus, two vegetables, and even a pig?
A seemingly unstoppable disease known as "citrus greening" is decimating the world's orange groves, and genetic engineering may be the fruit's only hope.
Question 3
of 12
Why did former president George H. W. Bush shave his head last week?
The 2-year-old son of a member of his Secret Service detail is undergoing treatment for leukemia.
Question 4
of 12
U.N. Secretary-General Ban Ki-moon announced that the death toll has now reached 100,000 in which of these conflicts?
Question 5
of 12
Since 2010, residents of London, England have gotten stuck in ordinary household items over 1,300 times. The city's fire department wondered in a press release if this increase could be blamed on what?
"The number of incidents involving items like handcuffs seems to have gone up," said a spokesman, who also cited cases of penises caught in toasters and vacuum cleaners.
Question 6
of 12
After a six-month investigation of Chinese spy drones invading Indian airspace, India's military has concluded that the "drones" were actually what?
The mystery was solved last week by two astronomers from the Indian Institute of Astrophysics in Bangalore.
Question 7
of 12
The world's oldest head of government has announced he will step down if he loses this week's presidential election in what country?
Robert Mugabe, age 89, has ruled Zimbabwe since white rule ended in 1980.
Question 8
of 12
"Who am I to judge?" asked Pope Francis during an impromptu midair press conference on Sunday. Who was the pontiff refusing to judge?
Under Francis's predecessor, Pope Benedict XVI, the Vatican barred homosexuals from church service.
Question 9
of 12
Washington, D.C. police have arrested a Chinese woman linked to someone doing what to the Lincoln Memorial last Friday?
The woman, who has been carrying a soda can of light green paint around the nation's capital, has been linked to at least four other similar defacements.
Question 10
of 12
Officials say the driver of the train that crashed last week in northern Spain posted what on his Facebook profile page last year?
Investigators say the train might have been going as fast as 119 mph on a stretch of track with a 50-mph speed limit when it derailed last week, killing 79.
Question 11
of 12
On Tuesday, European Union foreign affairs chief Catherine Ashton became the first diplomat to see whom, reporting, "He's in good health. He's in good humor"?
Question 12
of 12
The world's second "hexapus"—a six-tentacled octopus—was recently discovered by an American tourist in Greece. What did he do with the find?
"It tasted just like normal octopus, but now I feel bad," said a repentant Labros Hydras once he learned of the creature's incredible rarity.
You got 8 out of 12 answers correct in 20 minutes 30 seconds.
Answer quickly to earn more points!
August 2, 2013
Anonymous User
Log in to track your scores!
vs.

Julia Turner
Slate's deputy editor
To cool down in record 108-degree weather
He had a cyst removed from his scalp
In solidarity with a cancer patient
"Bar says I look like Billy Zane"
The insurgency in Afghanistan
Children's helium balloons
Pelting it with ground beef
Climbing atop its lap naked
Trying to light it on fire
Jokes about drug and alcohol abuse
A photograph of a train speedometer at 125 mph
A quickly deleted suicide note
His sixth failed driving test
NSA leaker Edward Snowden
Deposed Egyptian president Mohammed Morsi
North Korean leader Kim Jong-un
"Royal baby" Prince George
Mailed it to the White House
Tried to sell it on eBay for a six-figure price
Grafted two "donor" tentacles onto its body
Fried it and ate it with lemon
Average
0 points
You
0 points

Julia Turner
Slate's deputy editor
0 points
Recent Quizzes
Loading your quiz history...
←
→
Quiz Template by Chris Kirk and Andrew Morgan