Play the Slate News Quiz
With Jeopardy! superchampion Ken Jennings.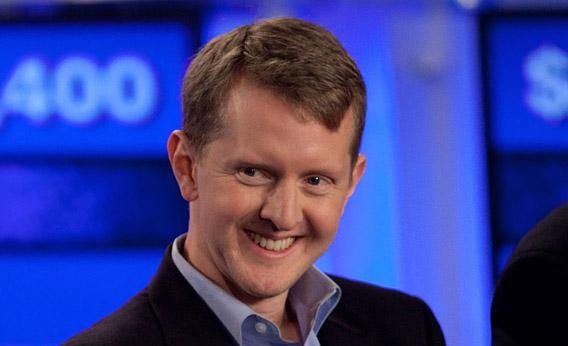 Welcome back to Slate's weekly news quiz. I'm your host, 74-time Jeopardy! winner Ken Jennings.
Every Friday I'll be testing your knowledge with 12 challenging questions on the week's news events, big and small, including happenings in science, sports, politics, and culture both high and low. The questions are multiple-choice, and time is of the essence: You have 30 seconds to answer, and as the seconds tick away, the question's point value drops from 50 all the way down to zero, so you'll want to click on your answer as fast as you possibly can. There's no penalty for an incorrect answer, so feel free to take a guess if your puny human brain fails you.
At the end of the quiz, you'll be able to compare your score with that of the average contestant, as well as to the score of a Slate staffer whom I've talked into taking the quiz on the record. This week's contestant is Allison Benedikt, the managing editor of Slate's DoubleX.
Think you can ace my quiz and beat Benedikt? Good luck!
Is nothing sacred? Last week a Yiddish linguistic institute contested the results of the Scripps National Spelling Bee, claiming that the winning word, knaidel, another name for a matzo ball, should actually be spelled kneydl. Rest assured that there will be no such controversy over the outcome of this week's Slate news quiz.
Question 1
of 12
Last Friday Earth came within an astronomical whisker (3.6 million miles) of Asteroid 1998 QE2, an asteroid so big it actually has its own what?
1998 QE2's moon is just 2,000 feet wide, but even that would be enough to take out an entire city in a collision with Earth.
Question 2
of 12
The widespread anti-government protests in Istanbul began last week over what seemingly benign issue?
The Turkish government plans to build a mall (designed to look like an old Ottoman army barracks, for some reason) in Taksim Square, the city's last remaining major greenspace.
Question 3
of 12
President Obama encouraged Congress to take action, or what will automatically double to 6.8 percent on July 1?
Question 4
of 12
The U.S. and China have announced that, beginning in July, they will hold regular, high-level talks on what issue?
China continues to deny claims that it sponsors cyber-attacks against the United States.
Question 5
of 12
On Monday, which of these defendants was granted permission to represent himself at his upcoming trial?
Hasan, an Army psychiatrist accused of killing 13, plans to argue that his rampage saved Afghan lives—specifically, those of Taliban fighters.
Question 6
of 12
It was revealed last weekend by the Federal Statistical Office that 1.5 million people fewer than projected were to be found where?
The first comprehensive German census since reunification found that the country had been vastly overestimating its population for decades.
Question 7
of 12
A University of Nebraska scientist has honored a late rock star with his recent discovery of what?
The newly discovered fossil, a Dalmatian-sized land lizard that once roamed Southeast Asia, is now named Barbaturex morrisoni.
Question 8
of 12
According to new numbers, a record 24.4 percent of European adults under the age of 25 are what?
Overall unemployment in the eurozone is at an all-time high of 12.2 percent.
Question 9
of 12
What unusual measure is being taken in the United Kingdom to stop the spread of bovine tuberculosis?
Small mammals like badgers are the disease's chief vector. A massive London demonstration, led by Queen's Brian May and a group of women dressed as badgers, opposed the cull.
Question 10
of 12
Following Daniel Akaka's retirement from the Senate in January, the late Frank Lautenberg became the last U.S. senator ever to have done what?
Lautenberg was 89. Two World War II veterans (John Dingell of Michigan and Ralph Hall of Texas) remain in the House.
Question 11
of 12
Thanks to the new edition of Le Petit Robert, a French dictionary, there is now at long last an official French word for what?
Galocher—to kiss with tongues—has long been a slang term, but it finally achieved dictionary status last Thursday.
Question 12
of 12
"Taco licker to get the axe," read a USA Today headline this week about whom?
The chain says that the much-circulated photo was part of an internal contest and the licked taco shells were never served. But the Ridgecrest, Calif., employee was terminated anyway.
You got 8 out of 12 answers correct in 20 minutes 30 seconds.
Answer quickly to earn more points!
June 7, 2013
Anonymous User
Log in to track your scores!
vs.

Allison Benedikt
managing editor of Slate's DoubleX
Line of bath and beauty products
A fruit cart seized by the government
A curfew for teens during a popular summer festival
Plans to turn a city park into a mall
A 3-cent increase in bus fares
The furloughed portion of the federal government
Aurora, Colo., theater shooter James Holmes
Boston bomber Dzhokhar Tsarnaev
Fort Hood shooter Nidal Hasan
WikiLeaks leaker Bradley Manning
In theaters seeing After Earth
A moon of Jupiter named for Keith Moon
A "purple haze" named for Jimi Hendrix
A species of walrus named for John Lennon
A "lizard king" named for Jim Morrison
Exporting its cow pies to Greenland
Banning importation of turtles
Forcing Starbucks to use powdered milk
Killing 1 percent of the nation's badgers
Served on the Warren Commission
Worn an old-timey striped bathing suit
A California Taco Bell employee
A Senate aide caught tampering with his boss's lunch
Average
0 points
You
0 points

Allison Benedikt
managing editor of Slate's DoubleX
0 points
Recent Quizzes
Loading your quiz history...
←
→
Quiz Template by Chris Kirk and Andrew Morgan