Play the Slate News Quiz
With Jeopardy! superchampion Ken Jennings.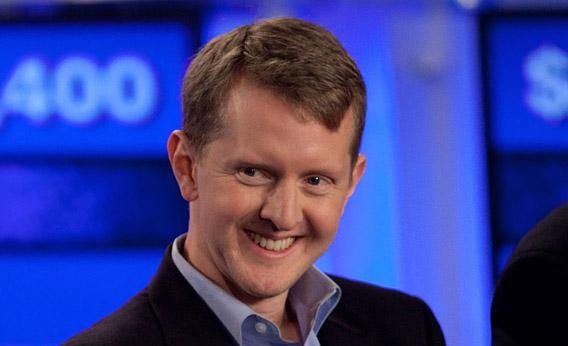 Welcome back to Slate's weekly news quiz. I'm your host, 74-time Jeopardy! winner Ken Jennings.
Every Friday I'll be testing your knowledge with 12 challenging questions on the week's news events, big and small, including happenings in science, sports, politics, and culture both high and low. The questions are multiple-choice, and time is of the essence: You have 30 seconds to answer, and as the seconds tick away, the question's point value drops from 50 all the way down to zero, so you'll want to click on your answer as fast as you possibly can. There's no penalty for an incorrect answer, so feel free to take a guess if your puny human brain fails you.
At the end of the quiz, you'll be able to compare your score with that of the average contestant, as well as to the score of a Slatester whom I've talked into taking the quiz on the record. This week's contestant is William J. Dobson, Slate's politics and foreign affairs editor and the author of The Dictator's Learning Curve: Inside the Global Battle for Democracy.
Think you can ace my quiz and beat Dobson? Good luck!
IBM announced this week that my old archenemy, the supercomputer Watson, will start handling customer service for IBM clients soon. Honestly, it does my heart good to see the once mighty Watson toiling away answering questions about ill-fitting merchandise and network outages. In the meantime, you'll be answering 12 much more important questions, on this week's Slate News Quiz.
Question 1
of 12
On Monday, a deadly tornado struck Moore, Okla., a suburb that had already been ravaged, in May 1999, by what disaster?
The 1999 tornado, which caused more than $1 billion in damage, spun at 302 miles per hour, still the fastest wind speed ever recorded on Earth.
Question 2
of 12
Canada's Chris Hadfield went from 20,000 Twitter followers to nearly a million as a result of the 146 days he just spent where?
Hadfield commanded the International Space Station for four months. Now back on Earth, he says he's relearning how to walk in normal gravity.
Question 3
of 12
According to the Social Security Administration, what TV-inspired name is now the fastest-growing name for baby girls in America?
"Arya," which clocked in at No. 711 on the list in 2011, leaped up to No. 413 in 2012.
Question 4
of 12
On July 1, Eric Garcetti will become the first Jewish person to hold what office?
Garcetti defeated city controller Wendy Greuel in Tuesday's election.
Question 5
of 12
Australia is now home to the world's largest herd of what animal, which have no natural predators and are running amuck?
The population of camels has skyrocketed since they were first imported from the Middle East and India in the 19th century, and the giant herds are now the bane of landowners.
Question 6
of 12
Why was a San Francisco restaurant called Bacon Bacon ordered to close its doors last week?
Question 7
of 12
In what country has President Goodluck Jonathan ordered the release of all women and children arrested in his crackdown on the Boko Haram insurgency?
Question 8
of 12
What do dinosaurs, Liberace, and Patrick Swayze all have in common?
When asked what kind of dinosaur, Ke$ha added, "Obviously it would be with a T-Rex." Obviously.
Question 9
of 12
If you have $200,000, what is a group of drug dealers in Toronto looking to sell you?
Mayor Rob Ford denies the allegations, which have been corroborated by reporters from Gawker and the Toronto Star.
Question 10
of 12
A struggling New Hampshire professor named Yitang Zhang has gone from working as a Subway "sandwich artist" to making headlines this week for what?
Question 11
of 12
"My question isn't about who's going to resign. My question is about who's going to jail," said John Boehner last week about what national embarrassment?
Question 12
of 12
What boom industry in the northeastern U.S. is running into problems due to the 150 million gallons of dangerous waste it produces every year?
Manufacturing the trendy food produces tons of "acid whey," a by-product that can decimate streams and rivers.
You got 8 out of 12 answers correct in 20 minutes 30 seconds.
Answer quickly to earn more points!
May 23, 2013
Anonymous User
Log in to track your scores!
vs.
William J. Dobson
Slate's politics editor
A grain elevator explosion
Flooding of the North Canadian River
Imprisoned in North Korea
"Sookie," from True Blood
"Arya," from Game of Thrones
Chairman of the Joint Chiefs of Staff
Governor-General of Canada
Neighbors say it smells too much like bacon
Its "bacon" is mostly raccoon meat
Illegal use of Kevin Bacon's image in its signage
HBO is premiering movies about all three
Genetic samples of each are being sold at auction
Images of each were censored in China this week
Ke$ha listed them as ghosts she'd like to have sex with
The domain rights to "marijuana.com"
A bulletproof 1978 Volkswagen Beetle
Their (apparently legal) diet-pill side business
A video purported to show the mayor smoking crack
Winning the $590 million Powerball jackpot
Inventing a device that can charge a phone in 30 seconds
Solving part of math's "twin primes" conjecture
Discovering water on Jupiter
Linkin Park front man Chester Bennington joining Stone Temple Pilots
Average
0 points
You
0 points
William J. Dobson
Slate's politics editor
0 points
Recent Quizzes
Loading your quiz history...
←
→
Quiz Template by Chris Kirk and Andrew Morgan