Play the Slate News Quiz
With Jeopardy! superchampion Ken Jennings.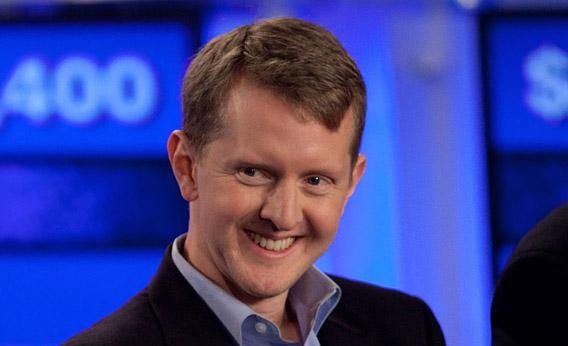 Welcome back to Slate's weekly news quiz. I'm your host, 74-time Jeopardy! winner Ken Jennings.
Every Friday I'll be testing your knowledge with 12 challenging questions on the week's news events, big and small, including happenings in science, sports, politics, and culture both high and low. The questions are multiple-choice, and time is of the essence: You have 30 seconds to answer, and as the seconds tick away, the question's point value drops from 50 all the way down to zero, so you'll want to click on your answer as fast as you possibly can. There's no penalty for an incorrect answer, so feel free to take a guess if your puny human brain fails you.
At the end of the quiz, you'll be able to compare your score with that of the average contestant, as well as to the score of a Slate staffer whom I've talked into taking the quiz on the record. This week's contestant is Josh Voorhees, the editor of the Slatest.

Think you can ace my quiz and beat Voorhees? Good luck!
We are coming to the end of a slow news week—a relief, frankly, after a tumultuous April. But weeks like this are the real test of your news knowledge: When stories like a secretary of transportation nomination lead newscasts, are you still paying attention? Can you still stay awake? We're about to find out.
Question 1
of 12
Last Friday, U.S. lawmakers agreed on a bill to address what costly consequence of the sequester?
Democrats and Republicans alike criticized Congress for swooping in to end the FAA furloughs while many other agencies continued to struggle.
Question 2
of 12
Mohammed Sohel Rana was arrested at the Indian border Sunday and returned to Dhaka, Bangladesh, to face charges related to what incident?
More than 400 people have died in the collapse of the Rana Plaza, which its owner assured tenants was safe the day before the disaster.
Question 3
of 12
A Manchester, N.H., man lost his entire life savings, $2,600, at a carnival ball-toss game last week. What did he receive as a consolation prize?
Henry Gribbohm wasn't mollified by the giant stuffed banana, which he received in response to his complaints, and filed a police report for fraud.
Question 4
of 12
Two of Dzhokar Tsarnaev's college classmates were arrested Wednesday on conspiracy charges. What are they accused of doing?
Question 5
of 12
Producers announced on Sunday that a musical based on what 1976 film—already playing to full crowds in Europe—is heading to Broadway this winter?
Question 6
of 12
On Monday, ESPN's Chris Broussard accused whom of "walking in open rebellion to God"?
Question 7
of 12
A 330 mph storm that scientists are calling "The Rose" is currently brewing where?
NASA's Cassini spacecraft, the first ever to orbit Saturn, captured an image of the hurricane, whose eye is about 20 times larger than the average hurricane's on Earth.
Question 8
of 12
Half a dozen people were left bruised and bloodied by flying chairs and laptops in an unusual brawl that took place Tuesday where?
Opposition leaders and supporters of new president Nicolá¡s Maduro blamed each other for the violence, which led to protests in the streets of Caracas.
Question 9
of 12
On Tuesday, Tunisian-born Ridha Khadher won the Parisian "Grand Prix"—and a yearlong contract with French President François Hollande—for what accomplishment?
It takes the 42-year-old baker nearly 24 hours to make each of his prize-winning baguettes.
Question 10
of 12
On Thursday, construction crews finally hoisted the spire that will make a new skyscraper in what city the tallest building in the Western Hemisphere?
One World Trade Center will be a symbolic 1,776 feet high when the spire is installed, bumping Chicago's Willis Tower down to second place.
Question 11
of 12
Koala populations are plummeting in Australia thanks to what unusual threat?
A strain of the sexually transmitted disease has infected more than 90 percent of the koala population in some areas.
Question 12
of 12
At the White House Correspondents' Dinner on Saturday, Steven Spielberg said he would direct a new biopic of Barack Obama in which the president would be played by whom?
In the comedy sketch, Obama himself portrayed Daniel Day-Lewis portraying Obama.
You got 8 out of 12 answers correct in 20 minutes 30 seconds.
Answer quickly to earn more points!
May 3, 2013
Anonymous User
Log in to track your scores!
vs.
Josh Voorhees
Editor of the Slatest
Cutbacks at Meals on Wheels
Flood risks at the U.S. Geological Survey
An unsuccessful suicide bombing
Bribing the Thai ambassador
The collapse of a garment factory building
A giant Pope Francis bobblehead
A banana wearing dreadlocks
A stuffed owl in a "Whooo farted?" t-shirt
Helping him design the bombs
Getting rid of his laptop and backpack
Hiding him in their dorm room
Buying him train tickets to New York
Michael Jordan, for remarrying
Jason Collins, for coming out as gay
Barack Obama, for speaking at Planned Parenthood
The New York Jets, for releasing Tim Tebow
Between the Earth's crust and mantle
The Venezuelan legislature
A Pepsi shareholders meeting
Average
0 points
You
0 points
Josh Voorhees
Editor of the Slatest
0 points
Recent Quizzes
Loading your quiz history...
←
→
Quiz Template by Chris Kirk and Andrew Morgan