Play the Slate News Quiz
With Jeopardy! superchampion Ken Jennings.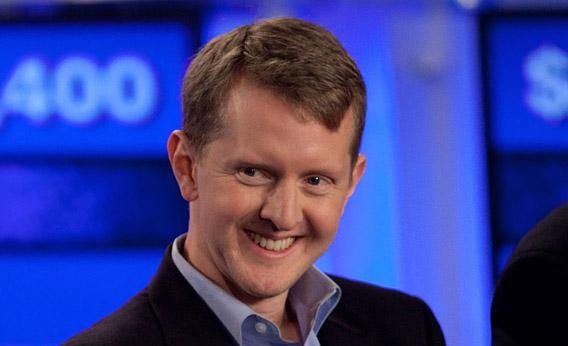 Welcome back to Slate's weekly news quiz. I'm your host, 74-time Jeopardy! winner Ken Jennings.
Every Friday I'll be testing your knowledge with 12 challenging questions on the week's news events, big and small, including happenings in science, sports, politics, and culture both high and low. The questions are multiple-choice, and time is of the essence: You have 30 seconds to answer, and as the seconds tick away, the question's point value drops from 50 all the way down to zero, so you'll want to click on your answer as fast as you possibly can. There's no penalty for an incorrect answer, so feel free to take a guess if your puny human brain fails you.
At the end of the quiz, you'll be able to compare your score with that of the average contestant, as well as to the score of a Slate staffer whom I've talked into taking the quiz on the record. This week's contestant is Slate's executive editor, Josh Levin, who is also the host of Slate's sports podcast, Hang Up and Listen.
Think you can ace my quiz and beat Levin? Good luck!
Nobody ever went broke underestimating the geographic knowledge of the American public. In the wake of news reports about the Chechen origins of the Boston Marathon bombing suspects, anti-Czech sentiment spread like wildfire across the Internet. "The Czech Republic and Chechnya are two very different entities," the Czech ambassador to the United States was forced to announce, presumably trying very hard not to roll his eyes. If you already knew that, you might just be ahead of the game on this week's quiz.
Question 1
of 12
It was reported last week that the two last native speakers of the Ayapaneco language, in southern Mexico, have suffered what misfortune?
Question 2
of 12
The Dow dropped precipitously for a few minutes on Tuesday, briefly losing $134 billion, due to what supposed occurrence that never actually happened?
The nonexistent explosion was reported on the Associated Press's Twitter feed, which had evidently been hacked by a group calling itself the "Syrian Electronic Army."
Question 3
of 12
Businessman David Rubenstein has donated $10 million to Thomas Jefferson's Monticello estate, specifically for the re-creation of what?
"I think it's important to tell people the good and the bad of American history, not only the things that we might like to hear," Rubenstein said.
Question 4
of 12
A. J. Clemente was fired in Bismarck, N.D., on Monday after just one day on the job. What was Clemente's rookie mistake?
After Clemente put the "F" back in KFYR-TV, the station apologized to its viewers for its new anchor's inauspicious debut.
Question 5
of 12
An unprecedented wave of what has plagued Beijing almost every day since the start of 2013?
The dense air pollution has killed thousands and has many foreign expatriates reconsidering their future in China.
Question 6
of 12
The Elvis impersonator accused of sending ricin-laced letters to Washington has now been freed after accusing what man, apparently his local archenemy, of the crime?
Curtis says he's been framed by dojo owner Everett Dutschke and doesn't even know what ricin is. "I don't even eat rice," he told police.
Question 7
of 12
The New York Times last week revealed the latest hipster parenting trend: raising babies entirely without what?
Proponents of "elimination communication," as it is called, say it preserves the environment and prevents diaper rash.
Question 8
of 12
Watertown resident David Henneberry has requested that people donate to One Fund Boston, instead of an Internet campaign aimed at replacing which of his possessions?
The second bombing suspect was found in Henneberry's beloved boat, the aptly named Slip Away II, but the owner says replacing the bullet-riddled boat isn't a priority. "People lost lives and lost limbs," he said.
Question 9
of 12
A new study from the University of British Columbia indicates that Tylenol, in addition to relieving headaches, is also a good cure for which of these conditions?
The patients in the study who took Tylenol before watching disturbing David Lynch clips seemed better able to cope with the resulting feelings of unease and despair.
Question 10
of 12
According to Secretary of Defense Chuck Hagel, the U.S. now believes that which of these world leaders has been using chemical weapons against his own people?
The intelligence suggests that the Assad regime has been using sarin gas against rebels.
Question 11
of 12
The new George W. Bush Presidential Center is the only presidential library to boast which of these features?
Question 12
of 12
"You don't know how to adjust the rearview mirror ... you don't know how to drive this car," blogged musician Amanda Palmer on Sunday, near the end of her widely criticized poem addressed to whom?
Palmer says her "Poem for Dzhokhar" took her only nine minutes to write.
You got 8 out of 12 answers correct in 20 minutes 30 seconds.
Answer quickly to earn more points!
April 26, 2013
Anonymous User
Log in to track your scores!
vs.
Josh Levin
Slate's executive editor
They've fallen out and aren't speaking
A new law forces them to stick to Spanish
They can't understand each other's accents
An explosion at the White House
Spain defaulting on its debt
A North Korean missile attack
Two investment banks declaring bankruptcy
Jefferson's slave quarters
Jefferson's family, in robot form
Jefferson's pornography library
Throwing up on the governor's mother
Opening a dam and flooding three towns
Swearing twice at the top of a nightly newscast
Stealing a tanker truck full of cheese
A Michael Jackson impersonator
His Boston Marathon medal
Existential dread of death
LEED Platinum status for "green" architecture
A full Oval Office replica
A complete run of Captain Underpants books
Average
0 points
You
0 points
Josh Levin
Slate's executive editor
0 points
Recent Quizzes
Loading your quiz history...
←
→
Quiz Template by Chris Kirk and Andrew Morgan