Play the Slate News Quiz
With Jeopardy! superchampion Ken Jennings.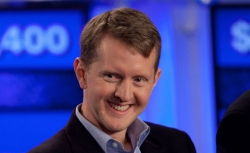 Welcome back to Slate's weekly news quiz. I'm your host, 74-time Jeopardy! winner Ken Jennings.
Every Friday I'll be testing your knowledge with 12 challenging questions on the week's news events, big and small, including happenings in science, sports, politics, and culture both high and low. The questions are multiple-choice, and time is of the essence: You have 30 seconds to answer, and as the seconds tick away, the question's point value drops from 50 all the way down to zero, so you'll want to click on your answer as fast as you possibly can. There's no penalty for an incorrect answer, so feel free to take a guess if your puny human brain fails you.
At the end of the quiz, you'll be able to compare your score with that of the average contestant, as well as to the score of a Slate staffer whom I've talked into taking the quiz on the record. This week's contestant is Hanna Rosin, co-founder of Slate's DoubleX and the author of The End of Men.
Think you can ace my quiz and beat Rosin? Good luck!


A heated debate raged in the pages of Nature magazine this month, as physicists tackled a pressing question: If you were to fall into a black hole, what would the cause of death be? Would you be stretched and squished via the process charmingly called "spaghettification," as has long been believed, or would you burst into flame as you crossed the event horizon? Luckily, that will not be one of the questions on this week's quiz, which hopefully you can escape without being crushed by gravity or burnt to a crisp.
Question 1
of 12
The U.S. Navy announced plans this week to deploy to the Persian Gulf a new system that, for the first time, can shoot down drones how?
Question 2
of 12
The Senate confirmed Sally Jewell, formerly the CEO of REI, as what on Wednesday?
Question 3
of 12
Activists in Germany have announced plans to occupy the 26,000-square-foot life-sized replica of what that is currently being built in Berlin's Alexanderplatz square?
"The Barbie Dreamhouse is the expression of a conventional role model that isn't OK," say organizers, who call the project sexist.
Question 4
of 12
Thanks to a Facebook campaign following Margaret Thatcher's death, what song entered the top 10 of the U.K. pop charts on Wednesday?
Question 5
of 12
Fill in the blanks. On Wednesday, _____ jointly announced an agreement to finally settle the longstanding and contentious issue of _____.
Question 6
of 12
Anne Smedinghoff, the first U.S. diplomat to die in the line of duty since the 2012 Benghazi attack, was killed last Friday while doing what?
Killed in a bomb attack, the 25-year-old foreign service officer volunteered last summer for the Kabul assignment after serving a tour in Venezuela straight out of college.
Question 7
of 12
In accordance with a Chilean court order, what happened to 1971 Nobel literature laureate Pablo Neruda this week?
Two members of Neruda's staff have speculated that he was poisoned by the Pinochet regime, and investigators aim to determine if he was murdered.
Question 8
of 12
On Friday, KFC announced a surprising brand reversal in which they will focus, for the first time, on buckets of chicken that don't contain any what?
The chain is calling the April rollout of its new "Original Recipe Boneless" flagship product its "biggest product introduction ... in modern times."
Question 9
of 12
Looming thunderstorms this week threatened recovery efforts following what disaster that struck Mayflower, Ark. on March 29?
According to a class-action lawsuit filed this week by residents, the rupture in the Exxon Mobil Pegasus pipeline has spilled more than 19,000 barrels of oil into their subdivision and surrounding wetlands.
Question 10
of 12
Target apologized last week for an "unintentional oversight," in which it carried a kimono-style dress in "Dark Heather Gray," but used what name for the plus-size dress of the same color?
Question 11
of 12
The appropriately named Sam Mullet was denied release from prison this week. Mullet led an unusual crime spree in 2011 by doing what?
Question 12
of 12
Many observers have linked North Korea's saber-rattling this week to their most important annual holiday, coming up on April 15. What is that holiday?
You got 8 out of 12 answers correct in 20 minutes 30 seconds.
Answer quickly to earn more points!
April 11, 2013
Anonymous User
Log in to track your scores!
vs.
Hanna Rosin
co-founder of Slate's DoubleX and the author of The End of Men
Secretary of the interior
"Best-looking attorney general in the country"
"Maggie May" by Rod Stewart
"Tramp the Dirt Down" by Elvis Costello
"A New England" by Billy Bragg
"Ding Dong! The Witch Is Dead" from The Wizard of Oz
China and Japan, the Senkaku Islands
Sens. Pat Toomey and Joe Manchin, gun background checks
President Obama and House Republicans, entitlement reform
Brad Paisley and LL Cool J, racism in America
Delivering books to schoolchildren in Afghanistan
Giving a press briefing in Iraq
Monitoring an election in Azerbaijan
Working with federal police in Mexico
His citizenship was revoked
His poetry was carved into a glacier
His childhood home was burned
Holding up banks in a hockey uniform and mask
Blackmailing people with old yearbook photos
Cutting Amish people's hair and beards
Exposing himself to barbers and stylists
Eventual Victorious Reunification Day
Great Leader Kim Il-sung's Birthday
Day of Socialist Liberation Fervor
Glorious People's Income Tax Filing Deadline
Average
0 points
You
0 points
Hanna Rosin
co-founder of Slate's DoubleX and the author of The End of Men
0 points
Recent Quizzes
Loading your quiz history...
←
→
Quiz Template by Chris Kirk and Andrew Morgan