Play the Slate News Quiz
With Jeopardy! superchampion Ken Jennings.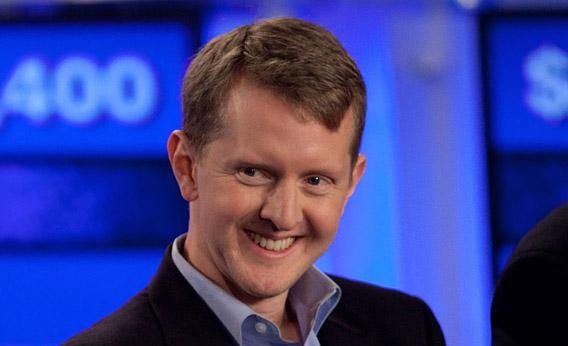 Welcome back to Slate's weekly news quiz. I'm your host, 74-time Jeopardy! winner Ken Jennings.
Every Friday I'll be testing your knowledge with 12 challenging questions on the week's news events, big and small, including happenings in science, sports, politics, and culture both high and low. The questions are multiple-choice, and time is of the essence: You have 30 seconds to answer, and as the seconds tick away, the question's point value drops from 50 all the way down to zero, so you'll want to click on your answer as fast as you possibly can. There's no penalty for an incorrect answer, so feel free to take a guess if your puny human brain fails you.
At the end of the quiz, you'll be able to compare your score with that of the average contestant, as well as to the score of a Slate staffer whom I've talked into taking the quiz on the record. This week's contestant is Slate's chief political correspondent, John Dickerson.
Think you can ace my quiz and beat Dickerson? Good luck!
What would motivate you to excel on this week's quiz? Threats of nuclear annihilation, in the style of North Korea's propaganda machine? Shoves, kicks, and slurs, à la Rutgers basketball coach Mike Rice? Me, I'm more of a positive reinforcement kind of guy. So before you click on "Let's Get Started," let me just say this: I don't know you personally, but I believe in you. You're going to do great.
Question 1
of 12
Prime Minister Najib Razak dissolved parliament on Wednesday, paving the way for elections that may end 56 years of his coalition's rule in what country?
Razak will go up against opposition leader Anwar Ibrahim in what experts predict will be a close race.
Question 2
of 12
According to a new survey, more than 28,000 of what have mysteriously disappeared from maps of China since the 1990s?
Only 22,909 rivers—less than half once found in China—apparently remain. The loss is believed to be a result of ill-advised development projects.
Question 3
of 12
Maria Belen Chapur, an Argentine journalist, raised eyebrows this week with her surprise appearance where?
Chapur is the woman who broke up Sanford's marriage in 2009 while he claimed to be "hiking the Appalachian Trail."
Question 4
of 12
Samoa Air this week became the world's first airline to charge passengers fares based directly on what?
As a result of Samoa's obesity problem, passengers will be weighed at airport scales to learn how much their seat will cost.
Question 5
of 12
"Erasure parties" were among the offenses reported in a grand jury indictment handed down in Atlanta on Friday. What allegedly happened at these parties?
Teachers involved in the Atlanta public school scandal allegedly changed the answers on students' standardized tests to boost scores.
Question 6
of 12
According to new research from Wales, what famous Briton was repeatedly prosecuted and fined for tax evasion and hoarding food?
Researchers argue that Shakespeare the hoarder and tax-evader was "redacted from history so that Shakespeare the creative genius could be born."
Question 7
of 12
NBC confirmed on Wednesday that Jimmy Fallon will replace Jay Leno as host of The Tonight Show. In comparing the news to NBC's previous attempt at replacing him, what did Leno say was different about this time?
"I've kept it No. 1 for about 90 percent of my term here, and I would like to see Jimmy keep it at No. 1, which I'm sure he will," he added.
Question 8
of 12
According to one inmate's defense attorney, what is now true of about 78 percent of the detainees at Guantánamo prison?
While U.S. officials' estimates are lower, Shaker Aamer told his lawyer that around 130 of the 166 detainees are now striking, and some are being force-fed through their noses.
Question 9
of 12
Mally was confiscated and quarantined by German authorities last Thursday upon entering the country illegally. Who is Mally?
Question 10
of 12
In terms of softness and vulnerability, what was compared to a "boiled pumpkin" in headlines this week?
Question 11
of 12
On Wednesday, the Connecticut General Assembly passed the nation's strictest laws on what issue?
Besides banning assault rifles and requiring background checks, the bill in Sandy Hook's home state will create the first statewide registry of gun-crime violators.
Question 12
of 12
Researchers at U.C.-Santa Cruz have broken new ground by training a sea lion called Ronan to do what?
Ronan is the first (non-human) mammal to demonstrate a sense of rhythm.
You got 8 out of 12 answers correct in 20 minutes 30 seconds.
Answer quickly to earn more points!
April 5, 2013
Anonymous User
Log in to track your scores!
vs.
John Dickerson
Slate's chief political correspondent
Pope Francis' Easter speech
Mark Sanford's victory party
The Game of Thrones season premiere
Ballots were tampered with
Test answers were changed
Corporate emails were deleted
1980s synthpop was enjoyed
He was no longer No. 1 in the ratings
He was involved in the negotiations
They've been cleared for release
They're on hunger strikes
A cloned salamander of a formerly extinct species
Justin Bieber's pet monkey
A champion racing ostrich
The U.S. mainland, according to Kim Jong-Un
Mary Landrieu's Senate seat, according to Reince Priebus
The Spanish economy, according to the EU
Kevin Ware's leg, according to his doctors
Bob its head to a Backstreet Boys song
Average
0 points
You
0 points
John Dickerson
Slate's chief political correspondent
0 points
Recent Quizzes
Loading your quiz history...
←
→
Quiz Template by Chris Kirk and Andrew Morgan