Play the Slate News Quiz
With Jeopardy! superchampion Ken Jennings.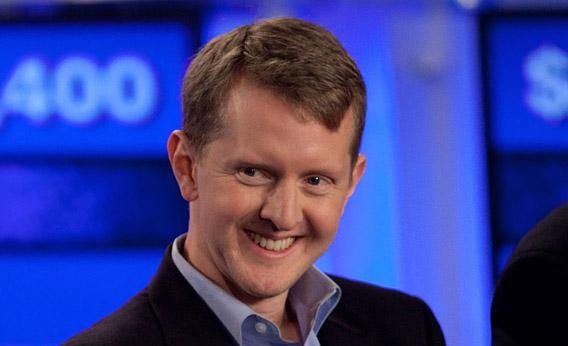 Welcome back to Slate's weekly news quiz. I'm your host, 74-time Jeopardy! winner Ken Jennings.
Every Friday I'll be testing your knowledge with 12 challenging questions on the week's news events, big and small, including happenings in science, sports, politics, and culture both high and low. The questions are multiple-choice, and time is of the essence: You have 30 seconds to answer, and as the seconds tick away, the question's point value drops from 50 all the way down to zero, so you'll want to click on your answer as fast as you possibly can. There's no penalty for an incorrect answer, so feel free to take a guess if your puny human brain fails you.
At the end of the quiz, you'll be able to compare your score with that of the average contestant, as well as to the score of a Slate staffer whom I've talked into taking the quiz on the record. This week's contestant is Slate assistant editor Katy Waldman.
Think you can ace my quiz and beat Waldman? Good luck!
The Guangzhou Daily reported last weekend that a fish vendor named Huang was gutting a squid when he was surprised to find inside a 3-pound unexploded bomb of undetermined make and vintage. The Chinese newspaper reminds its readers to always call in the authorities when they find explosives in their seafood. Keep Mr. Huang's squid in mind as you slice into the 12 questions on this week's news quiz. All are slippery, but some are booby-trapped.
Question 1
of 12
According to a newly passed amendment to the North Dakota state constitution, life begins when?
The "personhood" resolution will go in front of the state's voters next November.
Question 2
of 12
Visitors to New York City's Museum of Modern Art last Saturday were surprised to see a new, unannounced exhibit: a glass box full of what?
Swinton has "performed" in the art installation, called "The Maybe," during past runs in London and Rome.
Question 3
of 12
President François Bozizé was ousted Sunday by a rebel coup in what central African republic?
Question 4
of 12
What did Democratic Sens. Claire McCaskill, Mark Warner, Jay Rockefeller, Jon Tester, and Kay Hagan all do this week?
Question 5
of 12
President Obama brokered an apology last Friday that ended a three-year feud between what two parties?
Israeli Prime Minister Benjamin Netanyahu agreed to apologize for the 2010 commando raid on a Gaza aid flotilla in which nine Turks were killed.
Question 6
of 12
Bill Gates announced on Monday that he's offering a $100,000 prize to anyone who can invent what?
The estimated 80 recipients of the "next generation condom" prize will be eligible for a $1 million follow-up grant.
Question 7
of 12
Who returned to public life this week, telling an audience at USC, "I join you keenly aware that I am regarded in a different light now than I was a year ago"?
Question 8
of 12
The Daily Beast reported last week that oversight of what might soon shift to the Department of Defense, to address concerns over "transparency"?
Question 9
of 12
The Language Council of Sweden has been forced to remove what word from its list of new Swedish words, after corporate complaints?
Or, as they say in Sweden, "ogooglebar." Google insisted the word should come with an asterisk explaining its trademarked nature.
Question 10
of 12
The governor of Montana is expected to sign a newly passed measure finally allowing the state's residents to eat what?
"It really is a sin to waste good meat," says the state senator who proposed the bill.
Question 11
of 12
What country's citizens stand to lose more than $3 billion in the new tax rates agreed to as part of the EU's bailout of Cyprus?
Nearly a third of all the money in Cyprus' banking sector belongs to Russians, who have long used the island as their tax haven of choice.
Question 12
of 12
Las Vegas tycoon Steve Wynn reportedly sold a Picasso this week to hedge-fund manager Steven Cohen for a record $155 million. What scuttled the original sale to Cohen, back in 2006?
In saying his final goodbye to the painting, Wynn managed to leave a silver-dollar-sized hole in the canvas (which has since been restored).
You got 8 out of 12 answers correct in 20 minutes 30 seconds.
Answer quickly to earn more points!
March 29, 2013
Anonymous User
Log in to track your scores!
vs.
Katy Waldman
Slate assistant editor
$250 million in gold bullion
Napping actress Tilda Swinton
The Central African Republic
Vote against an assault weapons ban
Come out in support of gay marriage
Announce they won't run for re-election
Oppose their party's budget
The United Nations and the Vatican
Buddhists and Muslims in Burma
A more pleasurable condom
Reports that the painting was a forgery
Wynn put his elbow through the canvas
An affair between Cohen and Wynn's then-wife
Wynn refused to include the frame
Average
0 points
You
0 points
Katy Waldman
Slate assistant editor
0 points
Recent Quizzes
Loading your quiz history...
←
→
Quiz Template by Chris Kirk and Andrew Morgan
Correction, March 29, 2013: Due to a production error, clicking the correct answers for Questions 5 and 7 originally did not award points. The interactive has been updated to fix this issue, and Slate contestant Katy Waldman's score has been adjusted to reflect her correct answers.