Play the Slate News Quiz
With Jeopardy! superchampion Ken Jennings.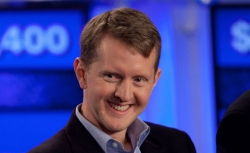 Welcome back to Slate's weekly news quiz. I'm your host, 74-time Jeopardy! winner Ken Jennings.
Every Friday I'll be testing your knowledge with 12 challenging questions on the week's news events, big and small, including happenings in science, sports, politics, and culture both high and low. The questions are multiple-choice, and time is of the essence: You have 30 seconds to answer, and as the seconds tick away, the question's point value drops from 50 all the way down to zero, so you'll want to click on your answer as fast as you possibly can. There's no penalty for an incorrect answer, so feel free to take a guess if your puny human brain fails you.
At the end of the quiz, you'll be able to compare your score with that of the average contestant, as well as to the score of a Slatester whom I've talked into taking the quiz on the record. This week's contestant is Slate's technology columnist, Farhad Manjoo.
Think you can ace my quiz and beat Manjoo? Good luck!

It's been one week since the New York Post reported the disturbing news that Matt Lauer is being courted to replace Alex Trebek on Jeopardy!, the nation's No. 1 syndicated quiz show (and always No. 1 in my heart). Rest easy, America: I'm not going anywhere as your weekly host of the Slate News Quiz, no matter how many balding morning-show hosts want the gig. And unlike a certain cranky Canadian, I don't make you answer in the form of a question.
Question 1
of 12
Iranian mullahs were up in arms last week over Mahmoud Ahmadinejad's behavior at Hugo Chávez's funeral. In the eyes of the clerics, what Islam-prohibited faux pas did Ahmadinejad commit?
"No unrelated woman can be touched unless she is drowning at sea or needs medical treatment," insisted the clerics.
Question 2
of 12
"Panicos" is the unfortunate first name of the banking chief of what nation, which rejected an EU bailout for its financial crisis this week?
Panicos Demetriades is the governor of the Central Bank of Cyprus.
Question 3
of 12
What was unusual about the defending national champion Kentucky Wildcats' seeding in the NCAA men's basketball tournament, announced Sunday?
It's only the fifth time in the history of the 64-team field that the defending national champion didn't make the tournament.
Question 4
of 12
The AP reported this week that two Americans are still receiving $876 annual government payments for what unusual reason?
Both were born around the 1920s to Civil War vets probably in their 70s or 80s. More than $40 billion is spent overall on veterans' benefits every year, more than half to Vietnam War vets.
Question 5
of 12
A movie villain will marry his greatest enemy later this year—that is, he will officiate at his nemesis' real-life wedding. Who are the two archrivals in question?
Sir Ian McKellen will pay a $25 Massachusetts state fee so that he can marry Patrick Stewart to his fiancée, jazz singer Sunny Ozell.
Question 6
of 12
Who raised eyebrows this week by releasing a new video depicting an artillery and missile attack on Washington, D.C.?
Question 7
of 12
Last Friday, the Maryland state assembly passed a bill that will make it the 18th U.S. state to ban what?
Gov. Martin O'Malley has pledged to sign the bill next month.
Question 8
of 12
Seventy-year-old twins Louise and Martine Fokkens retired last week as the oldest in their field. The Fokkens earned their fame by doing what?
The Fokkens have worked in Amsterdam's red-light district for 50 years and claim to have serviced 355,000 clients between them.
Question 9
of 12
"The preliminary results with the full 2012 data set are magnificent," said UC Santa Barbara's Joe Incandela in a statement last week confirming what scientific discovery?
Question 10
of 12
Who made headlines last week by reportedly telling a surprised audience that "Carnival time is over"?
The new pontiff was gently refusing to wear some of his predecessor's ceremonial garb, possibly signaling the start of a simpler, more low-key papacy.
Question 11
of 12
What did Hillary Clinton do on Monday to fuel speculation that she will run for president in 2016?
Question 12
of 12
Activist Aaron Jackson has purchased a house directly opposite the controversial Westboro Baptist Church for what unusual reason?
The rainbow-striped "Equality House" will host an anti-bullying nonprofit. "We thank God for the Sodomite Rainbow House!" replied the Westboro church in a statement, looking on the bright side.
You got 8 out of 12 answers correct in 20 minutes 30 seconds.
Answer quickly to earn more points!
March 22, 2013
Anonymous User
Log in to track your scores!
vs.
Farhad Manjoo
Slate's technology columnist
Wearing a tie and Western-style dress shoes
Embracing Chávez's weeping mother
Standing at the head of the casket
Quoting Adele's "Someone Like You" in the eulogy
They will play in the "West" bracket
They could face the same six teams as last year
Their bracket contains four other "Wildcats" teams
They weren't even invited
They were intentionally infected with AIDS
They designed the 50-star U.S. flag
Their fathers fought in the Civil War
They saved Gerald Ford from an assassin's bullet
Anakin Skywalker and Obi-Wan Kenobi
Ron Burgundy and Wes Mantooth
The North Korean government
Swimming the English channel
Fighting poachers in Africa
Working as prostitutes in Amsterdam
Horsemeat in IKEA meatballs
Pope Francis, at his conclave
Michelle Shocked, onstage in San Francisco
Every single passenger of Carnival Cruise Lines
Release a statement supporting gay marriage
Sell a memoir on her years as secretary of state
Announce a tour of the Middle East
Enroll in a community college Spanish class
To permanently staff it with anti-Westboro picketers
To paint it as a giant gay pride flag
To tear it down and build a veterans' memorial
To open a lookalike "church" and confuse visitors
Average
0 points
You
0 points
Farhad Manjoo
Slate's technology columnist
0 points
Recent Quizzes
Loading your quiz history...
←
→
Quiz Template by Chris Kirk and Andrew Morgan