Play the Slate News Quiz
With Jeopardy! superchampion Ken Jennings.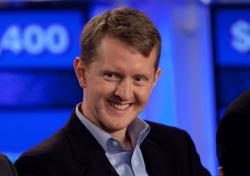 Welcome back to Slate's weekly news quiz. I'm your host, 74-time Jeopardy! winner Ken Jennings.
Every Friday I'll be testing your knowledge with 12 challenging questions on the week's news events, big and small, including happenings in science, sports, politics, and culture both high and low. The questions are multiple-choice, and time is of the essence: You have 30 seconds to answer, and as the seconds tick away, the question's point value drops from 50 all the way down to zero, so you'll want to click on your answer as fast as you possibly can. There's no penalty for an incorrect answer, so feel free to take a guess if your puny human brain fails you.
At the end of the quiz, you'll be able to compare your score with that of the average contestant, as well as to the score of a Slate staffer whom I've talked into taking the quiz on the record. This week's contestant is Slate's editorial director, John Swansburg.

Think you can ace my quiz and beat Swansburg? Good luck!
"Person to person, he is my friend," Dennis Rodman enthused this week about North Korean dictator Kim Jong-Un. "I love him. The guy is awesome." The good news about America's new goodwill ambassador is this: By that new, lower standard of "awesome," you are guaranteed to do awesomely on this week's Slate News Quiz.
Question 1
of 12
What ended Sen. Rand Paul's nearly 13-hour filibuster of John Brennan's nomination as CIA director on Wednesday night?
"There are some limits to filibustering and I am going to have to go take care of one of those here," Paul joked with reporters before heading to the can.
Question 2
of 12
President Obama annoyed nerds at a press conference about sequestration last Friday by making what sci-fi faux pas?
Obama wished he could target congressional Republicans with a "Jedi mindmeld," a nonexistent hybrid between a "Jedi mind trick" and a "Vulcan mindmeld."
Question 3
of 12
According to TSA rule changes announced Tuesday, which of these items, when of normal size, will soon be allowed again in airplane cabins?
Pocket knives with blades of 6 centimeters or less will be allowed starting at the end of April, but only toy-sized baseball bats are on the OK list. Shampoo and conditioner are still lethal threats.
Question 4
of 12
"It kills me not to be there ... doing what needs to be done," said what man on Sunday, giving his first TV interview in months?
Question 5
of 12
A terrorist nicknamed "the One-Eyed" (due to a shrapnel wound) and "Marlboro Man" (due to his cigarette-smuggling past) may still be alive despite reports on Saturday that he'd been killed where?
Mokhtar Belmokhtar was—and possibly still is—the al-Qaida leader behind January's gas plant attack in Algeria.
Question 6
of 12
"For pediatrics, this is our Timothy Brown," said a Johns Hopkins researcher Sunday about the unusual procedure performed on a Mississippi baby. What happened to Timothy Brown in 2007?
The unidentified baby was treated aggressively from birth with antiretroviral drugs, and more than a year later shows no signs of HIV infection.
Question 7
of 12
Authorities in Iceland tested a popular supermarket brand of meat pie last week and found no horsemeat. That's the good news. Unfortunately, what else did they find?
According to chief meat inspector Kjartan Hreinsson, the beef pies had "no mammalian DNA." "That was the peculiar thing," he added.
Question 8
of 12
The Spanish newspaper ABC reported that who made a top-secret, emergency trip to Cuba last Friday?
According to the newspaper's unnamed medical sources, Chávez died in a Cuban hospital before being rushed back to Caracas.
Question 9
of 12
Researchers in San Antonio announced on Monday that they have definitively pinpointed static electricity as the cause of which of these historical disasters?
British engineer Jem Stansfield, who led the study, says that the airship had become charged by an electrical storm, causing sparks when it was grounded.
Question 10
of 12
Which of these biblical "plagues of Egypt" from the Book of Exodus is currently plaguing modern-day Egypt as well?
More than 30 million locusts arrived at Giza over the weekend before spreading to Israel and Jordan.
Question 11
of 12
On Tuesday, the White House announced a cancellation of all public tours—why?
The White House lost $1 million of its budget due to sequestration, and has been forced to shut its doors to tourists.
Question 12
of 12
The eccentric Andrew Mason will only receive $378.36 in severance after being fired this week as CEO of what company?
That's six months' worth of his (mostly symbolic) salary. Maybe he also gets a hot-air balloon ride, $25 worth of gelato for just $15, and a one-month spray tan package.
You got 8 out of 12 answers correct in 20 minutes 30 seconds.
Answer quickly to earn more points!
March 8, 2013
Anonymous User
Log in to track your scores!
vs.
John Swansburg
Slate's editorial director
Calling The Doctor "Doctor Who"
Confusing Jedi and Vulcans
Referring to "Spider-Man's Kryptonite"
His diabetes was cured with gene therapy
A retinal implant restored his sight
He received a full face transplant
The pies are more than 15 years old
The pies contain dog meat
The pies contain human DNA
The pies contain no meat at all
The Great Chicago Fire, 1871
The USS Maine explosion, 1898
The Hindenburg crash, 1937
Janet Jackson's "wardrobe malfunction," 2004
Sequestration budget cuts
An unexplained "strong, cheese-like odor"
Average
0 points
You
0 points
John Swansburg
Slate's editorial director
0 points
Recent Quizzes
Loading your quiz history...
←
→
Quiz Template by Chris Kirk and Andrew Morgan