Play the Slate News Quiz
With Jeopardy! superchampion Ken Jennings.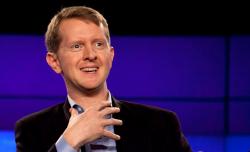 Welcome back to Slate's weekly news quiz. I'm your host, 74-time Jeopardy! winner Ken Jennings.
Every Friday I'll be testing your knowledge with 12 challenging questions on the week's news events, big and small, including happenings in science, sports, politics, and culture both high and low. The questions are multiple-choice, and time is of the essence: You have 30 seconds to answer, and as the seconds tick away, the question's point value drops from 50 all the way down to zero, so you'll want to click on your answer as fast as you possibly can. There's no penalty for an incorrect answer, so feel free to take a guess if your puny human brain fails you.
At the end of the quiz, you'll be able to compare your score with that of the average contestant, as well as to the score of a Slate staffer whom I've talked into taking the quiz on the record. This week's contestant is Slate's business and economics correspondent, Matthew Yglesias.
Think you can ace my quiz and beat Yglesias? Good luck!
If you've been following the news closely, I think you could get all 12 of this week's answers right. Unless you just guess C for all of them in honor of C. Everett Koop, who died this week at age 96. That would be a touching tribute to the former surgeon general, but would—I'm warning you right now—lead to a terrible score.
Question 1
of 12
A panel of trademark judges in February affirmed whose exclusive right to be called the "Evil Empire"?
The Yankees objected to a private entrepreneur calling his business "Baseballs [sic] Evil Empire." "There is only one Evil Empire in baseball," agreed the jurists.
Question 2
of 12
More than 100 prominent Republicans have now signed Ken Mehlman's brief in support of what?
The document was submitted in support of a lawsuit seeking to overturn Proposition 8, and analysts say it could make a difference in deciding the case.
Question 3
of 12
Surprised researchers have discovered giant goldfish—some over 4 pounds and measuring 2 feet long—where?
Question 4
of 12
What screen sequel dominated the Razzie awards on Saturday, with seven wins?
Question 5
of 12
An obscure functionary named Miguel Diaz-Canel was chosen out of nowhere Sunday as the heir apparent to which world leader?
Question 6
of 12
Frankenstein, Billy the Kid, and Adolf Hitler got a new lease on life last weekend, with their names appearing where?
Historically famous and infamous names aren't unusual in the Indian state of Meghalaya. "My father added 'Lu' in between ... that's why I am different," said assembly candidate Adolf Lu Hitler.
Question 7
of 12
After more than a century of use, what word will soon be disappearing from U.S. Census Bureau forms and surveys?
Respondents will instead be able to identify themselves as "black" or "African-American."
Question 8
of 12
In a final statement this week, who looked back on "many days of sunshine" as well as "times when the water was rough and the wind"?
Question 9
of 12
FBI assistant director Candice Will told CNN last week about an embarrassing new problem for the bureau, saying, "When you are given an FBI BlackBerry, it's for official use. It's not to" do what?
Will is concerned about a new "rash of sexting" among FBI employees.
Question 10
of 12
Which of these senators supported filibustering Chuck Hagel's nomination as secretary of defense but then, confusingly, voted for Hagel?
Question 11
of 12
The National Salvation Front, an opposition coalition, says it will boycott this spring's elections in which country?
The alliance is protesting new laws that it claims give the Muslim Brotherhood an insuperable electoral advantage over more liberal parties.
Question 12
of 12
Which of these features is Australian tycoon Clive Palmer promising to include on the maiden voyage of his Titanic II replica in 2016?
Passengers will not be able to move between classes, says Palmer, but steerage will be provided with more toilets than they had on the first Titanic.
You got 8 out of 12 answers correct in 20 minutes 30 seconds.
Answer quickly to earn more points!
March 1, 2013
Anonymous User
Log in to track your scores!
vs.
Matthew Yglesias
Slate's business and economics correspondent
The Westboro Baptist Church
"Success," a cologne by Donald Trump
The Twilight Saga: Breaking Dawn—Part 2
Madea's Witness Protection
Ghost Rider: Spirit of Vengeance
Daniel Ortega of Nicaragua
Enrique Peña Nieto of Mexico
As the names of new landmarks on Mars
As the names of political candidates in northern India
On European yogurt billboards
In Seth MacFarlane's Oscar monologue
Outgoing Defense Secretary Leon Panetta
Scott Weiland of Stone Temple Pilots
"Post social-media updates on open investigations"
"Play that terrible Temple Run clone"
"Send a picture of yourself in a state of undress"
Lifeboats for 53 percent of the passengers, just like in 1912!
A rigidly enforced three-level class structure!
"Unsinkability" guarantees with million-dollar payoffs!
Billy Zane firing shots at guests on the grand staircase!
Average
0 points
You
0 points
Matthew Yglesias
Slate's business and economics correspondent
181 points
Recent Quizzes
Loading your quiz history...
←
→
Quiz Template by Chris Kirk and Andrew Morgan
Bug, March 1: Some users experienced a bug in which the first question would already be answered. This bug has since been fixed. Please let us know about further problems in the comments section.