Play the Slate News Quiz—Special Oscars Edition!
With Jeopardy! superchampion Ken Jennings.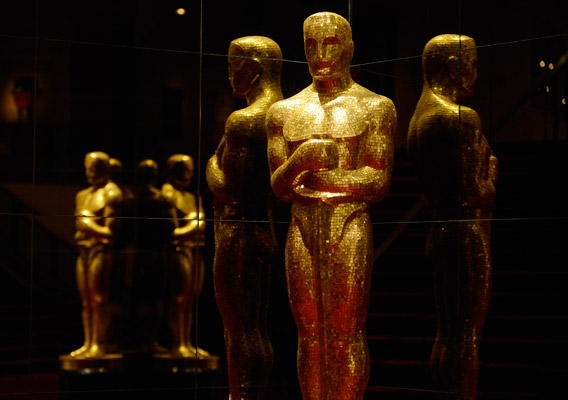 Welcome back to Slate's weekly news quiz. I'm your host, 74-time Jeopardy! winner Ken Jennings.
Every Friday I'll be testing your knowledge with 12 challenging questions on the week's news events, big and small, including happenings in science, sports, politics, and culture both high and low. The questions are multiple-choice, and time is of the essence: You have 30 seconds to answer, and as the seconds tick away, the question's point value drops from 50 all the way down to zero, so you'll want to click on your answer as fast as you possibly can. There's no penalty for an incorrect answer, so feel free to take a guess if your puny human brain fails you.
At the end of the quiz, you'll be able to compare your score with that of the average contestant, as well as to the score of a Slate staffer whom I've talked into taking the quiz on the record. This week's quiz is a special Oscars edition, with trivia about this year's awards. The contestant is Slate's movie critic, Dana Stevens.
Think you can ace my quiz and beat Stevens? Good luck!
It's Oscar weekend, which is pretty much Super Bowl weekend for people who don't go outside much, or played an instrument in high school, or are women. (Or some perfect-storm combination of the three!) How closely have you been following the run-up to the 85th annual Academy Awards? You'll be able to find out with this special Oscars edition of the Slate News Quiz. Make sure to answer each one as quickly as you can, before the orchestra starts playing you off.
Question 1
of 12
What is the age difference between the youngest and oldest nominees in the Best Actress category this year?
Quvenzhané Wallis, of Beasts of the Southern Wild, is 9, while Emmanuelle Riva of Amour is 85. They are, respectively, the youngest and oldest nominees ever in the category.
Question 2
of 12
If Argo wins Best Picture, as many have predicted, it will be the first Best Picture winner since Driving Miss Daisy ...
Ben Affleck was shut out of the category, in one of the most surprising upsets of the nominations.
Question 3
of 12
Les Misérables is the second movie of that title to be nominated for Best Picture. (The first was in 1935.) Which of these movie titles has also been the name of two different Best Picture nominees?
There have been four other twice-nominated titles: Cleopatra, Heaven Can Wait, Moulin Rouge, and Romeo and Juliet.
Question 4
of 12
The title character of which nominated film faces opponents with names like Taffyta Muttonfudge, Jubileena Bing Bing, and Rancis Fluggerbutter?
In Wreck-It Ralph, Taffyta and friends are among the not-very-nice racers in the fictional go-kart game Sugar Rush.
Question 5
of 12
What was "grossly inaccurate and misleading," according to a controversial Dec. 19 letter sent by three U.S. senators to Sony Pictures?
The film was seen as a Best Picture front-runner in December, but the torture blowback seems to have dimmed its chances.
Question 6
of 12
Until this year, longtime Academy Awards musical conductor Bill Conti was also the last person to be Oscar-nominated—31 years ago—for what?
Before Skyfall's five nominations, Conti received the last nod for a 007 film, for his 1981 title tune for For Your Eyes Only.
Question 7
of 12
Oscar host Seth MacFarlane is also a nominee this year—in which category?
MacFarlane wrote the lyrics to "Everybody Needs a Best Friend," from his directorial debut, Ted.
Question 8
of 12
How many Oscar statuettes' worth of weight did Hugh Jackman and Anne Hathaway lose, in total, for their parts in Les Misérables?
Oscar weighs 81/2 pounds. Hathaway says she lost 25 pounds for Les Mis while Jackman lost 15.
Question 9
of 12
Which film is nominated in all four acting categories, the first time this has happened since Reds in 1981?
The four nominees are Bradley Cooper, Jennifer Lawrence, Robert De Niro, and Jacki Weaver.
Question 10
of 12
Which of these is true about Daniel Day-Lewis' immersive preparation for his role as Abraham Lincoln?
Question 11
of 12
Amour is nominated for both Best Picture and Best Foreign Language film. Which film last accomplished this?
Question 12
of 12
Which of this year's nominees actually submitted a script back in 1979 to Studio Six, the phony CIA-backed production company depicted in Argo?
Former CIA agent Tony Mendez says that Studio Six received 26 scripts before shutting down, including one from Spielberg.
You got 8 out of 12 answers correct in 20 minutes 30 seconds.
Answer quickly to earn more points!
February 22, 2013
Anonymous User
Log in to track your scores!
vs.

Dana Stevens
Slate's movie critic
Not even nominated for Best Director
To be the lowest-grossing nominee at the box office
To include a car chase with Iran's Revolutionary Guard
The Hobbit: An Unexpected Journey
Snow White and the Huntsman
The depiction of torture in Zero Dark Thirty
The vote on slavery in Lincoln
Tarantino's Australian accent in Django Unchained
His or her very first film
Best Original Musical or Comedy Score
A song that was also a Billboard No. 1
Best Live Action Short Film
He would only answer to "Mr. President" on set
He slept in Lincoln's actual dressing-gown, on loan from a museum
He used stretching exercises to add 2 inches to his height
He spent three years practicing law in Illinois
Crouching Tiger, Hidden Dragon
Average
0 points
You
0 points

Dana Stevens
Slate's movie critic
0 points
Recent Quizzes
Loading your quiz history...
←
→
Quiz Template by Chris Kirk and Andrew Morgan