Play the Slate News Quiz
With Jeopardy! superchampion Ken Jennings.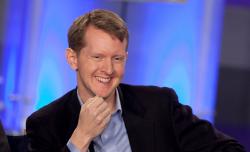 Welcome back to Slate's weekly news quiz. I'm your host, 74-time Jeopardy! winner Ken Jennings.
Every Friday I'll be testing your knowledge with 12 challenging questions on the week's news events, big and small, including happenings in science, sports, politics, and culture both high and low. The questions are multiple-choice, and time is of the essence: You have 30 seconds to answer, and as the seconds tick away, the question's point value drops from 50 all the way down to zero, so you'll want to click on your answer as fast as you possibly can. There's no penalty for an incorrect answer, so feel free to take a guess if your puny human brain fails you.
At the end of the quiz, you'll be able to compare your score with that of the average contestant, as well as to the score of a Slate staffer whom I've talked into taking the quiz on the record. This week's contestant is Jeremy Stahl, Slate's social media editor.
Think you can ace my quiz and beat Stahl? Good luck!



This week on the Midway Atoll Wildlife Refuge, an albatross that scientists call "Wisdom" gave birth to a healthy chick, her sixth in the past six years. This is impressive because Wisdom is 62 years old, making her the world's oldest known wild bird. So, look: It's never too late. Even if you've been flummoxed by the Slate News Quiz in the past, this could be your week!
Question 1
of 12
On Tuesday night, who tweeted out a photo of the empty Poland Spring water bottle he'd needed so badly earlier in the evening?
Question 2
of 12
Fill in the blanks. On Wednesday, Bpost, the national post office of ______, announced that 500,000 of its new stamps will taste like ______ when licked.
Question 3
of 12
According to the United Nations, what totaled $3.9 billion in Afghanistan last year, more than twice the country's total domestic revenue?
Half of all Afghans reported having to bribe a civil servant in 2012.
Question 4
of 12
Beijing fireworks sales were down 37 percent this Lunar New Year. Why?
The Chinese government asked residents to cut back in hopes of reducing winter smog.
Question 5
of 12
Massachusetts Gov. Deval Patrick signed an executive order allowing yearlong jail sentences for people caught doing what during last week's nor'easter?
It was the first traffic ban in the state since the Blizzard of '78, exactly 35 years before.
Question 6
of 12
What was being addressed by CBS's memo over the weekend that warned, "Please be sure the genital region is adequately covered so that there is no visible 'puffy' bare skin exposure"?
The memo also called side-boob "problematic" and banned lapel pins for celebrity causes.
Question 7
of 12
Who is "Banana Joe," suddenly a media sensation after his unexpected win this week?
The tiny black dog won the Westminster Kennel Club Dog Show on Tuesday, prevailing over other, much more experienced finalists.
Question 8
of 12
When he resigns from office at the end of the month, Benedict XVI will have been pope for just seven-and-a-half years. Compared to other papal terms in history, this is ...
The average papacy over the history of the Roman Catholic Church lasted just 7.2 years.
Question 9
of 12
Where have there been recent reports of flooding, poverty, and famine so severe that one man was executed by firing squad for cannibalism?
Amid grisly reports that cannibalism is spreading, the Asia Press concludes that more than 10,000 people have died of starvation in the Hwanghae provinces alone.
Question 10
of 12
According to the account given by "The Shooter" in Esquire this week, to whom did he give the 27 bullets left over in the magazine that killed Osama Bin Laden?
"I hope you have room in your backpack for this," he says he told the agent who had located the Abbottabad, Pakistan, compound.
Question 11
of 12
Republicans expressed skepticism at President Obama's State of the Union proposal to raise what to $9?
"When you raise the price of employment, guess what happens? You get less of it," House Speaker John Boehner said Wednesday morning.
Question 12
of 12
An unnamed 28-year-old French woman was arrested last Thursday for writing a 9/11 "truther" slogan in what unusual place?
"AE911" refers to the site "Architects & Engineers for 9/11 Truth." The Louvre reassured art lovers that the slogan, scrawled in black marker, "could be easily cleaned."
You got 8 out of 12 answers correct in 20 minutes 30 seconds.
Answer quickly to earn more points!
February 15, 2013
Anonymous User
Log in to track your scores!
vs.

Jeremy Stahl
Slate's social media editor
Counterfeit money circulation
Prices of skyrockets have skyrocketed
The year of the snake is the unluckiest in the Chinese zodiac
China's export boom in fireworks has led to a domestic shortage
Beijing's air pollution problem is worse than ever
Mardi Gras in New Orleans
The Sports Illustrated swimsuit issue
George W. Bush's self-portraits
The world's most prolific streaker
The banjo player in Mumford & Sons
A wild-card finalist in Jeopardy!'s Teen Tournament
Much shorter than average
Slightly shorter than average
Slightly longer than average
The Carnival Triumph cruise ship
A 9/11 families' benefit fund
The CIA agent called "Maya" in Zero Dark Thirty
Medicare prescription co-pays
A government minister's Facebook profile
Delacroix's painting Liberty Leading the People
The roof of her house, visible on Google Earth
Her drunk boyfriend's neck, as a tattoo
Average
0 points
You
0 points

Jeremy Stahl
Slate's social media editor
0 points
Recent Quizzes
Loading your quiz history...
←
→
Quiz Template by Chris Kirk and Andrew Morgan