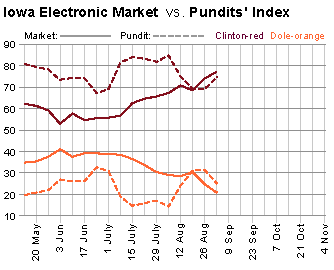 The Horse Race charts the presidential election campaign using two measures: the Iowa Electronic Markets, and our own index of pundit opinion. (Movements in the Pundits' Index are justified and analyzed below.) The Iowa Electronic Markets are a project of the University of Iowa College of Business administration. They are real markets, with shares that pay out after the election. We follow Iowa's Winner-Takes-All market, which will pay $1 for each share in the winner. (Thus WTA share prices reflect the market's judgment, at any moment, of the chance of a candidate winning.) The Iowa folks' thesis is that markets are better prognosticators than the pundits. You be the judge. For more information, or to invest, visit the Iowa Electronic Markets site.

The Iowa Markets also track the battle for control of Congress. See below .
Iowa Electronic Market: as of 9/6/96
Clinton: 78.6, 0.5 from yesterday Dole: 21.5, 2 from yesterday
Pundits' Index: as of 9/2/96
Clinton: 74, 5 Dole: 26, 5 Perot: still a jug-eared zero
B ob Dole did everything he could. He unveiled a snazzy tax-cut plan, picked the perfect running mate, staged a feel-good convention, and delivered an impressively fiery acceptance speech. He even got the benefit of a disturbing report on teen-age drug abuse and a Democratic Convention-spoiling sex scandal. And to what does it all add up? A 21-point lead for Bill Clinton in the latest Gallup/
Newsweek
poll. The Iowa market investors have seen enough. They're dumping Dole's stock for whatever they can get, and buying Clinton's at any price. The pundits aren't far behind. Dole "cannot get above 40 percentage points," Bob Novak conceded after two weeks of fancying a comeback. This week's ubiquitous statistic was that no candidate with a double-digit lead in the Gallup poll on Labor Day has ever lost. Conservative commentators have resumed their argument that Clinton, willingly or unwillingly, has become one of them. They're preparing to bask in the glow of his victory.
Clinton's convention speech:
Before the speech, the pundits complained that he hadn't spelled out what he would do in a second term. After he did so at great length (66 minutes), the pundits called the speech excessive, too detailed, and boring. But they agreed that all he had to do to keep his lead was show up, which he duly accomplished. Chat shows were so glutted with reviews of the speech that several panelists resorted to faux contrarianism: Three members of
TheMcLaughlinGroup
declared that "the pundits" had it wrong.
The convention:
The pundits pronounced it vapid, vulgar, and manipulative--and therefore, a smashing success. They scorned Clinton's smorgasbord of little policy gimmicks, Gore's bathos over his sister's death from smoking, and the Democrats' exploitation of non-politicians and celebrities. "It's schlock," sighed Evan Thomas, but "the American public demands it." The harshest criticism was reserved for Mario Cuomo, Jesse Jackson, and other liberals who frustrated the media by refusing to pick a public fight with Clinton over welfare reform. "They'll do anything to win," scoffed Martin Walker.
Dick Morris:
Pundit chatter percolated with titillation (favorite detail: toe-sucking) and
Schadenfreude
over the alleged Svengali's "hubris" and comeuppance. The general prognosis was that the story ruined Clinton's big day (overshadowing his speech and news of healthy second-quarter economic growth) and will linger for a couple of weeks while the tabloid that broke the story releases the rest of its goodies. The pundits agreed that it revives the character issue, but even right-leaners have grown cynical about the public's cynicism, noting that voters don't seem to care about Clinton's sexual sins, much less the sins of his aides. Several commentators worried that Morris won't be around to keep Clinton from drifting to the left, but none deemed his loss crucial. "Morris' ideas remain implanted in the heart of the candidate and the campaign," yawned the
LosAngelesTimes
. The pundits agreed that despite Morris' resignation, Clinton will call him up for advice.
Iraq:
Prognosticators lost no time in reducing the latest international crisis to domestic politics. "If [Clinton] is seen to blink on this one, Bob Dole has a huge leg up," declared Sam Donaldson. "The way for Clinton to answer the charge of weakness is to lay a few megatons on Iraq, which I think they're getting ready to do," advised Howard Fineman. "That's not going to help Bob Dole one bit."
Congress:
The Iowa market seems to like divided government. While Dole's value tumbles, investors are buying up Republican congressional stock. The average share price for an increase in Republican Senate seats jumped nearly 50 percent in two days (strongly suggesting insider trading). The pundits generally endorsed the trend. They figure the GOP Convention helped Republican congressional candidates far more than Clinton's convention helped Democrats, and Clinton shows no signs that he's willing to spend his political capital to promote his party.
--William Saletan
Iowa Electronic Market: Congressional Control Gain is a share that pays $1 if the Republicans increase their number of seats. Hold pays $1 if they stay the same or lose seats but retain majority control. Lose pays $1 if the Republicans lose their majority. The IEM site has graphs tracking price changes over time for the House and the Senate. The latest prices as of 9/6/96:




Senate Gain: 56, 3 from yesterday Senate Hold: 35.5, 2.1 from yesterday Senate Lose: 11.5, 2.1 from yesterday


House Gain: 22.9, 2.7 from yesterday House Hold: 45, unchanged from yesterday House Lose: 29.9, 0.5 from yesterday
William Saletan covers politics for several magazines and is the author of a forthcoming book on the politics of abortion.