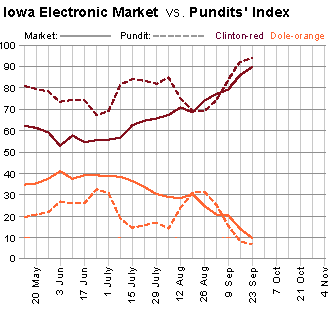 The Horse Race charts the presidential election campaign using two measures: the Iowa Electronic Markets, and our own index of pundit opinion. The Iowa Electronic Markets are a project of the University of Iowa College of Business administration. They are real markets, with shares that pay out after the election. We follow Iowa's Winner-Takes-All market, which will pay $1 for each share in the winner. (Thus WTA share prices reflect the market's judgment, at any moment, of the chance of a candidate winning.) The Iowa folks' thesis is that markets are better prognosticators than the pundits. You be the judge. For more information, or to invest, visit the Iowa Electronic Markets site.

The Iowa Markets also track the battle for control of Congress. See below .
Iowa Electronic Market: as of 9/27/96

Clinton: 90.3, 0.4 from yesterday Dole: 9.9, 0.6 from yesterday
Pundits' Index: as of 9/23/96
Clinton: 93, 1 from last week Dole: 7, 1 from last week Perot: lower than a hog's belly
Fueled by a steady double-digit lead in the polls, Bill Clinton's stock price in the Iowa market soared past 80 cents a share Sept. 11 and closed just shy of 90 cents Sept. 22. Though the pundits doubt Bob Dole trails as badly as many polls suggest, they still count him a dozen points behind, and don't think he's got any weapons that will enable him to reverse the outcome. The latest blow is Dan Balz's analysis in the
WashingtonPost
that Dole's electoral college options have narrowed to a last-ditch combination of must-win states, and that Clinton is ahead in half of them.
Dole is drawing more and more praise, but it's all in the past tense. Pundits who scorned him in life are patronizing him on his deathbed. "He's lived a long, rich life," mused Evan Thomas. "He's really being a trooper," bubbled Nina Totenberg. The debate about whether to declare the election over has dwindled from a question of truth to a question of propriety. Conservatives are sinking to new depths of Clinton worship. "A tremendous candidate," effused Bob Novak. Pat Buchanan revisited CNN's
CapitalGang
and proved he hasn't lost the gymnastic adaptability of a chat-show panelist: "In 1994, the American people voted to get rid of Bill Clinton. They got a new president--a different Bill Clinton."
The tumble
: The print pundits avoided mentioning Dole's tumble from the stage during a California campaign event, but it was discussed endlessly on TV. Some likened it to George Bush puking on the Japanese prime minister. Most commentators, however, took the contrarian-turned-conventional line that Dole's fall and quick recovery dramatized his human frailty and his divine grace. "The fall is a jump upwards for him," reasoned Michael Barone. "We saw him handle himself in an unforeseen circumstance, a difficulty, a crisis." Others ventured that Dole's escape without injury might be the "miracle" that portends a comeback.
Crime
: The consensus on Dole's indictment of Clinton for being soft on drugs and crime was that Clinton crushed it by winning the endorsement of the Fraternal Order of Police. Liberals chuckled and conservatives sighed that Clinton continues to steal Dole's issues. Some pundits argued that Dole should go back to hawking his tax cut because nobody's buying his incredible suggestion that Clinton is responsible for drugs and crime. Others said he should stick to drugs and crime because nobody's buying his incredible tax cut.
Environment
: Analysts couldn't decide which was more amazing--that Clinton nationalized a huge chunk of Utah, or that he staged the declaration in Arizona, a state that no Democrat has won since 1948. The combined conclusion was that Clinton seems resolved either to win or confiscate every state.
Debates
: The hot topic was whether the debate commission had erred in excluding Perot. Wags snickered that if the debate is to be restricted to viable candidates, Dole should be excluded too. The midweek theory that Clinton would use his leverage as the favorite to get Perot into the debate yielded to the weekend theory (which proved correct) that Clinton would sell him out in exchange for other favorable conditions. Dole was deemed to be winning the expectations game in relative terms (by playing up Clinton's superiority as a debater) but losing it in absolute terms (as pundits declared that Dole must not only win, but must win big). Suspense over whether Dole can win was replaced by suspense over whether he'll turn deliciously nasty. Cynics shrugged that debates don't matter.
The congressional horse race
: The most noteworthy trend in the Iowa market is a collapse of confidence in the GOP's Senate prospects: The price of a single-share wager on a Democratic takeover has doubled in the past two weeks. But the diffuseness of congressional elections continues to confound the pundits' herd instinct, leading to wild variations among theories and predictions. Bill Schneider warned of a Democratic "blowout" and the possibility that Gingrich would quit as speaker in order to defuse an anti-GOP tide. A
WallStreetJournal
analysis suggested that the public is more closely divided and that few seats are really at risk. The
Washington Post's
David Broder diagnosed "a serious lag in the Dole campaign in marginal congressional districts and early signs of Republican turnout problems."
Coattails
: The pundits find it significant that Clinton is starting to spend some of his political capital on promoting Democratic candidates for Congress. They concede Dole is doing his best to generate GOP turnout, but they don't think his best is good enough. Last week's fear that Dole will do as poorly as McGovern or Goldwater degenerated into this week's fear that he'll do worse, by failing to motivate even his party's core voters and campaign workers--and that GOP congressional candidates will pay the price. Broder and others highlighted the Republicans' disarray and their shunning of Dole. The contrarian theory is that the '96 tide is pro-incumbent rather than anti-Republican. Many pundits noted that congressional collaboration with Clinton in recent months has improved Congress' image and boosted the approval ratings of once-vulnerable incumbents. Analysts agreed that the angry voter has become the happy-go-lucky voter.
Game theory
: This week's pirated insight (secondhand but sold by many pundits as original) was that poll respondents change their votes on the "generic ballot" (which asks whether they intend to vote for a Democratic or Republican congressional candidate) depending on the outcome of the presidential election. If they know Clinton will win, they gravitate toward Republicans for Congress. Half-cynics predicted the voters will figure out this equation in October and switch to support GOP candidates. Total cynics predicted the voters won't figure it out and will be angry when they realize they've put liberals back in power.
--William Saletan
Iowa Electronic Market: Congressional Control Gain is a share that pays $1 if the Republicans increase their number of seats. Hold pays $1 if they stay the same or lose seats but retain majority control. Lose pays $1 if the Republicans lose their majority. The IEM site has graphs tracking price changes over time for the House and the Senate. The latest prices as of 9/27/96:



Senate Gain: 31.1, 1 from yesterday Senate Hold: 57.5, 2 from yesterday Senate Lose: 11.1, 4 from yesterday



House Gain: 21, 1 from yesterday House Hold: 50, 2.5 from yesterday House Lose: 29, 3 from yesterday
Congressional Pundits' Index: as of 9/23/96



Senate Gain: 20, 15 from last week Senate Hold: 58, 3 from last week Senate Lose: 22, 12 from last week



House Gain: 4, 1 from last week House Hold: 69, 1 from last week House Lose: 27, 2 from last week