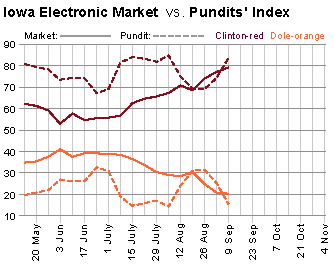 The Horse Race charts the presidential election campaign using two measures: the Iowa Electronic Markets, and our own index of pundit opinion. (Movements in the Pundits' Index are justified and analyzed below.) The Iowa Electronic Markets are a project of the University of Iowa College of Business administration. They are real markets, with shares that pay out after the election. We follow Iowa's Winner-Takes-All market, which will pay $1 for each share in the winner. (Thus WTA share prices reflect the market's judgment, at any moment, of the chance of a candidate winning.) The Iowa folks' thesis is that markets are better prognosticators than the pundits. You be the judge. For more information, or to invest, visit the Iowa Electronic Markets site.

The Iowa Markets also track the battle for control of Congress. See below .
Iowa Electronic Market: as of 9/13/96

Clinton: 80.8, 0.1 from yesterday Dole: 18.6, 1.4 from yesterday
Pundits' Index: as of 9/9/96
Clinton: 84, 10 from last week Dole: 16, 10 from last week Perot: still a jug-eared zero
O nce upon a time, the week after Labor Day marked the beginning of the presidential campaign. This year, it marks the end. Clinton's lead in the polls has settled into double digits. Dole remains a steady 4-to-1 long shot in the Iowa market, and the Buddhas of punditry have all but buried him. Jack Germond concluded that Dole has used up his tricks and "is right where he was a month ago. That means he's dead meat." R.W. Apple performed the official autopsy on Dole's tax-cut shtick and noted that "people are talking landslide." A few commentators held out hope for an "October Surprise" courtesy of Saddam Hussein or Susan McDougal, but most were reduced to clichés reminiscent of sportscasters in the late stages of a blowout: "A day is a lifetime in politics"; "Longshots win every day"; and the ultimate deathbed denial, "I don't trust the polls." Right-leaners comforted themselves with predictions of woe in the economy, Iraq, and Whitewater during Clinton's second term.
Iraq:
Commentators agreed that Clinton's missile attack played well in the polls, but their explanations differed sharply. Some maintained that cynical political calculation led Clinton to do more than he should have (blasting targets distant from the war zone in the absence of allied support). The rest maintained that cynical political calculation led Clinton to do less than he should have (keeping U.S. planes out of the action for fear of losing a pilot and inviting an election-eve "show trial" in Baghdad). Everyone agreed that Dole looks mean if he criticizes Clinton and wimpy if he doesn't. What about the forsaken Kurds? "They don't vote here," scoffed Fred Barnes.
Morris:
Chat-show panelists pronounced him a "slimeball" and "pond scum." Morris' cozy couplings with Sherry Rowlands, Clinton, and Random House prompted this week's confessional pundit heresy from
Newsweek
's Melinda Liu: "The difference between a prostitute and a john and a journalist and a politician has kind of come full-circle. We're all the same." Analysts remained skeptical that the Morris affair would hurt Clinton, since voters have become inured to Clinton scandals. But boredom with Clinton's stroll to victory was enough to send the pundits scrounging for a juicy new angle in the Morris story. They found it in Morris' alleged suggestion that Hillary Clinton ordered up the notorious FBI files. Tongues wagged for a congressional hearing. Conservatives openly circulated rumors that Morris has personal dirt on Clinton, who is allegedly withholding medical records that hide something unsavory. Liberals replied that Morris has sexual dirt on Gingrich. Last week's cynical speculation that Clinton will go on consulting Morris by phone blossomed into this week's cynical speculation that Morris will return to the White House after the election.
Dole's staff shake-up:
Everyone agreed that the firing/quitting of Dole's media consultants signals deep trouble. Again, pundits were divided: Some said the consultants were jumping ship to escape blame for Dole's failure, while others said the campaign managers were dumping the consultants to stick them with the blame. Liberals predicted that Dole's ads would turn nasty now that Dole is hiring Jesse Helms' media consultant. Conservatives indignantly replied that Dole had been planning all along to turn nasty.
Debates:
Analysts agreed that the debates are Dole's last chance to shake up the race, and that he'll blow it. Liberals came up with fake reasons why Perot should be in the debates; conservatives came up with fake reasons why he shouldn't. Nobody mentioned the real reason: that Perot would take votes from Dole.
Congress:
The once-contrarian theory that bad news for Dole is good news for Republican congressional candidates has now become conventional. Pundits remain divided between those who believe the congressional candidates will now desert Dole, and those who believe the congressional candidates will wait until October to desert Dole. The new contrarian theory is that heavy spending by business groups will help GOP candidates overcome heavy spending by labor unions.
--William Saletan
Iowa Electronic Market: Congressional Control Gain is a share that pays $1 if the Republicans increase their number of seats. Hold pays $1 if they stay the same or lose seats but retain majority control. Lose pays $1 if the Republicans lose their majority. The IEM site has graphs tracking price changes over time for the House and the Senate. The latest prices as of 9/13/96:



Senate Gain: 50, 3.6 from yesterday Senate Hold: 38.9, 0.9 from yesterday Senate Lose: 11.5, 2.5 from yesterday



House Gain: 20.1, 0.5 from yesterday House Hold: 47, 1 from yesterday House Lose: 34, 1 from yesterday