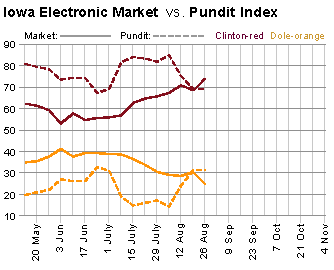 The Horse Race charts the presidential election campaign using two measures: the Iowa Electronic Markets, and our own index of pundit opinion. (Movements in the Pundits' Index are justified and analyzed below.) The Iowa Electronic Markets are a project of the University of Iowa College of Business administration. They are real markets, with shares that pay out after the election. We follow Iowa's Winner-Takes-All market, which will pay $1 for each share in the winner. (Thus WTA share prices reflect the market's judgment, at any moment, of the chance of a candidate winning.) The Iowa folks' thesis is that markets are better prognosticators than the pundits. You be the judge. For more information, or to invest, visit the Iowa Electronic Markets site.

The Iowa Markets also track the battle for control of Congress. See below .
Iowa Electronic Market: as of 8/30/96
Clinton: 75.8, unchanged from yesterday Dole: 24.0, 0.7 from yesterday
Pundits' Index: as of 8/26/96
Clinton: 69, unchanged from last week
Dole: 31, unchanged from last week
Perot: 0, unchanged from last week

Clinton recovered a bit this week in the polls (back to a 12-point lead, according to CNN) and in the Iowa market (where his stock gained about 3 cents). But the Pundits' Index froze. The pundits seemed exhausted by their own steep and sudden pro-Dole reversal of the previous couple of weeks, and needed a breather as they left behind one major party convention and prepared to plunge into another. Instead of bantering about the horse race, they spent the week in uncharacteristic reflection on policy, ethics, and the future direction of the country. Are they rethinking their role in society? No, they're just filling time. They've concluded that Clinton will get a foreordained corrective bounce out of his convention, and that events in the interim won't affect it much.
Convention buildup:
Clinton's bill-signing ceremonies (minimum wage, health care, etc.) and his whistle-stop tour of the Midwest were deemed effective. Several pundits bravely wagered that the Democrats would spotlight Gingrich and the GOP Congress and, while posing as the party of the future (thus playing off Dole's age and nostalgia), would mute any talk of big change. "They're working to play out the clock," explained Howard Fineman. Left-leaners fretted that this defensive posture might imperil a Clinton victory, but neutral analysts shrugged it off. "If he gets the average bounce, which is just five points, he'll be about 15 points ahead the week after the convention," said Bill Schneider. "And nobody has ever been that far ahead and gone on to lose."
Welfare:
Bored chat-show moderators tried to scare up talk of Democratic divisions over welfare, but panelists weren't buying. Jeff Greenfield insisted the delegates would stand by Clinton because "they're determined not to yield the government to the Republicans." Disappointed right-leaners joined liberals in scorning the left's timidity. "There's no complaining at all," sniffed Bob Novak. "It's cynicism of the deepest order." Some insinuated that Clinton actually wanted a spat with the left. "The ultimate in triangulation will occur if a Democratic president is picketed at his own convention by welfare mothers, Hispanics, and blacks," snorted Mark Shields. "Dick Morris will have to be thrilled." This week's insider allusion: Sister Souljah (the rap singer Clinton stagily dissed four years ago).
Smoking:
Conservative pundits paid Clinton's anti-tobacco campaign their highest compliment, calling it "poll-driven politics." Everyone agreed that Clinton was using the tobacco war, with some success, to counter parents' anxieties about the recent report of higher drug abuse among teen-agers.
Tax cuts:
After waiting weeks for an excuse to revive Dole's image as a bumbler and skewer him for playing both sides of the supply-sider/deficit-hawk debate, the pundits pounced on his interview in Sunday's
ChicagoTribune
, in which he stipulated that a balanced budget was his top priority, and tax cuts, his second. Left-leaners celebrated the return of the "old" Bob Dole, while jilted right-leaners fumed. Others snickered that this is what happens when Dole's minders leave him alone with a reporter.
Perot:
Commentators decided that by accepting federal campaign funds, he institutionalized the Reform Party but further doomed his candidacy. Pundits have now consigned Perot to the Nonviability Death Spiral: He will be excluded from the fall debates because he has no chance of winning, and as a result of his exclusion, he will be "trivialized." But as the Dole-Clinton race tightens, right-leaners' derision of Perot is taking on a nasty tone indicative of their gloomy certainty that, contrary to what the polls suggest, Perot will hurt Dole more than Clinton.
Congress:
The pundits don't think it will change hands. Dole's convention bounce has restored right-leaners' confidence that the GOP will keep the House and gain seats in the Senate. Meanwhile, Clinton's embrace of the Republican welfare bill has erased left-leaners' hopes that he might use his convention to help congressional Democrats.
--William Saletan
Iowa Electronic Market: Congressional Control Gain is a share that pays $1 if the Republicans increase their number of seats. Hold pays $1 if they stay the same or lose seats but retain majority control. Lose pays $1 if the Republicans lose their majority. The IEM site has graphs tracking price changes over time for the House and the Senate. The latest prices as of 8/30/96:




Senate Gain: 43.0, 3.2 from yesterday Senate Hold: 41.4, 0.4 from yesterday Senate Lose: 20.7, 0.5 from yesterday



House Gain: 28.5, 1.0 from yesterday House Hold: 49.0, 5.0 from yesterday House Lose: 27.8, 0.4 from yesterday