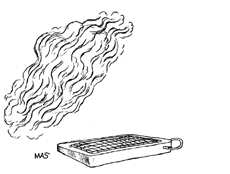 Mason & Dixon, by Thomas Pynchon (Henry Holt). Reviews of Mason & Dixon revisit the perennial debate: Is Pynchon the greatest living writer of fiction or an obscurantist egghead? Most critics deem the 773-page picaresque novel about the 18th century surveyors a work of genius: "It is a book that testifies to his remarkable powers of invention and his sheer power as a storyteller, a storyteller who this time demonstrates that he can write a novel that is as moving as it is cerebral" (Michiko Kakutani, the New York Times). Others have less patience for Pynchon's puns, anachronisms, and conspiracy theories. "I find no activity less inspiring than Rubik's Cube-ing through a clue-strewn supertext in search of a paradoxical Eureka!" (Walter Kirn, Slate). (See Henry Holt's official Pynchon page.)
American Visions: The Epic History of Art in America, by Robert Hughes (Knopf), and American Visions (PBS, starting May 28; click here for a schedule). Time's art critic enjoys his moment in the sun. Profiles and reviews all but canonize Hughes on the occasion of his grand survey of American art, which appears in written and televised form. "Not since Alexis de Tocqueville has a foreign spectator seen so much of the American game," says Vanity Fair's Christopher Hitchens of the Australian Hughes. A New Yorker profile compares American Visions to Edmund Wilson's Patriotic Gore and Alfred Kazin's On Native Grounds: "[W]eaving a series of elegant vignettes and readings into a compelling narrative, [Hughes] has fashioned a rich aesthetic chronicle of what it means to be an American."
Echo House, by Ward Just (Houghton Mifflin). The Washington Post reporter turned Washington novelist--"the Trollope of the Beltway" (Newsweek's Jon Meacham)--is said to have done his best work yet. This black comedy about the amorality of the city's mid-20th century chattering class wins acclaim as "a timely examination of the 'inner Washington' " (James Mann, the Weekly Standard). The Wall Street Journal's David Shribman, however, dissents, calling it "a novel that doesn't go anywhere about a city that doesn't do much."
Reading in the Dark, by Seamus Deane (Knopf). A warm reception for the Northern Irish poet's Bildungsroman set in Londonderry, a town notorious for its Catholic-Protestant tensions. Critics praise Deane's lyrical style and the book's "refusal to permit the lives of its characters to be wholly swallowed by politics" (Robert Boyers, the New Republic). The book "possesses the compassion and wit of Frank McCourt's acclaimed best seller, Angela's Ashes, combined with the aching regret of an Irish ballad" (Kakutani, the New York Times).
Franklin Delano Roosevelt Memorial (Washington, D.C.). Despite the provisional resolution of the Great Wheelchair Debate--the four-term president is depicted without one--landscape architect Lawrence Halprin's design of the national monument provokes controversy. The 7 1/2 acre monument consists of four bronze statues commemorating high points of the FDR presidency, surrounded by waterfalls and trees. The Washington Post's Benjamin Forgey calls it "a work of art with epic reach" and compares Halprin to Central Park creator Frederick Law Olmsted. Others complain the monument is diminished by overtly political paeans to the New Deal, and otherwise lacking in grandeur.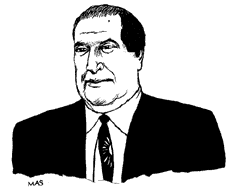 The Last Don (CBS, May 11, 13, and 14, 9 p.m. EDT/PDT). Reviewers pummel the miniseries adaptation of Mario Puzo's latest Mafia family saga, which stars Danny Aiello, Kirstie Alley, Joe Mantegna, and Daryl Hannah. Tired clichés get trashed. The requisite comparisons with The Godfather are made: "Mario Puzo could have used a Francis Ford Coppola to comb some cinematic metaphors over the narrative bald spots" (John Leonard, New York). (See Slate for Jeffrey Goldberg's conversation with Mario Puzo. CBS plugs the show at its site.)
Children of the Revolution (Miramax). Praise for rookie director Peter Duncan's comedy about an Australian woman's one-night stand with Stalin, and the son produced by the encounter. "Many have worshipped Mother Russia," notes The New Yorker's Anthony Lane, "but it takes a peculiarly furtive sense of humor to dream up Joan Fraser, who ... actually became Mother Russia." Opinions split on how successfully the gimmick translates into a story. "[This] comedy has less to do with narrative than sheer chutzpah," says Janet Maslin of the New York Times. (Miramax serves up video and stills.)
Breakdown (Paramount Pictures). Praise goes to this Kurt Russell action picture to the degree that it differs from other action pictures. It is "a tough, vigorous exercise in pure action shot with throwback expertise and, most refreshingly, without special effects," writes the New York Times' Maslin. "Thrills came through our identification with the character's distress rather than some sense-battering, optical ooh-aah" (Jack Mathews, the Los Angeles Times). (See Breakdown's site.)
New York's David Denby defends Volcano from critics' skewers: "It is the least morbid, the most high-spirited and entertaining example of a very rum genre." But he mocks the movie's racial allegory: "The lava flowing down Wilshire may be the new melting pot."
Recent "Summary Judgment" columns:
Movie--Romy and Michele's High School Reunion;
Pop--Share My World, by Mary J. Blige;
Book--Locked in the Cabinet, by Robert Reich;
Book--Anything Your Little Heart Desires: An American Family Story, by Patricia Bosworth;
Book--Hystories: Hysterical Epidemics and Modern Media, by Elaine Showalter;
Theater--The Little Foxes;
Dance--"In Honor of the Divine Lou Harrison," the Mark Morris Dance Group.
Book--The Gospel According to the Son, by Norman Mailer;
Book--American Pastoral, by Philip Roth;
Book--W.B. Yeats: A Life. 1: The Apprentice Mage, 1865-1914, by R.F. Foster;
Book--Purple America, by Rick Moody;
Television--In the Gloaming;
Opera--The Ring of the Nibelung;
Art--"Picasso: The Early Years, 1892-1906" (National Gallery of Art, Washington, D.C.);
Movie--Grosse Pointe Blank;
Theater--An American Daughter;
Book--Naked, by David Sedaris;
Book--The Blue Flower, by Penelope Fitzgerald;
Book--Gut Symmetries, by Jeanette Winterson;
Book--Inventions of the March Hare: Poems 1909-1917, by T.S. Eliot, edited by Christopher Ricks.
Movie--Inventing the Abbotts;
Book--Allen Ginsberg (1926-1997);
Book--After the Madness: A Judge's Own Prison Memoir, by Sol Wachtler;
Book--The Big Picture, by Douglas Kennedy.
Book--Texaco, by Patrick Chamoiseau, translated by Rose-Myriam Réjouis and Val Vinokurov;
Book--John Wayne's America: The Politics of Celebrity, by Garry Wills;
Book--The Divorce Culture, by Barbara Dafoe Whitehead;
Book--When the Sons of Heaven Meet the Daughters of the Earth, by Fernanda Eberstadt;
Theater--The Young Man From Atlanta.
--Compiled by Franklin Foer and the editors of Slate.