Slate and the Second City Team Up for a Live Political Comedy Show
Unelectable You, coming to a city near you between now and Election Day!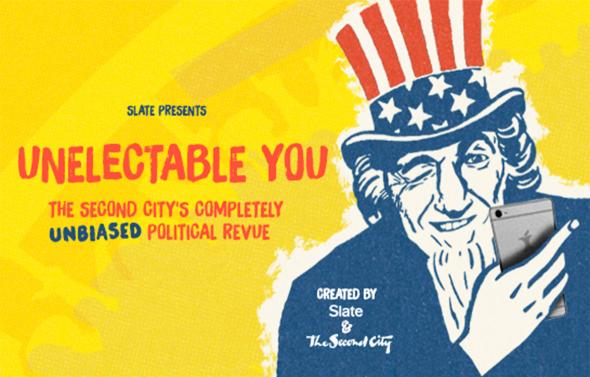 Last fall the legendary Chicago comedy theater the Second City called Slate with a surprising question: What would happen if its comedians and our journalists put their heads together and made a political comedy show? Would it be incisive? Stupid? Canny? A huge mistake? All of the above?? To us here at Slate, where our unofficial motto remains "Unafraid of Embarrassing Failure Since 1996," this all sounded like a pretty great idea. The result: Unelectable You, which opens Thursday for a monthlong run in Chicago before going on tour all autumn around the country—to big cities and small ones, to colleges and clubs, from sea to shining sea.
Unelectable You is the product of a unique collaboration between a theater and a magazine. In a series of workshops this winter, Second City writers and performers talked to the Slate politics staff about the election ahead. What issues did it think would be the most crucial? What storylines did it expect to play out over the course of the campaign? Could Donald Trump actually win the nomination? ("Nah," we said.) During the spring, Second City writing teams created material for the upcoming show, with input from Dan Kois, Slate's culture editor. A director (Second City vet Matt Hovde) and a talented cast were brought on and started rehearsing in early July. And last week, Kois sat in, helping Hovde and his cast bring the sharp news sense and spirit of counterintuitive argument to each of the sketches, songs, and improv structures the Second City was considering for the show.
In addition to all that material, most performances of Unelectable You will feature Slate writers, editors, and podcasters live onstage or on Skype, discussing the day's news and the campaign's twists and turns. The result is a show that mixes the Second City's big laughs with the kind of clever commentary you look for from Slate. Tickets are on sale now! Find out more at unelectableyou.com.