The Longform Guide to the CIA
The article that became Ben Affleck's Argo and more great spy stories.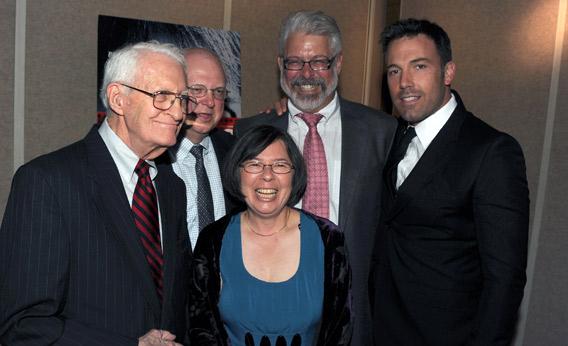 Every weekend, Longform shares a collection of great stories from its archive with Slate. For daily picks of new and classic nonfiction, check out Longform or follow@longform on Twitter. Have an iPad? Download Longform's app to read the latest picks, plus features from dozens of other magazines, including Slate.
These articles about the CIA, while fascinating and terrifying and thrilling, also feel somewhat incomplete: It's tough to read them without wondering about all the stories we'll never know.
How the CIA used a fake science fiction film to sneak six Americans out of revolutionary Iran. The declassified story that became Ben Affleck's Argo.
"We have prepared for your escape," [Tony] Mendez announced during dinner. He then explained the cover story and presented Kirby's drawings, the script, the ad in Variety, and the telephone number of the Studio Six office back on Sunset Boulevard. Mendez handed out the business cards and passports. Cora Lijek would become Teresa Harris, the writer. Mark was the transportation coordinator. Kathy Stafford was the set designer. Joe Stafford was an associate producer. Anders was the director. Schatz, the party's cameraman, received the scoping lens and detailed specs on how to operate a Panaflex camera. Mark Lijek noticed that Mendez wore a distinctively British Harris tweed sport coat, in keeping with his alias as an Irish film producer.
The Americans were initially nervous about the plan. 'Let me just show you how this kind of operation works,' Mendez said, picking up two corks from the many opened wine bottles. He put the corks between his thumbs and forefingers in two interlocking D shapes. "Here's the bad guys," he said, showing that they couldn't be separated, 'and here's us.' With a sudden sleight of hand, he pulled them apart.
It was parlor magic—but somehow extraordinarily comforting. The six felt they had a competent leader. 'It's going to be that easy,' Mendez said, sensing the group's growing confidence. 'We'll be able to fool them all.' "
Throughout the '50s and '60s, media outlets including the New York Times and CBS News provided the CIA with information and cover for agents. Then everyone decided to pretend it had never happened.
"In the field, journalists were used to help recruit and handle foreigners as agents; to acquire and evaluate information, and to plant false information with officials of foreign governments. Many signed secrecy agreements, pledging never to divulge anything about their dealings with the Agency; some signed employment contracts, some were assigned case officers and treated with. unusual deference. Others had less structured relationships with the Agency, even though they performed similar tasks: they were briefed by CIA personnel before trips abroad, debriefed afterward, and used as intermediaries with foreign agents. Appropriately, the CIA uses the term 'reporting' to describe much of what cooperating journalists did for the Agency. 'We would ask them, Will you do us a favor?'said a senior CIA official. 'We understand you're going to be in Yugoslavia. Have they paved all the streets? Where did you see planes? Were there any signs of military presence? How many Soviets did you see? If you happen to meet a Soviet, get his name and spell it right. ... Can you set up a meeting for us? Or relay a message?' Many CIA officials regarded these helpful journalists as operatives; the journalists tended to see themselves as trusted friends of the Agency who performed occasional favors—usually without pay—in the national interest.
'I'm proud they asked me and proud to have done it,' said Joseph Alsop, who, like his late brother, columnist Stewart Alsop, undertook clandestine tasks for the Agency. 'The notion that a newspaperman doesn't have a duty to his country is perfect balls.' "
Erik Prince, the boyish CEO of America's largest and most controversial mercenary force, Blackwater, also happened to be a CIA agent.
"In Hollywood, meanwhile, a town that loves nothing so much as a good villain, Prince, with his blond crop and Daniel Craig mien, has become the screenwriters' darling. In the film State of Play, a Blackwater clone (PointCorp) uses its network of mercenaries for illegal surveillance and murder. On the Fox series 24, Jon Voight has played Jonas Hodges, a thinly veiled version of Prince, whose company (Starkwood) helps an African warlord procure nerve gas for use against U.S. targets.
But the truth about Prince may be orders of magnitude stranger than fiction. For the past six years, he appears to have led an astonishing double life. Publicly, he has served as Blackwater's C.E.O. and chairman. Privately, and secretly, he has been doing the C.I.A.'s bidding, helping to craft, fund, and execute operations ranging from inserting personnel into "denied areas"—places U.S. intelligence has trouble penetrating—to assembling hit teams targeting al-Qaeda members and their allies. Prince, according to sources with knowledge of his activities, has been working as a C.I.A. asset: in a word, as a spy. While his company was busy gleaning more than $1.5 billion in government contracts between 2001 and 2009—by acting, among other things, as an overseas Praetorian guard for C.I.A. and State Department officials—Prince became a Mr. Fix-It in the war on terror. His access to paramilitary forces, weapons, and aircraft, and his indefatigable ambition—the very attributes that have galvanized his critics—also made him extremely valuable, some say, to U.S. intelligence. (Full disclosure: In the 1990s, before becoming a journalist for CBS and then NBC News, I was a C.I.A. attorney. My contract was not renewed, under contentious circumstances.)"
The story of William Morgan: American, wanderer, Cuban revolutionary, possible spy.
"U.S. and Cuban intelligence agents also began picking up chatter about a Yankee commando. In the summer of 1958, the C.I.A. reported whispers of a rebel, 'identified only as El Americano,' who had played a critical role in 'planning and carrying out guerrilla activities,' and who had virtually wiped out a Batista unit while leading his men in an ambush. An informant from a Cuban revolutionary group told the F.B.I. that El Americano was Morgan. Another said that Morgan had 'risked his life many times' to save the rebels, and was considered 'quite a hero among these forces for bravery and daring.' The reports eventually set off a scramble among U.S. government agencies—including the C.I.A., the Secret Service, the State Department, Army intelligence, and the F.B.I.—to determine who William Alexander Morgan was, and whom he was working for."
When a CIA operation in Pakistan went bad, leaving three men dead, the episode offered a rare glimpse inside a shadowy world of espionage. It also jeopardized America's most critical outpost in the war against terrorism.
"Some particulars of the 36-year-old's work remain cloaked in classification, but a search for answers in Pakistan and the U.S.—and eventually, a brief interview with Davis himself—give a good sense of who he is and what happened to him. He likely worked alongside the CIA's Special Activities Division, the agency's paramilitary wing. The SAD works in hostile environments—the ones where running agents is risky, if not impossible—gleaning intelligence through covert means. That can include anything from tapping wires to snatching suspects to influencing politicians through propaganda. Davis's particular role focused on operational security. Whether it was a clandestine meeting between a case officer and a source or an eavesdropping or other black op, his job would be to work closely—but not too closely—with the case officer, in case the scene shifted in some perilous way. During a meeting in a hotel lobby, for instance, an operator like Davis would try to remain far enough away from the exchange to not draw attention, but near enough to watch for hostile movement. If someone were to attack, protocol calls for two essential actions: Shoot any attackers until they're down for good, and clear out immediately, along with any other Americans and agents.
In Pakistan, Davis's near-translucent official cover was as a 'technical consultant' to the American consul general. But in reality he and his CIA team sought to do something difficult and dangerous: to surveil and report on the terrorist group Lashkar-e-Taiba."
On the CIA's early operations.
"I don't recall just when in the 1950s I began to suspect that the CIA together with the State Department, the Ford Foundation, and similar institutions had turned anti-Stalinism into a flourishing sub-profession for a number of former radicals and other left-wing intellectuals who were then and are still my friends in New York. No doubt the evidence was all around me well before I began to piece it together or before it popped into my head, as such discoveries do, that organized anti-Communism had become as much an industry within New York's intellectual life as Communism itself had been a decade or so earlier, and that it involved many of the same personnel. An important difference, however, was that the new enterprise was far more luxuriously financed than its predecessor had been, involving branch operations in Europe, Asia, Africa, and Latin America, together with subsidized publications in all these places, to say nothing of conferences and seminars on such a scale and in so many countries and with so much air travel to and fro that even the Ford Foundation, which was ostensibly paying for much of this activity, could hardly be assumed to be paying for it all."
A spy takes on his own agency.
"Groat was arrested and held in the room for five hours. Flynn and two other agents remained with him, he says. His car keys were taken away. 'One of the FBI agents said, 'It probably wouldn't do much good to ask you questions, would it?' And I said, 'No, it wouldn't.' After being strip-searched, fingerprinted and handcuffed, he says, he was driven to the Federal District Court building and locked in a cell. Held there for two days, he was strip-searched again in front of eight people, including a female officer, shackled and outfitted with a stun belt. 'My eyes were covered with a pair of goggles, the lenses masked over with duct tape,' he says. He was moved by van, with a police escort, to a waiting helicopter.
After a short ride, he was taken to a windowless room that would be his home for the next six months. He was never told where he was, but he was told he was being treated as an 'extreme risk' prisoner. The lights in his cell were kept on 24/7, and a ceiling-mounted camera monitored him all the time."
A three-part series on the U.S. intelligence system post-9/11.
"It is also a system in which contractors are playing an ever more important role. The Post estimates that out of 854,000 people with top-secret clearances, 265,000 are contractors. There is no better example of the government's dependency on them than at the CIA, the one place in government that exists to do things overseas that no other U.S. agency is allowed to do.
Private contractors working for the CIA have recruited spies in Iraq, paid bribes for information in Afghanistan and protected CIA directors visiting world capitals. Contractors have helped snatch a suspected extremist off the streets of Italy, interrogated detainees once held at secret prisons abroad and watched over defectors holed up in the Washington suburbs. At Langley headquarters, they analyze terrorist networks. At the agency's training facility in Virginia, they are helping mold a new generation of American spies."