Let the Healing Begin, But Not Yet
Baffled in loss, kf seeks road forward!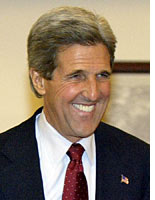 Up to 4,000 shoulder-fired anti-aircraft missiles are missing in Iraq, tripling the number loose in the world. Isn't that a bigger cost of the Iraq War, and a bigger story, than the explosives at Al QaQaa? It is if you're a frequent flyer. Yet we find out about it four days after the election. Damn biased liberal October-surprising MSM not doing its job! ... P.S.: Then there are those 2,500 sarin-filled artillery rockets which, Eric Umansky speculates, may be coming back at us in Fallujah. (But that story did break in the NYT the weekend before the election--on page 12.) ... 8:22 P.M.
Saturday, November 6, 2004
Tax Reform--the Cure for Lameness in Ducks? Why might Congress be more willing than expected to cooperate with a "lame duck" President Bush over the next two years? Because thanks to the President's proposal to overhaul the tax code Republican lawmakers will be happily swimming in campaign contributions from businesses newly desperate to buy influence lest they lose out in the big revenue reshuffle. ... It's certainly important, if you are a Congressman trying to raise money for yourself, that the dream of tax reform be kept alive! At least for two years. Then it can be nibbled to death. ... Washington D.C.'s economy should be revived, if nobody else's. ... 11:52 P.M.
Under the caption, "Everything you need to know about Bill Richardson," a friend emails the following two grafs from today's NYT:
Party officials said they were concerned about evidence of a cultural gap between Democrats and much of the country. Gov. Bill Richardson of New Mexico said that his dealings with Mr. Kerry and his advisers had vividly demonstrated to him the problems the party faces.

''I remember being on a trip with him in New Mexico: I put a cowboy hat on Senator Kerry and someone on his staff shuddered and asked me to stop,'' he said. ''This is I think an example of the East Coast not connecting with the West Coast and with the rest of the country.''
Did my friend mean that Richardson was 1) superficial (it was the hats that did us in!); 2) self-promoting ('Hey, I'm from a red state. Over here!'); 3) disloyal (trashing the party's defeated candidate within days of the election if it will get him in the NYT); 4) too obviously disloyal and self-promoting to be effective at the latter (if you were a politician, would you want to take a trip with Gov. Richardson?)? ... I think my friend meant at least three out of the four. ... Update: Alert reader K.B. notes 5) the Kerry staffer was right! "[A] picture of John Forbes Kerry wearing a cowboy hat would have been instantly posted on Drudge and the subject of a week's worth of BC04 ridicule and late-night jokes."  6:07 P.M.
Saturday, November 6, 2004
Spectacularly unsuccessful and slippery Democratic National Committee chairman Terry McAuliffe--who has singlehandedly disproved the idea that money = speech--just sent me a "Dear Friend" email asking me to "Help determine the Democratic Party's next steps."  Gee. ... Let me think. ... Nothing obvious comes to mind. ... I'll get back to you on that one! ... P.S.: McAuliffe ends by thanking everyone for "helping create something special." Awww! Is it possible for Democrats to thank him with something similarly special? ... 11:18 P.M.
recommendation for President Bush: He should announce that when a new Iraqi government is elected, he is prepared to negotiate the terms and timetable of American withdrawal.
MYSLATE
Photograph of John Kerry by Brian Snyder/Reuters.