Would the World Be Better Off Without Religion?
Watch—and participate in—the Slate/Intelligence Squared U.S. live debate on Nov. 15.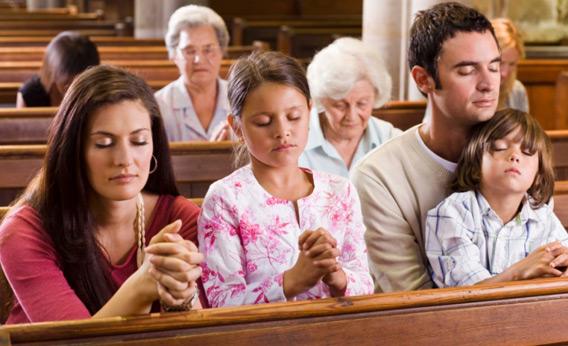 Religious zealots bomb buses filled with civilians, force genital mutilation, and wage holy wars in the name of faith. But believers also donate staggering amounts of time and money to faith-based charities, and strive to be good by devoting themselves to a set of commandments and credos.
Does religion lead to more evil or more good? Was Blaise Pascal right when he decried religion, saying, "Men never do evil so completely and cheerfully as when they do it from a religious conviction"?
Religion's impact on the modern world is the subject of the Nov. 15 Slate/Intelligence Squared U.S. debate. We'd like to invite you to attend the debate—we're offering Slate readers a 30 percent discount on tickets (see below)—and you're invited to submit questions for the debaters. We'll pick the most interesting one, and moderator John Donvan will ask it at the debate.
On Nov. 15, two atheists and two believers will wrestle over the controversial motion, "The World Would Be Better Off Without Religion." Does religion breed intolerance and violence? Or has it primarily been a source for good, imbuing followers with purpose and encouraging moral behavior?
Join us at NYU's Skirball Center in New York City for an Oxford-style live debate. Philosopher and Professor A.C. Grayling will team up with Matthew Chapman, the great-great-grandson of Charles Darwin, to argue for the motion and against religion. Rabbi David Wolpe and King's College President Dinesh D'Souza will fight against the motion.
Can't be at the debate? Watch it below.
If you've got a question for the debaters, write it below in the comments section of this article. We'll select one to read live at the debate. Be sure to include your full name and hometown with your question.
The details about the debate:
When/Where: Nov. 15, 2011, at Skirball Center for the Performing Arts, New York University, located at 566 LaGuardia Place (at Washington Square South). The evening begins at 5:45 p.m. with a cash-bar reception for panelists and audience members; the live debate starts at 6:45 p.m. and ends at 8:30 p.m. For venue information, click here.
Tickets: $40 ($12 for students with ID). Purchase tickets here, and be sure to enter the special Slate promotional discount code, Slate30, to receive 30 percent off your ticket.
Matthew Chapman is the co-founder and president of Science Debate, an organization seeking to get political candidates, particularly presidential candidates, to debate important science policy issues. The great-great-grandson of Charles Darwin, Chapman is the author of two books, Trials Of The Monkey - An Accidental Memoir and 40 Days and 40 Nights: Darwin, Intelligent Design, God, OxyContin, and Other Oddities on Trial in Pennsylvania. His most recent film, The Ledge, was accepted into competition at the 2011 Sundance Film Festival and deals with the ultimately fatal feud between an atheist and an evangelical Christian.
A.C. Grayling, a British philosopher and professor, has written more than 20 books on philosophy, religion, and reason including Against all Gods and The Good Book: A Humanist Bible. Previously a professor of philosophy at Birkbeck College, University of London, Grayling is now master of the New College of the Humanities, an independent university college in London. For nearly 10 years, he was the honorary secretary of the principal British philosophical association, the Aristotelian Society, and a trustee of the London Library. A former fellow of the World Economic Forum, Grayling was a Booker Prize judge in 2003.
Dinesh D'Souza is a New York Times bestselling author and the president of the King's College in NYC. He has had a distinguished 25-year career as a writer, scholar, and intellectual. A former policy analyst in the Reagan White House, D'Souza also served as an Olin Fellow at the American Enterprise Institute as well as a Rishwain Scholar at the Hoover Institution at Stanford. Called one of the "top young public-policy makers in the country" by Investor's Business Daily, he quickly became a major influence on public policy through his writings. In 2008 D'Souza released the book, What's So Great About Christianity, the comprehensive answer to a spate of atheist books denouncing theism in general and Christianity in particular. Consequently he has gone on to debate atheists such as Christopher Hitchens, Peter Singer, Daniel Dennett, and Michael Shermer.
David Wolpe is the Rabbi of Sinai Temple in Los Angeles, California, and was named the No. 1 pulpit rabbi in America and the second most influential rabbi in America by Newsweek magazine. He previously taught at the Jewish Theological Seminary of America in New York, the American Jewish University in Los Angeles, Hunter College, and he currently teaches at UCLA. In 2003 Rabbi Wolpe was named one of the hundred most influential Jews in America by Forward. He is the author of seven books, including the national bestseller Making Loss Matter: Creating Meaning in Difficult Times. His new book, Why Faith Matters, is largely a response to atheist theories.
John Donvan is a correspondent for ABC News' Nightline. He has served as ABC White House correspondent, along with postings in Moscow, London, Jerusalem, and Amman.