Too Many American Kids Go To College
How you can watch—and participate in—the live Slate/Intelligence Squared U.S. debate Oct. 12 at the Spertus Center in Chicago.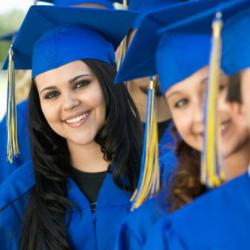 Facebook founder Mark Zuckerberg and Microsoft founder Bill Gates are Harvard College dropouts. Apple founder Steve Jobs quit Reed College after one semester. Albert Einstein barely made it through high school. Walt Disney didn't make it at all. But despite the success of these legendary quitters, we've been taught for years that higher education is the only path to financial and career success.
Today, that notion is under attack. Student-loan debt has surpassed credit-card debt. Unemployment for bachelor's degree holders is at an all-time high. And entrepreneurs like Zuckerberg and Gates prove that extraordinary achievement is possible without a college diploma. Still, recent studies show that college is economically beneficial even to those whose jobs don't require a degree.
The economic and social value of higher education is the subject of the next Slate/Intelligence Squared U.S. live debate on Oct. 12. We'd like to invite you to attend the debate—and you're invited to submit questions for the debaters. We'll pick the most interesting one and moderator John Donvan will ask it at the debate. Be sure to pick up your tickets soon–there are only a few left for this popular event.
The proposition of the debate is: "Too many kids go to college." In other words, is a college degree still the best way to ensure social mobility, or is America's love affair with higher education unjustified?
Join us for the first ever Chicago-based Slate/Intelligence Squared U.S. debate at The Spertus Center. Paypal co-founder Peter Thiel and political scientist Charles Murray will debate for the motion "Too many kids go to college." Vivek Wadhwa of Duke University and Harvard Law School will team up with President Emeritus of Northwestern University Henry Bienen to argue against the motion.
If you've got a question for the debaters, write it below in the comments section of this article. We'll select one to read live at the debate. Be sure to include your full name and hometown with your question.
If you aren't in Chicago on Wednesday evening, don't despair: Slate will stream the debate live here:
The details about the debate:
When/Where: Oct. 12, 2011, at Venue Six10 @ The Spertus Center, 610 S. Michigan Avenue, Chicago, Ill., 60605.
The evening begins at 5:45 p.m. with a cash-bar reception for panelists and audience members; the live debate starts at 6:45 p.m. and ends at 8:30 p.m.
Peter Thiel is co-founder of PayPal. Known as the mentor to the PayPal mafia of entrepreneurs, Thiel is a leading advocate of young people exploring alternatives to a college education. This year he launched the 20 Under 20 Thiel Fellowship, a two-year mentoring program that provides $100,000 in grants toward building the fellows' businesses in biotech, technology, finance, education, and more. In 2004, Thiel made the first outside investment in Facebook and now serves as a board member. Thiel currently serves as president of Clarium Capital Management LLC and managing partner of The Founders Fund, a Silicon Valley venture capital fund.
Vivek Wadhwa is director of research at the Center for Entrepreneurship and Research Commercialization at Duke University and a senior research associate for the Labor and Worklife Program at Harvard Law School. A respected pioneer for his groundbreaking research on the globalization of R&D and innovation, Wadhwa advises several startups, founded two software companies, and is a columnist for the Washington Post and Bloomberg BusinessWeek.
Henry Bienen is the president emeritus of Northwestern University. A member of Chicago Mayor Rahm Emanuel's Economic Development and Planning Committee, Bienen launched his career in academics at Princeton University in 1966 as an assistant professor. In 1994, he was elected president of Northwestern University and currently serves as president emeritus. Mr. Bienen is one of the first three university presidents awarded the Carnegie Corporation Academic Leadership Award for innovative leadership in higher education. He is chairman of the board of Rasmussen College and on the board of the Chicago Public Schools.
John Donvan is a correspondent for ABC News' Nightline. He has served as ABC White House correspondent, along with postings in Moscow, London, Jerusalem, and Amman.