Men Are Finished
How you can watch—and participate in—the live Slate/Intelligence Squared debate on Sept. 20 at NYU.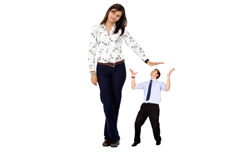 Women now earn the majority of college degrees. Men play video games. Women thrive in information-age jobs. Men go to prison. Women hold families together. Men watch football. On Tuesday, Sept. 20, the Slate/Intelligence Squared U.S. live debate series will ask and answer a fundamental question about modern society: Are men finished?
We'd like to invite you to attend the debate—we're offering Slate readers a 30 percent discount on tickets (see below)—and you're invited to submit questions for the debaters. We'll pick the most interesting one and moderator John Donvan will ask it at the debate.
The debate proposition is "men are finished." What does that actually mean?  A modern, post-industrial economy that seems better suited to women than men has led many experts to wonder if men are being permanently left behind. Education and employment statistics point to a clear and growing dominance in women's status at home and in the workplace. Are men primed for a comeback, or have the old rules changed for good?
Ladies, give yourself a night off from your second job as an astronaut or neurosurgeon. Men, take a break from your fantasy football league to see if you can save yourself. Join us at NYU's Skirball Center in New York City for an Oxford-style live debate. ABC News Legal Analyst Dan Abrams and Hanna Rosin, award-winning journalist for Slate and the Atlantic, will argue for the motion that "men are finished." Feminist scholar Christina Hoff Sommers and Men's Health magazine editor-in-chief David Zinczenko will argue against it.
If you've got a question for the debaters, write it below in the Comments section of this article. We'll select one to read live at the debate. Be sure to include your full name and hometown with your question. You can also cast a vote for or against the motion in Slate's poll below.
When/Where: Sept. 20, 2011 at Skirball Center for the Performing Arts, New York University, located at 566 LaGuardia Place (at Washington Square South).
The evening begins at 5:45 p.m. with a cash-bar reception for panelists and audience members; the live debate starts at 6:45 p.m. and ends at 8:30 p.m. For venue information, click here.
Tickets: $40 ($12 for students with ID). Purchase tickets here, and be sure to enter the special Slate promotional discount code, Slate30, to receive 30 percent off your ticket.
For the motion:
Dan Abrams is a legal analyst for ABC News, a substitute anchor for Good Morning America, and the host of Discovery ID's Chasing Justice. He is the Founder and CEO of the Abrams Media network, which includes seven websites and the digital agency Abrams Research. He is also the author of Man Down: Proof Beyond a Reasonable Doubt That Women Are Better Cops, Drivers, Gamblers, Spies, World Leaders, Beer Tasters, Hedge Fund Managers, and Just About Everything Else.
Hanna Rosin instigated a fury of responses with last year's Atlantic story, "The End of Men," based on her theory that men are losing their dominance and women are quickly rising. The reaction was so strong that she is now writing a book based on her findings. Rosin is an award winning magazine writer at the Atlantic and Slate, and founding editor of DoubleX, a blog dedicated to "what women really think about news, politics, and culture." She lives in Washington, D.C. with her husband, the meek and cowed Slateeditor David Plotz, and their three children.
David Zinczenko is senior vice president and editor-in-chief of Men's Health and Editorial Director of Women's Health. He is the author of the bestselling series Eat This, Not That!and a regular contributor to NBC's Today. Zinczenko has appeared as a health expert on Oprah, The Ellen DeGeneres Show, Good Morning America, NBC Nightly News, 20/20, CNN and the Rachel Ray Show.
The moderator:
John Donvan is a correspondent for ABC News' Nightline. He has served as ABC White House correspondent, along with postings in Moscow, London, Jerusalem, and Amman.