Did Social Media Take Down Rush Limbaugh?
A Slate staff debate.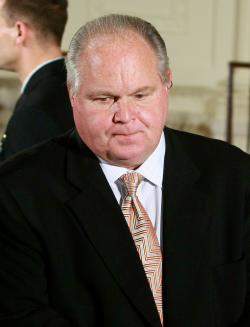 The rancor directed at Limbaugh has hardly softened since he posted an apology on his website. At Slate, we've been arguing about the role of social media in the corporate backlash against the conservative host. Are Limbaugh's advertisers deserting him because he pushed the envelope further than he ever had before, or was he felled by a lethal combination of offensiveness, Twitter, and Facebook? Here's a condensed version of our email exchange.
Torie Bosch: Has anyone rounded up, say, 10 other things Limbaugh did previously that could or should have elicited this level of backlash? As this story emerged, I kept thinking that it didn't seem like he'd crossed a line he hadn't traversed before.

Farhad Manjoo: Are we seeing something new in social media, with the Komen thing, SOPA, and now this? It seems that Facebook-borne outrage is really doing something.
Hanna Rosin: I am with Torie: I find the outrage of the advertisers perplexing, given all the other awful stuff Limbaugh has said. Paul Farhi did sort of a roundup this morning.

Will Saletan: This is definitely a social media story. Companies and institutions gradually build up motivation to make a change like this, and then somebody produces a handy trigger.
Ben Johnson: +1. In 2012, the only thing that seems to terrify governments, corporations, or celebrities enough to make them act quickly is the fury of the Internet, spread by social media. Can you imagine if there was SOPA-level activism and rage regarding financial reform, spurred by simple, focused messaging? Bank of America was shaking in its boots over the social backlash to its ATM fee hike. The reversals have been kind of jaw-dropping, and they're obviously accelerating.

Daniel Engber: Didn't the same exact thing happen to Don Imus? He'd also said lots of outrageous things, but his racist comments in 2007 lost him all his sponsors and got him exiled to satellite radio. Back then, tiny Facebook wasn't even making a profit. Or was that a social media story that played out on Friendster?
Bill Smee: I'm completely with Engber here. Rush Limbaugh outrage and consequent sponsorship desertion would have happened with or without social media furor. Twitter and Facebook probably just accelerated the reaction.