An Interview With Aung San Suu Kyi
Burma's Nobel laureate muses on the sweeping reforms in her country and whether she will be its president.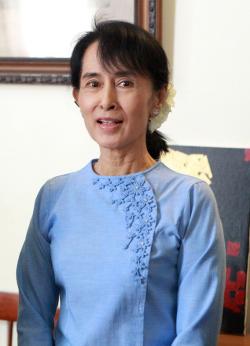 In the living room of the home where she was held under house arrest for so many years, Aung San Suu Kyi sat and talked about the future. Six years ago, she was allowed by the military regime imprisoning her to receive no visitors. Now she is a free woman welcoming high-level foreign guests, a political star in her country, and possibly a future president. In an exclusive interview with Lally Weymouth a few days ago, she talked about the past and the future. Excerpts:
Aung San Suu Kyi: My meeting with the President went well, and I believe he sincerely wants reform. But he is not the only one in government. Our present constitution gives the military far too much power. Although the president is the head of state, he is not necessarily the highest power in the land. The commander-in-chief can take over all powers of government at any time he feels it to be necessary. That must be very difficult if you are in the position in which our president is. I don't know how much support he has within the army. He himself is an army man, so I assume there must be considerable support for him in military circles. But that is just an assumption.
If people ask me if they are genuine about reform, I say I think the president is genuine about reform. I think there are those who support him in the government. Whether all people support him, I can't answer.
I do believe the president is a genuinely good person and really wants what is best for this country.
Do you worry there could be a reversal of this reform process?
I don't worry overmuch, but I am aware that there is a possibility of reversal. I think we have to work very hard to diminish this possibility—by strengthening the process of reform. I do appreciate what the United States is doing to encourage this process. I think we here inside Burma have to do the major part of the work.
Should the United States lift sanctions and engage?
Engage and lift sanctions when they think the time is right. The United States has laid out very clearly what the conditions are for the removal of sanctions. If this government wants sanctions to be removed, they will have to try and meet those conditions.
One condition was the prisoner releases, and the president did release quite a few recently.
Yes, but not all of them yet. All the major political prisoners have been released. The ones who have not yet been released are not very well known and we are looking into each case to find out why they haven't been released.
The United States also wanted …
Humanitarian access to conflict areas and I don't think they have achieved that yet. The latest problem is the renewed hostilities in the Kachin state.A number of [ethnic] organizations, including the KMU [Karin Military Unit], have agreed to a ceasefire. Although political negotiations have not started yet.