The Biggest Events of 2009
Vote for the most important stories of the year.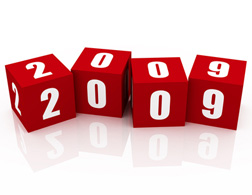 From Obamacare to Octomom, 2009 has been a great year for juicy cocktail chatter. America inaugurated its first African-American president, prepared to pull out of Iraq, became more deeply entrenched in Afghanistan, girded against the H1N1 flu virus, mourned the deaths at Fort Hood, cheered or bemoaned Sarah Palin's enduring presence, fretted over climate change, tsk-tsked at the Gosselins, and held contentious tea parties. With a list of notable events this long, Slate needs your help to rank the most important happenings of 2009.
To vote, check the box next to your picks for the most compelling topics of the year: You can only choose five! Click on each subject to read Slate's coverage.
To check the running tally, click on "View Results" below. We'll reveal the final rankings for Slate's top 10 events of the year on Friday, so check back to see where your picks rank.