Map: Conservative Voters Who Supported Pot in Colorado
Pot was twice as popular as Obama in some rural counties.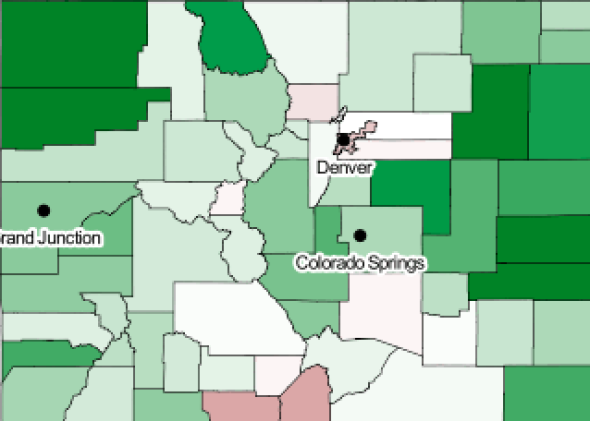 With the New Year, Colorado became the first state to legalize recreational pot. Although Americans have warmed up to weed nationwide, legalization still generally polls better among voters who tend to support Democrats as opposed to Republicans. So pot proponents should light one up especially for the 117,000 voters who voted against Obama in 2012 but for recreational pot—despite Romney's opposition. These voters account for at least half of the Colorado amendment's victory margin. And interestingly, they appeared in particularly large numbers in rural counties, as the map above illustrates, even if those rural counties voted against legalizing pot on the whole.
Who are these 117,000 standard bearers for legal marijuana, and do their votes suggest that opposition to pot among Republican leaning voters is fading? Yes, among one type of conservative; These voters are probably libertarians. The more strongly counties supported Ron Paul for the 2012 GOP caucus, the more strongly their voters supported marijuana legalization. The lesson for organizers in the next states with legalization drives: Go knock on the doors of the Ron Paul folks or their neighbors, wherever they live. It's worth the drive.