Play the Slate News Quiz
With Jeopardy! superchampion Ken Jennings.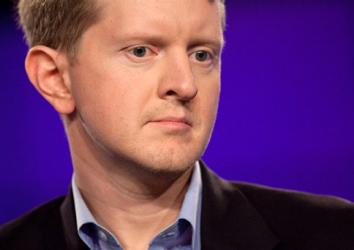 Welcome back to Slate's weekly news quiz. I'm your host, 74-time Jeopardy! winner Ken Jennings.
Every Friday I'll be testing your knowledge with 12 challenging questions on the week's news events, big and small, including happenings in science, sports, politics, and culture both high and low. The questions are multiple-choice, and time is of the essence: You have 30 seconds to answer, and as the seconds tick away, the question's point value drops from 50 all the way down to zero, so you'll want to click on your answer as fast as you possibly can. There's no penalty for an incorrect answer, so feel free to take a guess if your puny human brain fails you.
At the end of the quiz, you'll be able to compare your score with that of the average contestant, as well as to the score of a Slate-ster whom I've talked into taking the quiz on the record. This week's contestant is Eric Holthaus, who writes about weather and climate for Future Tense.
Think you can ace my quiz and beat Eric Holthaus? Good luck!

The Slate Quiz with quizmaster Ken Jennings


Pumpkin spice latte is back! But it's not the only long-awaited return in the news. We also saw the return of Alex Trebek's mustache (last seen in September 2001) and of Hillary Clinton to Iowa (a state where she hasn't been in 2,446 days ... but where she will likely be spending some quality time from now on). We hope you enjoy the weekly return of the Slate News Quiz.
Question 1
of 12
On Tuesday, President Obama announced a major surge—"unparalleled in modern times"—of $500 million and 3,000 troops to help fight the chaos where?
Question 2
of 12
Part of the Chinese city of Chongqing has divided sidewalks into two lanes, labeled what?
"Walk in this line at your own risk!" reads the texting lane, where official hope to confine "unnecessary collisions."
Question 3
of 12
Last week, the Pew Research Center punctured a stereotype by announcing that millennials do what considerably more than older Americans?
A survey showed that 88 percent of 16- to 29-year-olds read a book last year, and the median reader read 10.
Question 4
of 12
It was announced last Friday that 10 militants had been taken into custody for their involvement in what attack?
Question 5
of 12
A new investigation this week found that child vaccination rates in countries like Chad and South Sudan were about the same as vaccination rates where?
Stay away from the Westside if you don't like whooping cough.
Question 6
of 12
On Tuesday, which city saw its fourth casino closing of 2014?
Of the city's 12 casinos, fully one-third have shut their doors this year due to problems with debt and low revenues.
Question 7
of 12
On Wednesday, the House warily authorized the president's plan to end the ongoing turmoil and dismantle what violent group?
The vote was bipartisan, but Democrats insisted that any future commitment to ground troops was off the table.
Question 8
of 12
Which part of the Union Jack flag would potentially have to be removed were Scotland to vote for independence and leave the United Kingdom?
The white "X" on a blue field is St. Andrew's cross, the official symbol of Scotland.
Question 9
of 12
Urban Outfitters apologized for a bloody-looking sweatshirt design with what phrase printed on it?
Kent State, where four students killed and nine wounded by National Guard troops in 1970, said it took "great offense" to the design, while Urban Outfitters implausibly insisted the red splatters weren't meant to be blood.
Question 10
of 12
What divisive politician was diagnosed this week with a very rare form of cancer, which has caused tumors in his abdomen and buttocks?
"He is going to have some rough days ahead," said Ford's surgeon.
Question 11
of 12
A new study this week in the American Journal of Political Science reported what unusual finding about people with similar political ideologies?
The study, a mass armpit-pad exchange, found that people really do prefer the smell of politically compatible partners.
Question 12
of 12
Who was accused this week by state rangers of stealing 280,000 gallons of water in drought-stricken northern California?
After their wells ran dry, the Los Gatos nudists began diverting water from a local waterfall to keep their skinny-dipping pool topped off.

September 18, 2014


Anonymous User
Log in to track your scores!
vs.

Eric Holthaus
Future Tense Weather Blogger
A Palin barbecue in Alaska
"Good citizens" and "slow walkers"
"Chinese" and "lesser races"
"Cellphones" and "no cellphones"
"Families" and "eligible singles"
The Boko Haram kidnappings in Nigeria
The shopping mall standoff in Nairobi
The Malala Yousafzai shooting in Pakistan
The kidnapping of James Foley in Syria
Native American reservations
Wealthy Los Angeles private schools
The white "X" and blue background
The thin red diagonal "X"
The small picture of Sean Connery in the corner
"Life Begins at Conception"
Israeli Prime Minister Benjamin Netanyahu
New Jersey Gov. Chris Christie
Senate Majority Leader Harry Reid
They like the same ice cream flavors
They pronounce either and neither the same way
They get "sorted" into the same Hogwarts house
They prefer each other's body odor

Average
0 points

You
0 points


Eric Holthaus
Future Tense Weather Blogger
0 points
Answer quickly to earn more points!
Quiz Template by Chris Kirk and Andrew Morgan