Play the Slate News Quiz
With Jeopardy! superchampion Ken Jennings.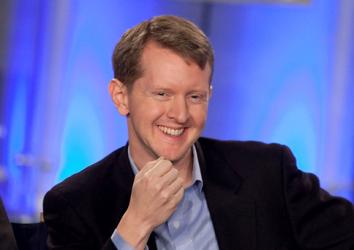 Welcome back to Slate's weekly news quiz. I'm your host, 74-time Jeopardy! winner Ken Jennings.
Every Friday I'll be testing your knowledge with 12 challenging questions on the week's news events, big and small, including happenings in science, sports, politics, and culture both high and low. The questions are multiple-choice, and time is of the essence: You have 30 seconds to answer, and as the seconds tick away, the question's point value drops from 50 all the way down to zero, so you'll want to click on your answer as fast as you possibly can. There's no penalty for an incorrect answer, so feel free to take a guess if your puny human brain fails you.
At the end of the quiz, you'll be able to compare your score with that of the average contestant, as well as to the score of a Slate-ster whom I've talked into taking the quiz on the record. This week's contestant is Felix Salmon, one of the stars of the Slate Money podcast.
Think you can ace my quiz and beat Salmon? Good luck!

The Slate Quiz with quizmaster Ken Jennings


Is Tony Soprano not actually dead? Is Hello Kitty not actually a cat? Should 9-year-olds not actually be handling Uzis? The news this week was full of mystery and uncertainty. Here at the Slate News Quiz, we prefer questions with clear, definitive answers—in multiple-choice form, where possible.
Question 1
of 12
To raise awareness for the suffering in Gaza, some residents have begun doing what with the rubble of their former homes?
The campaign was started by journalist Ayman al Aloul, who thankfully rejected friends' suggestion of a "blood bucket challenge" for Gaza.
Question 2
of 12
According to a new California law, all smartphones sold in the state after next July will be required to have which feature?
Question 3
of 12
A 6.0-magnitude earthquake last weekend is projected to have made a $1 billion dent in the economy where?
Some of the region's wineries lost half their wine to broken bottles and barrels in the quake.
Question 4
of 12
A chef named Peng Fan was killed in his restaurant kitchen in Guangdong, China, by which unexpected assailant?
Peng had cut off the cobra's head while preparing snake soup, a regional delicacy. Twenty minutes later, while throwing away the head, he was fatally "bitten."
Question 5
of 12
In defiance of the Geneva Conventions, captured soldiers were paraded this week in front of a tomato- and egg-throwing crowd this week in which city?
Pro-Russian rebels marched Ukrainian soldiers through Donetsk at the same time people were gathering in Kiev to celebrate the 23rd anniversary of Ukraine's independence.
Question 6
of 12
President Obama bucked tradition this week by approving a Medal of Honor for a victim of which war?
Typically, Medal of Honor recommendations must be made within two years of the service member's act of valor, but an exception has been made for Lt. Alonzo Cushing, who died at Gettysburg.
Question 7
of 12
On Monday evening, U.S. officials announced that they've begun surveillance flights for the first time over which nation?
The move opens the possibility of airstrikes against ISIS targets inside Syrian borders.
Question 8
of 12
What was unusual about the winner of the Democratic primary for governor of Florida on Tuesday?
Former Republican Florida Gov. Charlie Crist, capping a complete four-year political "makeover," will compete again for the office as a Democrat.
Question 9
of 12
Four students at North Carolina State have invented a controversial new nail polish designed to do what?
The new Undercover Colors line, aimed at "empowering" women, has drawn fire from critics who say it perpetuates rape culture.
Question 10
of 12
In light of recent events, the White House announced in a Monday press conference that it will be ordering a full review of federal programs supporting what?
Question 11
of 12
The American Academy of Pediatrics unveiled a new policy this week recommending that all middle and high schools do what?
The group, worried about teens not getting enough sleep, now recommends that no school day begin before 8:30 a.m.
Question 12
of 12
A German court ruled this week that a Berlin landlady was within her rights to evict a man who owned what?
There were multiple complaints from neighbors as a result of "sexual, athletic, and squeaking noises" at all hours of the night.

August 29, 2014


Anonymous User
Log in to track your scores!
vs.

Felix Salmon
Slate Money host
Mailing it to world leaders
Using it to build statues of corpses
Launching it across the Israeli border
Making "rubble bucket challenge" videos
Kill switches in case of theft
A nose full of white pepper
A customer whose dumplings were "soggy"
The rock and roller cola war
He is a former Republican governor of Florida
He has never lived in the state year-round
Ban soda and energy drinks
Require suicide prevention classes
The embalmed corpse of his father

Average
0 points

You
0 points


Felix Salmon
Slate Money host
0 points
Answer quickly to earn more points!
Quiz Template by Chris Kirk and Andrew Morgan