The American Way of Dentistry
A look at the coming crisis.
In the current health care debate, policymakers tout institutions like the Mayo Clinic, where doctors are salaried rather than paid for each procedure ("fee-for-service"), a compensation method that gives doctors an incentive to provide unnecessary care. In dentistry, the Mayo Clinic's equivalents mainly serve the poor. For participating dentists, though, the trade-offs are similar. Dentists who work for Neighborcare Health earn less than private practitioners, but they also avoid the headaches of running a business. Being an employee rather than an independent operator brings benefits like predictable income and a retirement savings plan. Lieberman, who had a successful private practice in Chicago for 20 years before he moved into community dentistry, believes that he would be in the same financial situation if he had spent his whole career in public health: "When you start off in private practice, you don't make money for a long time." In many states—including Washington—dentists who work at public health clinics qualify for loan repayment and loan forgiveness programs.
Beck, who is now working in private practice, found another benefit of clinic work: leadership training. "Private practice dentists are small-business owners. They have to deal with HR, marketing, IT. They have to know about budgeting, staffing. Most dentists were science majors as undergrads, and while they might have taken an occasional business class, they're rarely prepared for the business side of things. You get a master class in business by working at a community health center."
Still, there are only 2,109 dentists employed by health clinics nationwide, compared with 164,864 in private practice. In 2007, these health centers provided dental care to less than 2 percent of all Americans on Medicaid or without dental insurance. Obviously, that's not nearly enough.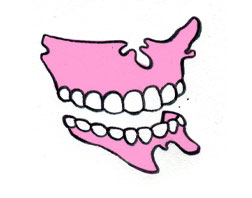 There is no single solution—and in all likelihood, dentistry will see little change as the nation focuses on the more attention-grabbing problems in the larger health care system. People like White House Budget Chief Peter Orszag ignore the problem of spiraling dental care costs because getting them under control won't do much to "bend the cost curve" for health care spending overall. (The

proposed health care reform legislation

doesn't say much about oral health.) Dental health represents less than 5 percent of all health care spending. Columbia's Burton Edelstein observes further that Washington policymakers "tend to come from the segment of the population that has not experienced this type of problem. And if you've never had a toothache, you've never had a toothache."
It's clear that low fees and bothersome paperwork aren't the only reasons dentists avoid Medicaid patients. Letting people with bad teeth, often from lower socioeconomic backgrounds, into their waiting rooms risks upsetting dentists' full-fee patients. But under the current market conditions (undersupply of dentists, high demand for services), it seems unlikely that anything short of a massive influx of funds into the Medicaid system will cause a change of heart. The Children's Health Insurance Program reauthorization that President Barack Obama signed into law on Feb. 4, 2009, may offer some relief. The act made it possible for federally qualified health clinics to contract with private dentists to work in their clinics—so if a dentist's private practice is shuttered on Thursdays, she can work one day per week in a clinic. (Of course, this might well require some infrastructure investment. Clinics' dental chairs are already full during opening hours. Funds from the American Recovery and Reinvestment Act—the stimulus bill provided $2 billion for grants to health centers through 2011—may help.)
The American Dental Association denies that there is a shortage of dentists. To the ADA, the situation is entirely a matter of geographic maldistribution. Since rural or inner-city practices are often not financially viable for dentists, "nonmarket forces," which is to say public or philanthropic programs, are necessary if rural residents are to get even basic dental care. An article in the July 2007 issue of the Journal of the American Dental Association suggested
facilitating the travel of [patients who live in counties without any practicing dentists] to dentists in other counties, facilitating and subsidizing the travel of dentists to counties without a private practice dentist, or subsidizing the incomes of dentists so that their total income is competitive with dentists in other areas.
Many states and universities offer residencies and programs to encourage students to consider rural practices. The Washington State Dental Association, for example, has a program called the Rural Internship in Private Practice, under whose auspices a couple of freshman dental students live and work with rural dentists for two weeks during the summer. They work as dental assistants in the practice, go to Rotary Club meetings and Little League games, and generally get a sense of what it's like to live in a small town.