The American Way of Dentistry
A look at the coming crisis.
Edelstein, who worked for many years as a pediatric dentist in a Connecticut practice where one-third of the clientele were Medicaid patients, observes that there are many cultural "disconnects" separating Medicaid beneficiaries and dentists. "Geographic disconnect, social disconnect, language disconnect, dentist treatment comfort disconnect—we're talking about young children with extensive dental disease, and these are often not the patients that dentists prioritize in their practices." In Edelstein's view, the most effective way for a dentist to treat a low-income population is to relocate to a lower-income neighborhood or along bus routes heavily trafficked by the poor and to "staff more with people who look like and can relate to the population you're targeting—which is what we do now on the affluent end."
The geographic mismatch is especially severe for the rural poor. In 2000, there were 224 counties in the United States without a single dentist and many more with just one or two. Given the expenses associated with a solo dental practice, it makes little economic sense to set up shop in a place where few people can afford your services. In Seattle, I heard about a pattern that has been repeated all over the country: As it became more expensive to live in the city, low-income families drifted farther out, particularly to South King County. There were very few dentists already practicing in the area, and since it costs so much to set up a new office or community health clinic, the new residents cannot get care. Even a relativelyaffluent rural population may be too small to support a dental practice, given that most people go to the dentist only once or twice a year, and then usually just for a cleaning.
Deamonte Driver's story showed that letting one part of the body literally rot can create havoc in other parts. New York University College of Dentistry Dean Charles Bertolami has noted that dental bacteria have been linked in studies to "cardiovascular disease, diabetes, pneumonia, and pre-term, low-birth-weight deliveries." In Uninsured in America: Life and Death in the Land of Opportunity, Susan Starr Sered and Rushika Fernandopulle write:
Dental problems frequently mix and match with other chronic disease to create illness cycles that prove especially difficult to break. Because they affect the ability to chew, untreated dental problems tend to exacerbate conditions such as diabetes or heart disease. Being limited to soft foods is particularly problematic for people with diabetes, who must be careful to eat well in order to control blood sugar levels. Missing and rotten teeth make it painful if not impossible to chew fruits, whole-grain foods, salads, or many of the fiber-rich foods recommended by doctors and nutrition experts. Typical daily diets for those who cannot chew tend to include large quantities of processed lunch meats, canned potatoes, and cream soups—food choices that are particularly bad for people with diabetes. To make matters worse, healthy foods also tend to be more expensive.
There are also intangible but no less powerful reasons to maintain dental health. When I asked Harvard's Chester Douglass why keeping natural teeth mattered, he told me: "If you enjoy chewing; if you enjoy speaking; if you enjoy social interaction; if you enjoy having a job—a responsible position—you've got to have oral health. So the question becomes how important is eating, speaking, social life, and a job?"
In a country in denial about class divisions, a mangled mouth is the clearest indication of second-class citizenship. Missing or rotting teeth are like a scarlet T, declaring their owner to be trash. Sered and Fernandopulle describe the way that a group of well-meaning Idaho women who volunteered at clinics and early childhood development programs judged "those people" who weren't able to get dental care for themselves or for their children. "These middle-class women," they wrote, "identified bad teeth as a sign of poor parenting, low educational achievement, and slow or faulty intellectual development." When Stu Price, Ed Helms' character in The Hangover, wakes up in Las Vegas and discovers he is missing a front tooth, his horrified response is to declare, "I look like a nerd hillbilly." Every lazy screenwriter knows how to label a character as a menacing half-wit: give him gnarly teeth and a sleeveless T-shirt.
Inside the Dental Safety Net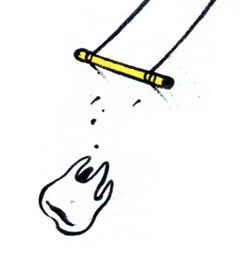 You have a toothache. After a few days of constant, nagging pain that distracts you from work and parenting and keeps you awake at night, it develops into a throbbing, dizzying abscess. You're lightheaded and chipmunk-cheeked, but you don't have dental coverage and you can't afford the dentist's fees—even if you could get an appointment. So how do you get relief?
If you're fortunate enough to live near one of America's 58 dental schools—and have some time on your hands—student dental clinics are an excellent option. (Of course, not everyone gets in. The University of Washington clinic rejected me as a patient. As a professor of dentistry later explained, "Your case was too complicated.") My friend Laura Silver, a freelance journalist with no dental coverage, made it onto the patient rolls of the New York University clinic, and she allowed me to accompany her to an appointment in late May.
The fifth-floor waiting room was more like an unemployment office or the DMV than a swank dental suite, and the long rows of dental chairs—about 32 in the clinic where Laura received her treatment—signaled high-volume turnover rather than individual attention. As everyone prepared for the first appointments of the morning, the serried ranks of students looked like anxious retail clerks awaiting an invasion of holiday shoppers.