The American Way of Dentistry
A look at the coming crisis.
Even so, during the 20th century's final decades, a dwindling number of Americans chose to become dentists. In the early 1980s, U.S. dental schools produced about 5,750 new graduates per year. In 2007, with a population that's nearly one-third larger, there were about 4,700. It's tempting to blame this decline on movies like Marathon Man and Little Shop of Horrors, which portrayed dentistry as a profession appealing only to Nazis ("Is it safe?") and sadists ("People will pay you to be inhumane"). But a likelier explanation is that there are fewer opportunities. In 1980, the United States had 60 dental schools; today there are 58, and class sizes are smaller.
Dental schools closed and downsized because they were too expensive to maintain. Unlike medical schools, where students do their clinical training in teaching hospitals that bear the costs of such practical education, dental students get their training in clinics run—and paid for—by the universities. The cost of administering these clinics increased by just over 50 percent between 1991 and 2001. Federal grants to support dental education (and medical education generally) have meanwhile become less plentiful. This is a bigger blow to dental schools because, unlike medical schools, they can't make up the difference with research grants. Prestigious universities have been especially keen to divert resources away from dental education to programs that attract rather than bleed funds. Among the dental schools that have closed their doors in the last three decades are those at Georgetown, Emory, and Northwestern. Currently, about 600-800 more dentists enter the profession than retire from it each year, but starting around 2014, as the baby-boomer dentists who graduated in larger classes start to retire, the number of practicing dentists will decline while the U.S. population continues to grow. (See Slides 26 and 27 in this presentation.) Boomer retirement will also contribute to a growing shortfall of medical doctors, of whom as recently as 1996 the United States was thought to have a surplus.
The shortage is compounded by dentists' growing inclination to work fewer hours. In 2006, 12.1 percent of the nation's private-practitioner dentists worked fewer than 30 hours per week. One contributing factor is that more women are becoming dentists. According to a study published in the May 2004 Journal of the American Dental Association, female dentists—who represented just 2.6 percent of active private dental practitioners in 1982, 12.8 percent in 1997, and 44.9 percent of the graduating dental school class of 2006—were likelier than men to work fewer than 32 hours per week. This was especially true, unsurprisingly, for women with young children.
A common complaint by health care reformers is that the medical profession has too many specialists and too few general practitioners. The same is true for dentists. Even as the number of dental-school graduates declined over the last three decades, the number of specialty training positions in fields like orthodontia and oral surgery held steady at around 1,200 per year. Twenty years ago, one-fifth of all dental-school graduates pursued specialization; at the end of the 20th century, the figure was closer to one-third.
This contraction is taking place at a time when the United States has far more teeth than ever before. Not only has the population grown from 227 million in 1980 to 307 million in 2009, but many more Americans are keeping their natural teeth into old age. Only a couple of generations ago it was the norm for elderly Americans to wear dentures, especially if they were working class. (That helps explain why Medicare still has no dental coverage, except in very limited circumstances when it is deemed medically necessary.) But according to a paper in the June 2000 JADA, the baby boom will be the first generation to enter retirement "with nearly a full complement of teeth." That translates into even more patients competing for fewer dentists' attention.
Economic theory says that when supply decreases or demand increases, prices go up. When both occur at once, prices go up a lot.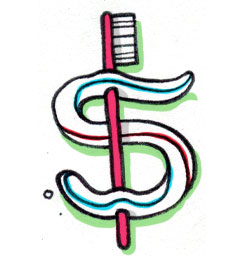 In 2007, Americans spent $95.2 billion on dental care, or $315 per capita. That represents only 4.3 percent of the $2.2 trillion ($7,421 per capita) spent on health care overall. It's no wonder, then, that dentistry and dental costs tend to be overlooked when policymakers crunch numbers.
Still, most middle-class Americans—even those with health and dental insurance—tend to be more aware of the price of dental treatment because they're more likely to have to pull out their checkbooks when they visit the dentist. Although dental-insurance premiums remained relatively steady over the last decade, especially when compared with skyrocketing medical-insurance premiums, between 1998 and 2008 the increase in the cost of dental services exceeded that of medical care and far exceeded the overall rate of inflation. (The 30-year trend shows medical-care prices rising slightly more than dental prices. The chart below shows the overall consumer price index compared with the dental and medical indexes.) * And although spending on dental services is less than 4.5 percent of health care expenditures, a greater percentage comes out of patients' pockets. Whereas only 10.3 percent of physician costs, 3.3 percent of hospital care, and 26.8 percent of nursing-care expenses were paid out-of-pocket in 2007, Americans paid 44.2 percent of dental bills themselves. (See Table 2 of "Dentistry in Time of Recession" in the March 2009 issue of the New York State Dental Journal.)
This is mostly due to the nature of the coverage. When designing benefits packages, private employers and the federal government put a low priority on dental coverage, especially since the cost of providing medical insurance has exploded. For employees, this means "cost sharing"— high copayments even for people with "good" insurance plans. About 10 percent of private dental coverage isn't insurance at all, but, rather, a "discount plan" more analogous to shopping at Costco. Patients pay a membership fee, and when they go to a participating dentist they pay at a discounted rate. (Even the other 90 percent, some argue, doesn't fit the standard definition of insurance.) For low-income Americans enrolled in Medicaid, dental fees are set so low that many dentists won't treat them. Medicare, as I noted earlier, doesn't cover dental care except under a few unusual circumstances.