The American Way of Dentistry
Inside the dental safety net.
You have a toothache. After a few days of constant, nagging pain that distracts you from work and parenting and keeps you awake at night, it develops into a throbbing, dizzying abscess. You're lightheaded and chipmunk-cheeked, but you don't have dental coverage and you can't afford the dentist's fees—even if you could get an appointment. So how do you get relief?
If you're fortunate enough to live near one of America's 58 dental schools—and have some time on your hands—student dental clinics are an excellent option. (Of course, not everyone gets in. The University of Washington clinic rejected me as a patient. As a professor of dentistry later explained, "Your case was too complicated.") My friend Laura Silver, a freelance journalist with no dental coverage, made it onto the patient rolls of the New York University clinic, and she allowed me to accompany her to an appointment in late May.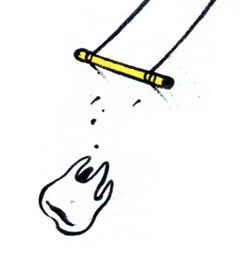 The fifth-floor waiting room was more like an unemployment office or the DMV than a swank dental suite, and the long rows of dental chairs—about 32 in the clinic where Laura received her treatment—signaled high-volume turnover rather than individual attention. As everyone prepared for the first appointments of the morning, the serried ranks of students looked like anxious retail clerks awaiting an invasion of holiday shoppers.
Still, there was nothing impersonal about the treatment. Patients received far more attention that they'd get from a tightly scheduled private practitioner. Laura's student dentist, Joshua Kim, was approaching the end of his third year of dental school, and after 12 months' work in the clinic, he had already developed an easy confidence and assured chairside manner. The student dentists work slowly—removing an old filling and replacing it with a new one took a little more than two hours. That's partly because they're working without assistants and haven't yet built up speed, but it's also a reflection of the clinic protocols—a faculty member must sign off before the student gloves up and before he drills. Before he can "close," the rules require that two faculty members approve the procedure, and it can take a while to flag down professors and explain treatment choices.
Faculty aren't the only folks floating around. One man roams the aisles enforcing Occupational Safety and Health Administration regulations, checking that the student dentists are wearing gloves and eye protection. When I visited, the fourth-year students were nearing the end of their training, and the second-years, who would begin their clinical training a week or so later, were hovering over the seniors' shoulders observing their work.
This socialization is a key part of young dentists' training. Dentists rarely work alone—there are always assistants and hygienists orbiting their chairs—and it's important to adjust to constant observation. Here, though, the students mix their own amalgam and impression materials, reach for their own matrix strips, and—no small feat—place rubber dams single-handedly.
They also have to accustom themselves to the physical demands of long days of dentistry. For example, if they don't learn to shift the patients properly—that is, adjust the dental chair—they're doomed to a career filled with back problems. The clear, full-face, welder-chic masks that most of the student dentists seem to prefer take some getting used to (Kim instead worked in an old-school surgical mask and aviator-style eyeglasses with a flip-up magnifying attachment), as does the constant donning and shedding of latex gloves. And, of course, would-be dentists must learn to understand the peculiar dialect we all speak when our mouths are full of dental instruments.
Perhaps the most useful part of clinical training is the exposure to low-income patients. Several public-health dentists told me that it was the time they spent working with this population in clinics and student externships that persuaded them to work with the underserved. Judging from the people assembled in the waiting room and arranged in the dental chairs around me, most of the patients are in their 40s, 50s, and 60s, and—in this clinic in New York, at least—overwhelmingly people of color. (The dental students were themselves a picture of diversity. According to statistics provided by the American Dental Education Association, the NYU College of Dentistry's Class of 2007 was 51.3 percent Asian, 41 percent white, 4.4 percent Hispanic, and 3.3 percent black.)
Laura's treatment plan at the NYU clinic took about seven appointments over the space of three months to complete. But she was deliriously happy with the quality of treatment she received. She was also very happy with the price. She paid less than $600 for a cleaning, X-rays, and three fillings (two of which involved replacing poor-quality fillings she'd received relatively recently from a private dentist on a cheapo insurance plan). In fact, the student dentists may pay more to perform the work than the patients pay to receive it. On a day when Laura owed $95 for a filling, Kim paid $200 for the pleasure of placing it, according to his back-of-the-envelope calculation of the fee for each day's clinical training.
Another low-cost option for dental care comes from federally qualified health centers, and 3,000 miles to the west, I visited Neighborcare Health, whose 17-clinic system in the Seattle area includes five dental clinics. These provided 48,000 dental care visits to more than 16,000 people in 2008. When I arrived at the clinic in Seattle's hip Georgetown neighborhood around 8:45 a.m. one Wednesday in May, about a dozen people were waiting outside. Some had an appointment, while others had shown up in hope of receiving emergency care.
"Those people fortunate enough to have access to dental care and who can afford it don't understand what it's like for those who don't have access and don't have the opportunity to make choices," Marty Lieberman, Neighborcare Health's dental director, told me. "We do a pretty good job with kids—most children from low-income families come with some kind of funding; in our state, Medicaid—but we can't begin to provide all the access that's needed for dental care. It's almost like a lottery if you get in as a new patient. We just don't have enough slots." The clinics don't turn away emergency cases, but despite 21 staff dentists and longer hours than at most private practices, Neighborcare Health can take on only a fraction of the adult patients who need ongoing care.
Once an adult patient gets into the system, the wait for an appointment is one to three weeks. The Medicaid population has a higher no-show rate than insurance customers, so Neighborcare Health deliberately keeps the waiting period short. Lieberman explained: "Our patients have a lot on their minds. They're worrying about a roof over their heads, putting food on the table. ... If you let your schedule get booked up three months in advance, the chances of the patient still being able to make it or even remember it go way down."
The sliding-scale fees are low, but they still present a barrier for some patients. The clinics are paid by the "encounter," which is to say that whatever treatment is provided in a visit, the fee is the same. Neighborcare Health's lowest fee is $35, or $30 if the patient pays cash that day. My friend Dr. Gene Beck, who worked in the clinics for six years, told me, "There are days when I've taken out several teeth, which could cost a couple of thousand dollars [in a private practice situation], and the person has paid $30. And there are days when you take an X-ray, and the person pays $30." Few of the clinics' patients have dental coverage. "We don't encourage people with dental insurance to come to our clinics," Lieberman says, "because they can access care elsewhere."
In the current health care debate, policymakers tout institutions like the Mayo Clinic, where doctors are salaried rather than paid for each procedure ("fee-for-service"), a compensation method that gives doctors an incentive to provide unnecessary care. In dentistry, the Mayo Clinic's equivalents mainly serve the poor. For participating dentists, though, the trade-offs are similar. Dentists who work for Neighborcare Health earn less than private practitioners, but they also avoid the headaches of running a business. Being an employee rather than an independent operator brings benefits like predictable income and a retirement savings plan. Lieberman, who had a successful private practice in Chicago for 20 years before he moved into community dentistry, believes that he would be in the same financial situation if he had spent his whole career in public health: "When you start off in private practice, you don't make money for a long time." In many states—including Washington—dentists who work at public health clinics qualify for loan repayment and loan forgiveness programs.
Beck, who is now working in private practice, found another benefit of clinic work: leadership training. "Private practice dentists are small-business owners. They have to deal with HR, marketing, IT. They have to know about budgeting, staffing. Most dentists were science majors as undergrads, and while they might have taken an occasional business class, they're rarely prepared for the business side of things. You get a master class in business by working at a community health center."
Still, there are only 2,109 dentists employed by health clinics nationwide, compared with 164,864 in private practice. In 2007, these health centers provided dental care to less than 2 percent of all Americans on Medicaid or without dental insurance. Obviously, that's not nearly enough.
Next: Healthy Teeth for All
Click here to see a video slide show about the painful history of dentists in the movies.