Sponsored content provided by

Meet Corky Luster, Seattle's Backyard Beekeeper
This Ballard Apiarist Gives a Behind-The-Scenes Look at a Local Artisinal Honey Company.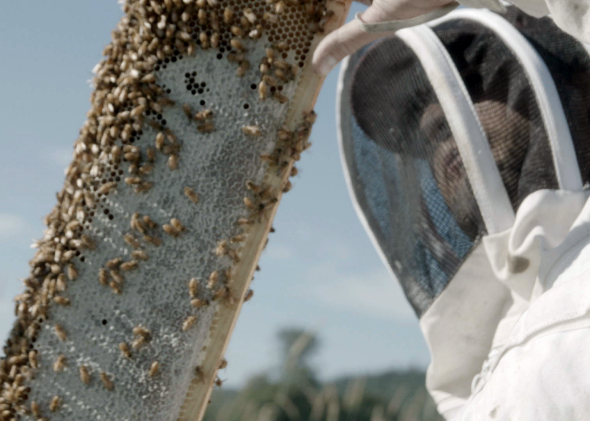 Corky Luster, born and raised in Seattle Washington, is the owner and operator of Ballard Bee Company. A homegrown honey enthusiast with a passion for sustainability, Corky sits at the heart of Seattle's Apiarist community. With the help of a few friends and about a million bees, Corky started a honey business from his garage in Ballard just a few years ago. Today, he is Seattle's only full-service supplier of beekeeping equipment and organic honey. He maintains over 130 hives in and around Seattle, and has widely promoted urban pollination in and around the city through backyard consultations, person-to-person conversation, and a class held each year for Seattle Tilth. With honeybee pollination sustaining nearly 80% of the world's plant life, Corky's business has done a lot for the city of Seattle. Half hobbyist, half commercial— his consultations and classes have enabled hundreds of city residents to do join him in making the community of Ballard a better place for everyone.
When asked about why he started beekeeping, Corky explains, "[My] life is as simple or as complicated as it wants to be, and I prefer simple."
TODAY IN SLATE
Politics
Blacks Don't Have a Corporal Punishment Problem
Americans do. But when blacks exhibit the same behaviors as others, it becomes part of a greater black pathology.
Lifetime Didn't Think the Steubenville Rape Case Was Dramatic Enough
So they added a little self-immolation.