Longform's Best Crime Stories of 2012
Michael Morton, Albrecht Muth, and a man who wouldn't let himself get away with murder.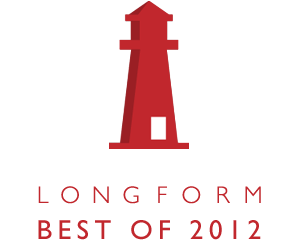 This week, we'll be sharing our favorite articles of the year on Slate. For our full list—including the top 10 of the year, plus picks in sports, politics, tech and more—check out Longform's Best of 2012.
The decades-long saga of Michael Morton, who was wrongfully convicted of killing his wife.
"With his hands shackled in his lap, Michael looked out the window of the squad car and watched as the rolling farmland east of Georgetown gradually gave way to the piney woods of East Texas. Two Williamson County sheriff's deputies sat in the front seat, exchanging small talk as they sped down the two-lane roads that led to Huntsville. Michael had, by then, spent a little more than a month in the county jail waiting to be transferred to state custody. During that time, he had gotten to know several county inmates who were well acquainted with the Texas Department of Corrections. They had given him advice he never forgot: keep your mouth shut and your eyes open, and always fight back. In prison, it didn't matter if you won or lost. In the long run, getting the hell beaten out of you was better than showing that you were too scared to fight.
"When they reached Huntsville, the deputies deposited him at the Diagnostic Unit, the intake facility where he would spend the next several weeks before being assigned to a prison. Once inside, he was ordered to strip naked. His hair was sheared and his mustache was shaved off, leaving a pale white stripe above his upper lip. He was issued boxer shorts and ordered to get in line to pick up his work boots. As he waited, Michael studied the man in front of him, whose back was crisscrossed with scars—stab wounds, he realized, as he counted thirteen of them in all. Michael was herded along with the other inmates into the communal showers and then to the mess hall, where they gulped down food as a prison guard shouted at them to eat faster. At last, when the lights shut off at ten-thirty, Michael lay down in his bunk, a thin mattress atop an unforgiving metal frame. Sporadically during the night, he could hear inmates calling out to one another, imitating different animal sounds—a rooster crowing, a dog baying—that reverberated through the cell block.
"Even then, as he lay in the dark listening to the cacophony of voices around him, Michael felt that he would be vindicated someday. He just didn't know how or when that day would come."
As a 15-year-old runaway hitchhiker, a trucker nearly killed the writer. Twenty seven years later, she investigates whether her attacker was truck stop serial killer Robert Ben Rhoades, who often kept his victims chained in the back of his truck for weeks before killing and dumping them.
"That ride turned out to be fine. We drove up to Ohio drinking Diet Coke and listening to Bruce Springsteen. The trucker bought me lunch and didn't even try to have sex with me, which made him a prince in my world. Several days later, though, heading south on I-95 through the Carolinas, I got picked up by another trucker who was not fine. I don't remember much about him except that he was taller and leaner than most truckers and didn't wear jeans or T-shirts. He wore a cotton button-down with the sleeves rolled neatly up over his biceps and had the cleanest cab I ever saw. He must have seemed okay or I wouldn't have gotten in the truck with him. Once out on the road, though, he changed. He stopped responding to my questions. His bearing shifted. He grew taller in his seat, and his face muscles relaxed into something both arrogant and blank. Then he started talking about the dead girl in the Dumpster and asked me if I'd ever heard of the Laughing Death Society. 'We laugh at death,' he told me.
"A few minutes later, he pulled the truck onto the shoulder of the road by some woods, took out a hunting knife, and told me to get into the back of the cab. I began talking, saying the same things over and over. I said I knew he didn't want to do it. I said it was his choice. I said he could do it in a few minutes. I said it was his choice. I said I wouldn't go to the cops if nothing happened to me, but it was his choice—until he looked at me and I went still. There was going to be no more talking. I knew in my body that it was over. Then he said one word: Run. Without looking back, I ran into the woods and hid. I stayed there until I saw the truck pull onto the interstate. It was getting dark. I was still in shock, so I walked back out to the same road and started hitching south. I never went to the police and didn't tell anyone for years."
The murderous tale of Washington D.C. fabulist Albrecht Muth and his late wife Viola Drath.
"Drath's murder seized the front page of The Washington Post, which was as awkwardly tangled in the story as the rest of the city's elite. One of The Post's columnists attended the couple's dinners, as did the reporter who covered the case for The Wall Street Journal. Over the years, Muth flooded the in-boxes of his media contacts with messages containing his thoughts on the day's events and knowing tidbits of insider gossip — speculations about covert operations gone awry or rumors about fights between top generals — a habit that didn't end with his wife's death. Four days after he supposedly found Drath's body, Muth forwarded a note that he originally sent to officials in the Pentagon. He intimated that the police considered Drath to be the unfortunate victim of an assassin who was hunting for him. 'I have to take a slain wife out to Arlington,' he wrote, 'mourn her, then find her killer.' "
Trevell Coleman wasn't sure whether he'd killed a man. But after 17 years, he needed to find out.
"At times, his life felt like a series of endless internal calculations, all part of an effort to, as he later explained, 'balance myself out.' If he bought a coat, he might scribble on one pocket with a marker before putting it on, just to deprive himself of the chance to wear something completely new. He never had much money, and he was so determined to give away what he did have that a few times he stuffed bills into the coin slots of pay phones, then walked away. Afterward, he'd feel a little better—'I did think, Well, okay, now I don't have to feel like I have too much regret,' he says—but the relief was only temporary.
"Coleman and his wife had separated, but he still stopped by to visit his 7-year-old sons. Some days, he'd be seated with them at the table, sharing a meal, thinking how blessed he was to have such beautiful boys, and suddenly be seized by guilt. Did the man he shot at have any kids? What happened to them? And why should he get to spend time with his kids if there was a chance he'd robbed another child of his father?"
A medical device company experiments on humans.
"Off-label marketing is so common among drug and device makers that it's often dismissed as the equivalent of driving slightly over the speed limit. During the past decade, pharmaceutical behemoths such as Merck (MRK), Pfizer (PFE), Abbott Labs (ABT), and GlaxoSmithKline (GSK) have paid billions in fines to settle charges that they engaged in off-label drug promotion. Yet cases continue to happen, in part because the potential profits often exceed the fines.
"But this wasn't the typical off-label marketing case. Nor was it typical of trials for medical devices or drugs. Patients sometimes die during such clinical trials -- but only after being advised of the risks and then granting their consent. In hiding the unapproved status of the cement, prosecutors argued, Synthes denied patients the right to choose whether they wanted to be test subjects.
"For the Justice Department, the Synthes case posed an unprecedented opportunity. It could finally hold individual businessmen accountable for their actions. Mary Crawley, the assistant U.S. attorney who led the prosecution, urged the court to send the executives to jail for their 'venal crime.' The 'callous disregard of patient safety,' she argued, 'warrants the highest sentence the law will allow.' "