The Longform Guide to Airplanes
Air-traffic controllers, renegade airlines, and (of course) crashes—great stories about flying.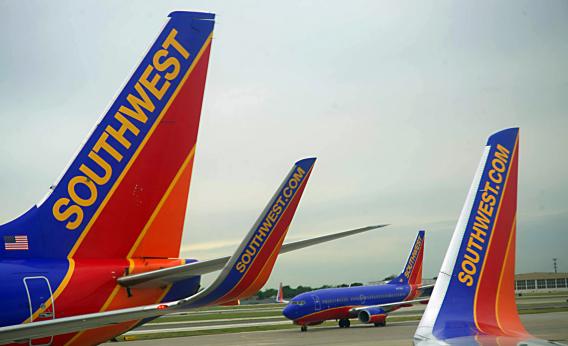 Long articles about airplanes, like long articles about cruise ships, tend toward the tragic. Nobody writes about a flight gone smoothly. But the collection below, which highlights classic pieces and several great plane stories from the last few months that you may have missed, isn't all crashes. We've also got a piece about air-traffic controllers, a piece about the dream of a skyway system that could rival the Interstate, and the definitive profile of Southwest Airlines. Still, you may not want to read any further unless you're safely on the ground, in an upright and locked position ...
There were so many ways the two planes could have avoided the collision. The odds were so slim. But high above the Amazon in 2006, a combination of technology and human fallibility brought them together.
"The same bewilderment afflicted others within earshot of the impact. To the west of Caiapó territory, at the headquarters of a 21,000-head cattle ranch called Fazenda Jarinã, many of the employees heard the thunder and could make nothing of it. The manager of Fazenda Jarinã is a small, lonely man named Ademir Riebero, who told me he knew that the north-south traffic between Manaus and Brasília passes high overhead, and that at night you can hear the airplanes and see their lights. On the evening of September 29, however, when he heard talk of the unexplained thunder, he did not wonder if one had crashed. To me he said, 'We just couldn't imagine it could happen here. Only in São Paulo or places like that.' Indeed, the airplanes that passed overhead were in the least critical phase of flight, cruising high and straight through the cold clean sky, unstressed, and organically resistant to almost any error their crews might make. But then Riebero received a radiophone call from an official he knew, who said, 'Ademir, there is a Gol airplane that has disappeared, and it seems to have gone down near you.' Gol is a discount airline named after the drawn-out victory cry in soccer—G-O-O-O-O-L!!! Riebero switched on the television news and saw a map labeled Jarinã on the screen. It was odd how this authenticated the situation in his mind. From the lack of reports from the outstations, he surmised that the airplane had not crashed on the ranch's holdings. But given the size and density of the bordering jungle, it was not surprising that an entire Boeing could have disappeared."
Jeanne Marie Laskas • GQ • Mar 2008
Life as an air-traffic controller at LaGuardia:
"Controllers here, as in a lot of towers, still use 'strips.' Strips are pieces of pale green paper with flight data written on them—one strip for each departing and each arriving flight. Franklin, a happy old man, sits Geppetto-style in the corner, printing out the strips. At his side is a big white plastic bucket, the kind you salvage after home-remodeling projects, filled with plastic strip holders. Strip holders look like the trays you put Scrabble tiles on. Franklin carefully threads each strip into its own little holder, hands them down to the guys working traffic. The guys slide the strips around in the holders to indicate things: A third out (or so) means you've contacted a pilot, half out (or so) means a plane is ready to launch, strips balanced over the console like diving boards mean something else. When they clear for takeoff, they slide the strip all the way out, stamp it with an old-timer time stamper—bonk!—then pitch the empty strip holder—clunk!—into another white bucket. Bonk. Clunk! Bonk. Clunk! The rhythm gets hypnotic after a while. You can close your eyes and tell how busy LaGuardia Airport is just by the bonk and the clunk. It is a sound that makes you question what century you are, in fact, in."
Jeff Wise • Popular Mechanics • December 2011
The transcript of a disaster:
"Human judgments, of course, are never made in a vacuum. Pilots are part of a complex system that can either increase or reduce the probability that they will make a mistake. After this accident, the million-dollar question is whether training, instrumentation, and cockpit procedures can be modified all around the world so that no one will ever make this mistake again—or whether the inclusion of the human element will always entail the possibility of a catastrophic outcome. After all, the men who crashed AF447 were three highly trained pilots flying for one of the most prestigious fleets in the world. If they could fly a perfectly good plane into the ocean, then what airline could plausibly say, 'Our pilots would never do that'?

"Here is a synopsis of what occurred during the course of the doomed airliner's final few minutes."*
S.C. Gwynne • Texas Monthly • Mar 2012
The story of Southwest Airlines:
"It is easy to forget, in this age of iPhones and text messages and nonstop flights to Frankfurt and Tokyo, just how profoundly Southwest Airlines changed the way Texans lived and did business. The transformation began in 1971, when Southwest, a shoestring operation sketched out on the back of a cocktail napkin in San Antonio's St. Anthony Club by founders Herb Kelleher and Rollin King, began flying three Boeing 737's between Houston, Dallas, and San Antonio. The new airline had two noteworthy characteristics: Its fares were dirt cheap, and, owing to its amazing efficiency in turning planes around at airport gates, it was able to keep those jets almost continuously in the air. Before Southwest, it usually made sense for a businessman to drive from San Antonio to Houston for an afternoon meeting. Not anymore. For $40 you could hop on a flight with incredibly friendly hostesses and wisecracking pilots and be in Houston for the meeting and lunch—and still be back in San Antonio by late afternoon to shoot a round of golf. Texans who were loyal to their cars flocked to the airport, and the better Southwest did, the more flights it added. Its flight service began to resemble a bus schedule. In this way, the airline shrank the state, linking its major cities in a way they had never been before, and prompted enormous numbers of people to choose flying over driving."
Alan Bellows • Damn Interesting • January 2012
On the attempted hijacking of a FedEx flight by a FedEx employee:
"Before Sanders and Peterson could mobilize, Calloway reappeared holding a spear gun. His initial attack employed blunt instruments because he knew that a bludgeoning would be consistent with the normal injuries sustained in an airplane accident, therefore avoiding suspicion of foul play. But he'd brought along his spear gun in case his hammers didn't take all the fight out of the flight crew. 'Sit down, sit down,' he commanded. 'Get back in your seat, this is a real gun, I'll kill ya.' In spite of their compromised conditions, it was quite clear to Sanders, Tucker, and Peterson that Calloway had already attempted to kill them once, and given the opportunity he was likely to resume that endeavor.
"As Calloway trained the gun on Sanders, Peterson lunged from the side and grabbed the spear that protruded from the end of the gun. He yanked it to point it away from his crew mates.
" 'I'm gonna kill you!' Calloway shouted, 'Hey, hey! I'll kill ya!' Sanders seized the opportunity to grapple their attacker. The flight crew now had the advantage of numbers, but Calloway had the advantages of weapons, martial arts expertise, and an unbruised brain."
Jim Fallows • New York Times Magazine • November 1999
On the dream of a transportation system reliant as much on small, safe commuter planes as cars:
"A tiny company based in Duluth, Minn., named Cirrus Design believes that it can offer a glimpse of such a new, futuristic transportation system. The company was founded by the Klapmeier brothers, Alan and Dale. Their basic idea is to build small airplanes that ordinary people will find simple and safe enough to fly, that are fast enough to beat the airlines on door-to-door speed for short- and medium-length trips and that are inexpensive enough, relatively speaking, to appeal to those who already constitute the market for fancy cars, expensive R.V.'s and vacation homes.
The oddest aspect of the vision may be that the United States government has implicitly embraced it as a feasible next step in avoiding transportation jams. Interstate highways are saturated; the hub-and-spoke airline system is overloaded, too; trains are suited mainly to densely settled corridors like Boston-Washington. NASA, the agency best known for explorations of space, is quietly advocating an ''Interstate SkyWay' network, the name conjuring images from The Jetsons."
Eddie Burkhalter • Anniston Star • May 2012
The author, two years old when Southern Flight 242 crashed in his backyard, reports on the aftermath, both for his family and for the passengers:
"Some 60 people had come to New Hope for the reunion: survivors from the flight, neighbors who rushed to the aid of people they did not know, a local doctor whose image was recorded in newspaper clippings as he stood above bodies being carried in blankets.
"Of everyone I spoke to at the reunion, no one had a problem remembering where they were and what they were doing that day 35 years ago.
"It was like watching soldiers recall a long-ago battle. Someone would remember a passenger's struggle to get free from his seat, or a particular injured woman's scream for help, and almost always someone else would say, yes, I remember that, too."
Correction, June 4, 2012: The entry for "What Really Happened Aboard Air France 447" previously contained an incorrect excerpt. (Return.)