The Tiger Who Fought Back
The Longform guide to the most gripping and horrifying articles ever written about animal attacks.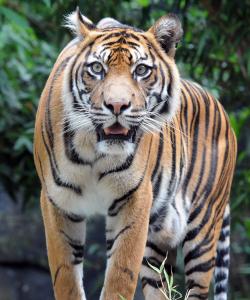 Every weekend, Longform shares a collection of great stories from its archive with Slate. For daily picks of new and classic nonfiction, check out Longform or follow @longform on Twitter. Have an iPad? Download Longform's brand-new app.

I know we're only a few months in, but I think we can call it already: 2012 is the year of the animal attack story. Esquire and GQ kicked things off in February with a pair of (totally different, equally incredible) articles on the Zanesville zoo massacre, then the Atlantic followed a few days later with a piece about how cat feces mess with our brains: Perhaps predictably, it's one of the most read stories in the history of the theatlantic.com. And this week Slate published Jessica Grose's fantastic murder-mystery piece from Yellowstone which—spoiler alert!—involves a suspected animal culprit. I highly recommend reading all four.
But in case you already have read them—and who hasn't in the year of the animal-attack story?—here are five legendary stories on the same theme published before 2012.
Ned Zemas • Vanity Fair • May 2004
On Timothy Treadwell, later immortalized in Grizzly Man, who lived and died by the bears of Alaska:
"He wasn't a scientist and had no formal training. He was a naturalist, an activist, a writer, and a photographer—not to mention a recovering addict, a Peter Pan, and a fabulist. A few weeks before his death, Treadwell wrote to a friend, 'My photographs and stories are looking to the deep and secret world of bears that I do not believe any person has ever witnessed. One day I'll show this work to the public. Until then, I'll keep living it.'
"Even those who had long predicted Treadwell's death granted him this: he was a believer, who walked the walk. And he was in love."
Dan P. Lee • New York • January 2011
The life story of Travis the chimp and the family of tow truck operators who raised him like a human child before it all ended in tragedy:
"Hysterical, Sandy ran back to the house. She grabbed a butcher knife. She ran back, screaming all the while. As Travis stood over Charla, chewing, ripping, pulling, Sandy plunged the knife into his back. He did not stop. She pulled the knife out and stabbed him twice more, to little effect. Travis stood up finally, turned to look Sandy in the face—directly in the face—then continued."
George Orwell • New Writing • May 1936

Uncomfortable memories from the great writer on being a police officer in colonial Burma:
"'I had halted on the road. As soon as I saw the elephant I knew with perfect certainty that I ought not to shoot him. It is a serious matter to shoot a working elephant--it is comparable to destroying a huge and costly piece of machinery--and obviously one ought not to do it if it can possibly be avoided. And at that distance, peacefully eating, the elephant looked no more dangerous than a cow. I thought then and I think now that his attack of 'must' was already passing off; in which case he would merely wander harmlessly about until the mahout came back and caught him. Moreover, I did not in the least want to shoot him. I decided that I would watch him for a little while to make sure that he did not turn savage again, and then go home.
"But at that moment I glanced round at the crowd that had followed me."
John Valliant • Men's Journal • September 2010
In the feral communities of Russia's Far East, tiger poaching is among the few lucrative pursuits. The story of a tiger who fought back:
"As Trush and his two colleagues backtracked from Markov's remains toward his cabin, they found evidence of the animal's method that, in some ways, was more unnerving than what they had just seen. The tiger had clearly been on the premises for a while, perhaps days — long enough to defecate at least twice, both times within a few feet of the cabin, as if staking a claim. The heavy aluminum water dipper Markov used for drinking had been chewed so savagely that it was unrecognizable. His latrine, his ax, his beehives — everything that might have his scent on it — had been thoroughly explored, and much of it destroyed. His washstand had been knocked off the cabin's outer wall, and there was a swipe of tiger blood by the door. Tiger tracks were everywhere, circling the cabin, interrupted only by packed depressions in the snow where the animal had stopped to wait and watch before circling yet again.
"Seen together, all these signs implied an alarming confidence and clarity of purpose. As Trush and his team pieced the evidence together, they came to understand that this tiger was not hunting for animals, or even for humans; he was hunting for Markov."
Tim Zimmerman • Outside • July 2010
The life story of Tilikum, a killer whale who dragged his SeaWorld trainer into the pool and drowned her in 2010. It was the third time the orca had been involved in a death during his 27 years in captivity:
"The victim was Daniel Dukes, a 27-year-old with a reddish-blond ponytail, a scraggly beard and mustache, and a big red 'D' tattooed above his left nipple. Four days earlier, he'd been released from the Indian River County Jail after being booked for retail theft. On July 5, he apparently hid at SeaWorld past closing or sneaked in after hours. At some point during the night, he stripped down to his swim trunks, placed his clothes in a neat pile, and jumped into the pool. Perhaps he was simply crazy or suicidal. Perhaps he believed in the myth of a friendly Shamu.
"The coroner determined the cause of death to be drowning. There were no cameras or witnesses, so it's not known if Tilikum held him under or hypothermia did him in. But it's clear Tilikum worked Dukes over. The coroner found abrasions and contusions—both premortem and postmortem—all over his head and body, and puncture wounds on his left leg. His testicles had been ripped open. Divers had to go to the bottom of the pool to retrieve little pieces of his body. SeaWorld ramped up its security, posting a 24-hour watch at Shamu Stadium."