The Hunt for Mengele's Skull
Longform's guide to the best stories ever written about war criminals on the lam.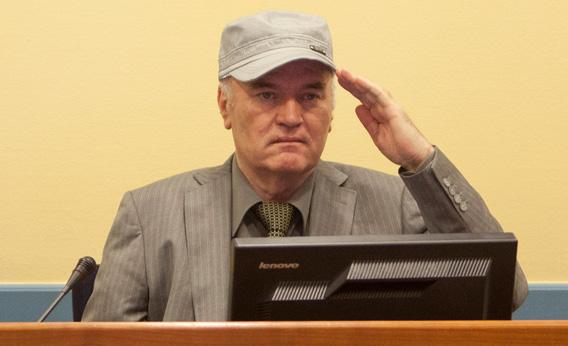 Ex-Bosnian Serb army leader Ratko Mladic makes his first appearance at the International Criminal Tribunal on June 3, 2011 in The Hague, Netherlands

Serge Ligtenberg/Getty Images.
Every weekend, Longform shares a collection of great stories from its archive with Slate. For daily picks of new and classic nonfiction, check out Longform or follow @longform on Twitter.
In the aftermath of conflict, war criminals often slip away, later to turn up in the unlikeliest of settings. The efforts to bring them to justice can take decades and often involve elaborate games of cat and mouse across multiple continents.
David Grann • Atlantic • June 2001
What happened when Toto Constant, Haiti's most notorious warlord, resurfaced as a real estate agent in Queens:
"News of the encounter spread through the city's sprawling Haitian community, from Flatbush to Laurelton to Cambria Heights to Brooklyn, as it would have in Haiti—by teledjòl, word of mouth. Constant had ventured out into the community several times since the U.S. government had set him free, but never with such audacity—selling houses to the same people he had driven into exile. When he first arrived in Queens, he seemed to emerge only periodically. He was spotted, someone said, at a disco, clad in black, dancing on the day of Baron Samedi, the voodoo lord of death who guards cemetery gates in his top hat and tails. He was seen at a butcher shop and at a Blockbuster. Haitian-community radio and local newspapers reported the sightings—'Haiti's grim reaper partying in U.S.,' announced one headline—but he always managed to vanish before anyone could locate him. Finally, in 1997, the rumors led to a quiet street in Laurelton, Queens, near the heart of the Haitian community, where for years exiles had hoped to shed the weight of their history—a history of never-ending coups and countercoups—and where Constant could be seen sitting on the porch of the white-stucco house he shared with his aunt and mother. 'The whole idea of Toto Constant living free in New York, the bastion of the Haitian diaspora, is an insult to all the Haitian people,' Ricot Dupuy, the manager of Radio Soleil d'Haiti, in Flatbush, told his listeners after Constant moved in."
Mac McClelland • Mother Jones • September 2011
Tracking down a Congolese warlord wanted by the International Criminal Court for conscripting child soldiers proves surprisingly easy; he's a military official and owns a bar, dairy, and mansion:
"Bosco's colonels don't necessarily seem scary when they've got Tommy Hilfiger polos on and glasses of Chivas and Coke in their hands. When I meet one, Seraphin Mirindi, at the Hotel Mbinza bar, he's reserved, slight, and smiles politely at the appropriate times. Although, when I order the same thing he's having, to be simpatico, he says something that makes me paranoid.

" 'I think she usually likes her whiskey straight,' he tells Joey in French.

"And I say it like I'm impressed and delighted that he's got my number when I respond, 'Ha ha, how do you know that?' but really I don't know if he means, 'Anybody can tell this chick drinks her whiskey straight,' or 'I know for a fact she drinks her whiskey straight because someone's following her.' I don't feel better about it either way when he answers me expressionlessly, 'I'm not a prophet.' "
Scott Anderson • Esquire • October 2000
In which three American journalists—the author plus Sebastian Junger and John Falk—almost accidentally capture the world's most wanted war criminal. The basis for the 2007 film The Hunting Party:
"For the past two years, John had been trying to get a legal-advice dot-com company off the ground, but that enterprise was now in serious trouble. A million dollars poured into the company's coffers could be just the thing to lure back skittish investors.

"Sebastian's main concern, seeing as he was on his way to war-ravaged Sierra Leone, was that the manhunt not cut too deeply into his R&R time on the beach.

" 'One day, right?' he negotiated. 'And then we go to the coast.'

" 'Be serious, man,' Harald wailed. 'NATO hasn't found Karadzic in five years, and we're supposed to track him down, grab him, and turn him over to the authorities all in one day?'

" 'All right,' Sebastian said. "'Two days, then.' "
Thomas Keenan and Eyal Weizman • Cabinet • Fall 2011
After failing to capture Josef Mengele in Argentina when he was nearly in grasp, an international effort was mounted to determine whether a skull was indeed his, which would mean an end to the search for major Nazi war criminals:
"The break in the Mengele case came shortly after that. On the last day of May 1985, based on tips gathered as part of their own investigations, West German police raided a house in Mengele's home town in Günzberg, Bavaria, and uncovered a trove of documents, including letters with coded return addresses, which pointed them to Brazil and to an Austrian couple named Wolfram and Liselotte Bossert. The Bosserts, who lived in São Paulo, then told police there that they had indeed sheltered Mengele in Brazil, and helped him assume a false identity. They also pointed investigators to what they said was his grave, in the cemetery of a small town outside São Paulo called Embu. He had, they said, drowned at the beach resort of Bertioga in 1979, and they had buried him in Embu under a false name, Wolfgang Gerhard. On June 6th, the Brazilian police exhumed the body."
Andrew Rice • New York Times Magazine • June 2006
An Ethiopian torture victim happens upon her torturer working as a bellhop in an Atlanta hotel:
"Edge told me the first thing she felt that day, as Kelbessa stepped into the elevator and she hurried out of the hotel, was a stab of nausea. Then incomprehension set in. 'Seeing him here, I couldn't swallow that,' she says, still sounding a bit disbelieving. 'Kelbessa, that man, that big man, the person who acts like a god during his time, the person who makes you or breaks you, the person who decided whether you live or you die. That person, to see that person here, wearing that dishwasher's uniform? I don't think so.' "
MYSLATE