The Longform.org Guide to College Sports Scandal
Six stunning stories of campus corruption, hypocrisy, and greed. And Joe Paterno.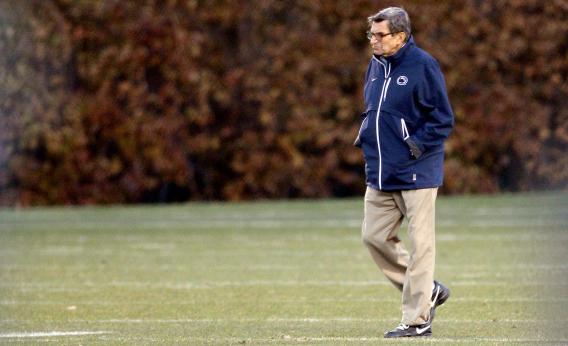 Every weekend, Longform.org shares a collection of great stories from its archive with Slate. For daily picks of new and classic nonfiction, check out Longform.org or follow @longformorg on Twitter. And for great sports writing every day, check out Longform's sister site, SportsFeat.
College sports are well designed for corruption: The incentives to cheat are huge and the rules are easy to break. Scandals, then, are to be expected. And they've been breaking steadily ever since City College of New York got caught shaving points back in 1951. Here are five stories about the ugly side of college sports, plus a definitive profile of former Penn State football coach Joe Paterno, which offers some context on what's become the ugliest story of them all.
Jeanne Marie Laskas • GQ • Oct 2007
A suddenly haunting profile of Joe Paterno, living legend:
"About thirty-five years ago, Paterno was invited to give a talk at a luncheon at Penn State. The audience was a bunch of English professors, and most of them assumed he was going to talk football. It would be amusing, undoubtedly, to see a coach try to spin football as a metaphor that had anything at all to do with the academy of letters.

"Paterno didn't talk football. He talked Virgil, offering Aeneid as a model for a whole new kind of hero, one that, around 20 B.C., the Western civilized world had not yet met.

"In the poem, Virgil proclaims pietas to be man's highest virtue. The word is usually translated as 'duty' or 'devotion,' but it's more than that. It's the individual understanding himself to exist at the center of overlapping obligations. Through most of the poem, Aeneas isn't getting it. He wants to be a good old-fashioned hero. Someone more like the stars the Greeks offered up: all this bad stuff coming at you and you fight it off and everyone cheers. A hero!

"Fate steps in. Aeneas is called. Unlike the Greek hero who was fated to succeed, Aeneas has to choose. He can act, or not act, on the demands of the divine calling. It isn't a onetime choice. He doubts himself continually, and decides, moment by moment, to endure.

"His fuel is his recognition that his first commitment is to others and not to himself. He carries his father, holds his son's hand, and goes on to found Rome, which is impressive. But what makes him a worthy man is his willingness to subordinate himself to his obligations.

" 'Heroism in the Modern World,' Paterno titled his speech."
Charles Robinson • Yahoo! Sports • August 2011
An 11-month investigation ends with a booster, now in prison for a Ponzi scheme, going public with details of how he spent millions on college athletes from 2002 to 2010:
"Hurricanes booster Nevin Shapiro described a sustained, eight-year run of rampant NCAA rule-breaking, some of it with the knowledge or direct participation of at least seven coaches from the Miami football and basketball programs. At a cost that Shapiro estimates in the millions of dollars, he said his benefits to athletes included but were not limited to cash, prostitutes, entertainment in his multimillion-dollar homes and yacht, paid trips to high-end restaurants and nightclubs, jewelry, bounties for on-field play (including bounties for injuring opposing players), travel and, on one occasion, an abortion."
Henry Hill, Douglas S. Looney • Sports Illustrated • February 1981
The gambler responsible for a point-shaving scandal at Boston College, now a government witness, offers a nuts-and-bolts explanation of how one goes about fixing college sports:
"I paid three Boston College basketball players during the 1978-79 season to shave points—not to blow games—in nine games between Dec. 16, 1978 and March 1, 1979. The players were Rick Kuhn and Jim Sweeney, who were in it from the beginning, and Ernie Cobb, the star of the team, who was with us the last five games. It cost me $2,500 per player per game—except when they screwed up and I didn't give them anything or cut them back. As a complimentary service, I bet money for the players when they so requested.

"We really had our ups and downs, but when the last pass had been thrown out of bounds, I had won on six of the games, lost on three, and made between $75,000 and $100,000. Not bad for 11 weeks' work. A game or two I might have cleared only $3,500, but so what? I wouldn't mind that once a week, and I don't think you would either. My partners, Jimmy Burke and Peter Vario, and Vario's associate, Richard Perry, made a quarter of a million or more, and who knows how many millions others made. And the players probably made about $10,000 each."
Janet Reitman • Rolling Stone • September 2006
An infamous article on the social dynamics on the Duke campus—it opens at a foam party thrown by a frat—published at the height of the lacrosse team scandal:
"Even as the 'Duke Lacrosse' story, as it is called on the CNN news crawl, has captivated a nation of cable viewers, many female students at the university don't have much to say on the matter. They are keenly aware of the situation, of course – some might say obsessed with it – but most are 'reserving judgment,' as one woman tells me. Many of the women I spoke to say they are deeply concerned for the lacrosse team, whose 'lives have been totally ruined.' They are not overly concerned for the victim, who, many girls point out, was a stripper. The boys, they add, were the kinds of guys who could get any girl they wanted. 'They don't need to stoop to that level in order to have sex with somebody,' one girl, a junior, tells me.
"This retro view of rape is surprising. We have come, as a culture, to see rape, or even the suspicion of rape, as a violent crime that usually elicits a huge outcry from women. In Durham, there have been a number of protests and vigils spearheaded by women – but largely women from the town itself, not Duke students. Indeed, with the exception of self-described 'feminists,' and African-American women, who see the case through its racial as well as sexual dynamics, there has been barely a peep out of the mainstream girls at Duke, unless it's to support the players."
Michael J. Goodman • Los Angeles Times • Feb 1992
A profile of UNLV coach Jerry Tarkanian, who at the time appeared to be losing his 19-year-long battle with the NCAA:
"Jerry Tarkanian looks rattled.

"Warily he enters his nightly hangout, Piero's restaurant, a celebrity favorite in Las Vegas. The foyer is empty and hidden from the dining room. He lingers for a moment, hugging his gray cellular phone like a teddy bear. At 61, after 35 years of unequaled success on the court and contention off it, and on the eve of his 19th and final season coaching the Runnin' Rebels, the man who embodies the worst and best in college basketball is under attack--again.

"This time, Tark the Shark has been sucker-punched."
Taylor Branch • Atlantic • September 2011
The case for paying college athletes:
"The list of scandals goes on. With each revelation, there is much wringing of hands. Critics scold schools for breaking faith with their educational mission, and for failing to enforce the sanctity of "amateurism." Sportswriters denounce the NCAA for both tyranny and impotence in its quest to "clean up" college sports. Observers on all sides express jumbled emotions about youth and innocence, venting against professional mores or greedy amateurs.

"For all the outrage, the real scandal is not that students are getting illegally paid or recruited, it's that two of the noble principles on which the NCAA justifies its existence—'amateurism' and the 'student-athlete'—are cynical hoaxes, legalistic confections propagated by the universities so they can exploit the skills and fame of young athletes. The tragedy at the heart of college sports is not that some college athletes are getting paid, but that more of them are not."