Slate's Definitive Christmas Playlist
The best versions of Christmas classics.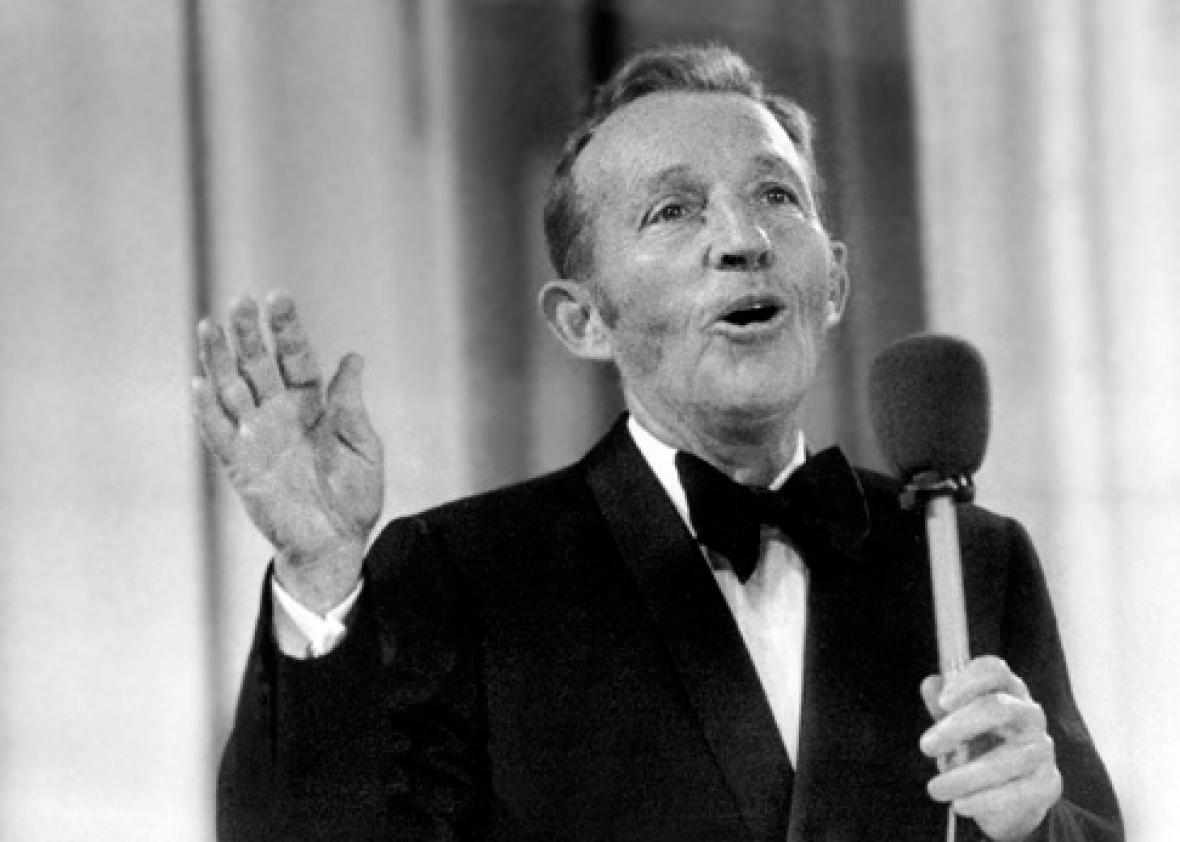 There are plenty of people who loathe Christmas music or tire of it quickly, and it can be easy to see why: Every year brings new fruitless attempts to introduce a new song into the canon or put a new spin on a holiday classic, and that can be a drag. But what about that perfect rendition of the holiday standard you otherwise hate? Or that Christmas song that has many great versions, but you can't decide which one is the best? Here at Slate, we've compiled a playlist of the definitive covers of Christmas standards, those songs that have been interpreted countless times, but have only one, true performance we can call the must-listen-to classic.
Sometimes, the traditional version of a Christmas song remains the best. First, there is the one that started it all, "White Christmas," as performed by crooner Bing Crosby. While there have been many notable covers, the original (along with the many versions recorded by Crosby) still stands the test of time. As Slate pop critic Jody Rosen puts it, "There weren't really any Christmas pop songs until Bing. He created the genre." Likewise, Judy Garland's introduction of "Have Yourself a Merry Little Christmas" in the 1944 film Meet Me in St. Louis remains the quintessential version of the tune, both for her subdued yet powerfulperformance and the underlying tinge of sadness that brings some variety to the normally cheerful Christmas canon. (The song's original lyrics were "Until then we'll have to muddle through somehow" supplanted by the awkward "Hang a shining star upon the highest bough" more than a decade later.)

Nat King Cole's "The Christmas Song" still holds up as the best, despite being performed by artists as varied and talented as Bob Dylan, the Carpenters, and Aretha Franklin—his simple phrasing and charming musical accompaniment continue to make his version a classic. According to Slate intern Katie Kilkenny, Michael Bublé's 2011 "I'll Be Home for Christmas" is definitive because of its classic interpretation with only a slight, jazzy update. "The bass guitar, piano, and cymbal in the back of the song adds a nice mellow accompaniment to Buble's always-reliable vocals," she says, "recalling old-fashioned live singers at holiday parties." And forget Dean Martin's popular turn with "Baby, It's Cold Outside"—Slate writer Jennifer Lai prefers the "flirtatiousness and coquettishness" of Johnny Mercer and Margaret Whiting's 1949 duet. "The singers are obviously teasing each other and having fun with singing," she says, "while Martin's version makes him sound like he's had quite a few too many to drink (and isn't really into his female companion)."
There are plenty of Christmas recordings that take on a hipper vibe than originally intended, and sometimes, we're all the better for them. The Jackson 5's "Up on the Housetop" turns the benign children's song into a funky romp with blaring horns, a list of the toys that each boy desires (Tito wants a new guitar with a guarantee: "That it won't play out of key!"), and an energetic breakdown referencing "'Twas the Night Before Christmas." Peggy Lee's "Winter Wonderland" takes a swinging, jazzy turn with her signature sultry interpretation that enhances the typically sweet and straightforward vocalization other artists prefer.

Meanwhile, there are those songs that we wouldn't consider classic in their own right, except for one particular cover that reimagines and completely elevates the music. The Ronettes' rendition of "I Saw Mommy Kissing Santa Claus"—a usually grating song—benefits from the girl group's distinctive, playful phrasing and the uptempo "wall of sound" musical accompaniment. And Lou Rawls does "Santa Claus Is Coming to Town" better than anyone else we've ever heard. Says Slate senior editor Dan Kois, "The song, as written, is a humorless tract about behaving at Christmastime. Sure, that's a worthy message, as any parent would agree—but Rawls' version is funky and funny in just the right balance, transforming the song's threat into a joyful promise."
For our complete list of definitive Christmas song covers, see our Spotify playlist below.
*No YouTube example available, but can be found on Spotify.