In Holland, Santa Doesn't Have Elves. He Has Slaves.
The racist Christmastime tradition Dutch people have begun fighting about.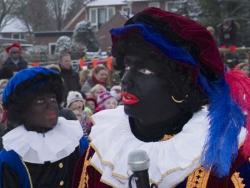 As a newcomer to the Netherlands, I do many things wrong. I forget to bring gifts to dinner parties, I thank people too profusely, and often speak too personally with people I've just met. But no slip-up has provoked a more troubled response than when I've brought up my concerns about Santa Claus.

Here's what concerns me: In Holland, Santa, or "Sinterklaas," as he's known to the Dutch, doesn't have reindeer; he has a little helper named Zwarte Piet, literally Black Pete, who charms children with pepernoten cookies and a kooky demeanor while horrifying foreign visitors with his resemblance to Little Black Sambo. Each year, on Dec. 5, the morning before the feast of St. Nicholas, children all over the country wake up excited for gifts and candy while thousands of adults go to their mirrors to apply brown paint and red lips. In their Zwarte Piet costumes, they fill central Amsterdam and small village streets, ushering in the arrival of Sinterklaas who, in the Dutch tradition, rides a flying white horse.
Trying to tell a Dutch person why this image disturbs you will often result in anger and frustration. Otherwise mature and liberal-minded adults may recoil from the topic and offer a rote list of reasons why Zwarte Piet should not offend anybody. "He is not even a black man," many will tell you. "He is just black because he came down the chimney." Then, you may reply, why aren't his clothes dirty?
As the history of Zwarte Piet makes clear, that chimney-soot explanation doesn't wash. Zwarte Piet—or his immediate ancestor, anyway—was introduced in 1845 in the story "Saint Nicholas and his Servant," written by an Amsterdam schoolteacher named Jan Schenkman. In the story, Sinterklaas comes from Spain by steamship bringing with him a black helper of African origin. The book was wildly popular and with it began the inclusion of Santa's helper in Dutch Christmas festivities. (It wasn't until later in the century that he was given the name Piet.)
At the time, the Dutch empire spread across three continents and included the colonies of Suriname and Indonesia. The Dutch were deeply involved in the slave trade, both transporting African slaves to be sold and using slave labor to work coffee and sugar plantations in their colonies. Minstrel shows were a popular form of entertainment.
Nowadays, Sinterklaas comes to Holland by steamship in mid-November of each year. He is played by a nationally beloved actor, and his arrival is a live televised event that kicks off the holiday season much like the Macy's Day Parade in the United States. The city bestowed the honor of hosting Sinterklaas' arrival changes each year.
This year, on Nov. 12, as Sinterklaas prepared to make his grand entrance in Dordrecht, Quinsy Gario was being held on the ground and pepper sprayed by police officers. Gario is a published poet and artist and a Master's student in women's studies at the University of Utrecht. He was born in 1984 in the former Dutch colony of Curaçao and raised in Sint Maartin. He went to Dordrecht last month wearing a homemade T-shirt stenciled with the words "Zwarte Piet is Racism," an action that quickly led to his arrest—though when he later demanded to know why, no specific law was cited.
Gario came to the Netherlands with his mother for the first time in 1987. He says he never really noticed the Zwarte Piets during his first few years in the country, but one day his mother came home from work in shock because the receptionist had called her the office's own "Zwarte Piet" as she entered the building. Ever since, the character has appeared throughout his poetry and artwork.
"I tell people, 'I'm not angry. I just find it sad that you don't know what it means and I'm here to tell you,' " he says. Gario began making T-shirts like the one he wore to Dordrecht and photographing people wearing them on the street and posting them to a Tumblr page.
Several weeks ago, as he stood among the crowds waiting for Sinterklaas in one of his T-shirts, Gario and a companion were approached by a police officer, who told them they would have to leave. When Gario asked for a reason, citing his freedom of speech, he says he was tackled to the ground. A video of the arrest shows Gario squirming on the pavement, repeating the words, "I didn't do anything" as two officers hold him down.