The Master of Wine Exam
Is the reputed "hardest test of knowledge" in the wine world worth taking?
This week, 75 highly motivated oenophiles are pursuing wine geekdom's ultimate gong: the right to be called a Master of Wine, or MW. It's not a drinking contest: It is a four-day test of wine knowledge administered by the London-based Institute of Masters of Wine, or IWM. The annual exam is given simultaneously in three locations—London, Sydney, and Napa—and is notoriously difficult: In the past decade, an average of just eight people have passed per year, and there are fewer than 300 MWs in total. It is surely the world's most exclusive wine club. But while earning the MW is a boffo achievement, does it have any practical value, and does oenophilia really need forms of accreditation? Isn't the right to procure alcohol enough?
As you might have guessed, the MW designation is British in origin and another manifestation of the British fondness for titles. (If you write for a British wine publication and forget to add "MW" after the name of a Master of Wine, not to worry: it will be inserted for you.) It was conceived in the 1950s as a means of improving educational standards among members of the British wine trade, and although it is now open to all nationalities (as well as people who don't flog wine for a living), the majority of MWs are Brits. The roster includes some marquee names. Michael Broadbent, who founded Christie's wine department and was a central figure in the scandal over the so-called Thomas Jefferson bottles, is an MW. Serena Sutcliffe, who oversees wine sales for Sotheby's, is also one, as is her husband, the Bordeaux specialist David Peppercorn. Probably the best-known MW is the British wine writer Jancis Robinson, who was the first person outside the wine business to qualify, back in 1984.
According to the website, the MW exam is "the hardest test of knowledge and ability in the world of wine." Merely getting the chance to take it requires clearing a few hurdles. Candidates must first apply for admission to the MW program; if accepted, they spend two years doing preparatory coursework. An exam given at the end of the first year is used to trim the candidate pool, and only after completing the second year are students eligible to take the big test, which consists of multiple blind tastings and essay questions concerning viticulture, winemaking, and the business and culture of wine (some typical questions: How might the most common wine faults in finished wine be avoided and detected? Examine the role of currency exchange rates in shaping global wine markets, focusing particularly on the period 2006-09. Examine the extent to which wine is "a social evil").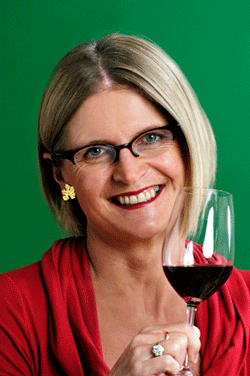 The essays and blind tastings are graded separately, and it is rare to ace both on the first try. Candidates are given three chances to pass at least one part of the exam, which is graded by current MWs and people with expertise in particular areas, such as viticulture; if they manage that, they are given two additional opportunities to conquer the other part. Once they pass both, they are required to write a 10,000-word dissertation on a wine-related subject. There are no limits to how many attempts can be made with the dissertation, but candidates who fail twice with one topic are advised to switch to another. The MW title is conferred only after the dissertation is approved. From start to finish, it takes a minimum of three years to obtain it.
That is a hell of a slog (and not a cheap one, either: the total tuition alone is over $6,000), and apart from guaranteeing that you will always be handed the wine list in restaurants, the MW qualification doesn't seem to offer much of a payoff. Tim Atkin, a British wine writer who passed the test in 2000, said by email that the title has "helped me to get a few speaking gigs and, occasionally, access to wineries who don't know who I am, but respect the qualification." Fair enough, but that's not exactly a resounding endorsement. The MW is probably most useful if you want to land a job with Sotheby's or Christie's or a tweedy British wine merchant (and most MWs work in the trade). Apart from that, however, it just seems to be a well-deserved bragging right.
Some MWs—Robinson, Atkin, their compatriot Clive Coates—have made significant marks in wine journalism, but the field is otherwise dominated by uncredentialed types. The most influential critic, Robert Parker, is a wine autodidact. With no formal training, he started a buying guide in the late 1970s, and used a good palate and entrepreneurial moxie to build an audience. Allen Meadows, Steve Tanzer, and Antonio Galloni all followed Parker's self-laid path. For what it's worth, I did, too: Apart from a short introductory wine course that I took many vintages ago, pretty much everything I know about wine I learned on my own (often while shirking household duties, such as paying the bills). While some critics aren't shy about trumpeting their tasting prowess, and a few have even claimed physiological advantages, wine journalism has never had much need or use for formal qualifications.
Recently, however, with the advent of blogging and the proliferation of wannabe Parkers, there has been chatter among grape nuts that some form of certification a la the MW would be a good thing for wine journalism. Restaurant, film, and book reviewers aren't required to obtain accreditation, and wine critics don't need it, either. I doubt you could even devise a fair measure of wine-tasting acumen. Every nose and tongue has its strengths and weaknesses, and while I suppose it wouldn't be all that hard to root out the bluffers, anything beyond that would be hard to judge. More importantly, consumers generally do a good job of finding palates worth heeding. Parker became king because people learned they could trust his recommendations, and when they later figured out that he and Burgundy were not a great match, they turned to another source of advice, Meadows. Although I'm a Champagne socialist at heart, count me a laissez-faire type on this issue: Authority ought to be earned in the market, not a classroom.
Don't misunderstand: I think formal wine education—introductory classes and the like—is great (assuming, of course, that the instructors pour decent wines) and if you want to acquire expertise in, say, viticultural science, it is probably essential. However, wine appreciation is an almost wholly subjective endeavor, and while some palates are more discerning than others, even the most experienced and knowledgeable critic is merely offering an informed opinion. Besides, oenophilia is not brain surgery; it is one realm of human activity that can happily exist without diplomas, certificates of aptitude, or other types of ticket-punching. I've always loved the French term for wine lover: amateur de vin. That title works for me.