The Quest for the Perfect Office Chair
Why we haven't found it yet.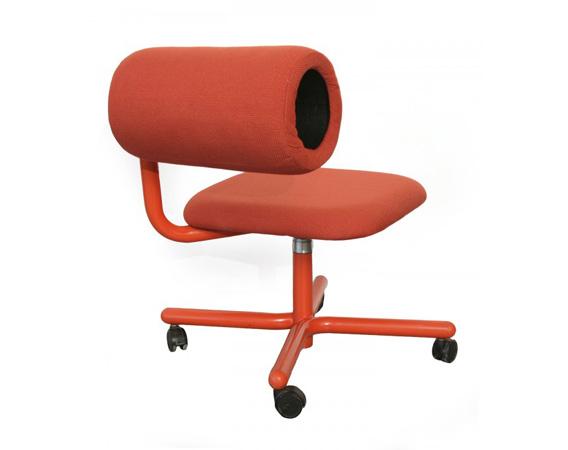 Office chairs are like shoes, but not as much fun. We spend much of our time in them. They emphasize differences in status and taste. They affect the way our bodies feel. But unlike the shoes we wear to work, most of us don't get to pick out our office chairs. Your work chair is just there, provided for you by your employer.
You suspect that aching in your back might be connected to its shape; that you could adjust it in some way to make it better. You also suspect that the ugly plastic chair at the office is better than the espresso-stained seat you sometimes work from at Starbucks. But if technology can give us an app that allows us to draw "chair" for a friend 1,000 miles away, why hasn't it also given us the perfect real-life sitting apparatus? What happened with that whole ergonomics thing that became so hot in the '80s? Did those guys ever deliver the ideal perch?
The First Documented Evidence of Body-Conscious Seating, 3000 B.C.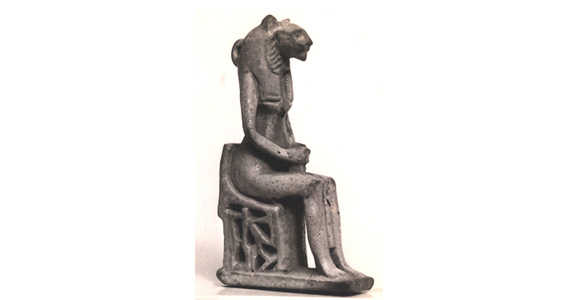 Some of the earliest depictions of seating, tiny chairs for the gods in 7500 BC, don't look all that different from designs today.* Around 3000 B.C., notes Jenny Pynt—who wrote A History of Seating, 3000 BC to 2000 AD with Joy Higgs—these depictions hint at what one might call task-appropriate changes, shifts in design apparently intended to enable the worker to perform more effectively. A three-legged stool with a concave seat, tilting forward, appears to have been designed to make hammering easier.
The 1850s: Seating So Comfortable It Was Deemed Immoral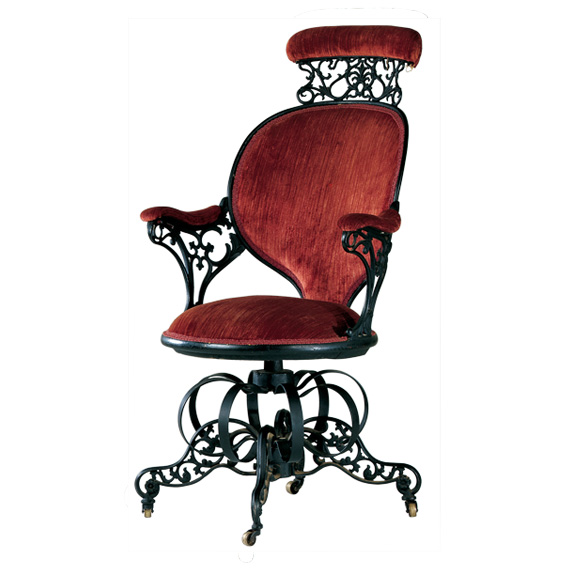 In the thousands of years that followed, endless variations of the chair emerged: thrones for kings and stools for paupers. Some were functional, some beautiful. Few chairs, however, were designed with the movement of the body as a prime consideration. It was only around 1850 in the United States that a group of engineers began to examine how chairs could promote health and comfort by emphasizing posture and movement. The resulting seating was known as patent seating because its designers—mostly engineers and a few doctors—took out patents for their creations.
Thomas E. Warren's Centripetal Spring Armchair, one of the most revolutionary models, made its debut at the Great Exhibition in London in 1851. The cast-iron and velvet chair could swivel and tilt in any direction. According to Jonathan Olivares, who has carefully studied the features of just about every known office chair for his book, A Taxonomy of Office Chairs, it had just about every feature that modern office chairs have today, with the exception of adjustable lumbar support. International reaction to the chair, however, was negative. It was so comfortable that people deemed it immoral, Pynt explains in her paper, "Nineteenth Century Patent Seating" in the Journal of Design History. In the Victorian era, upright posture on a rigid, unsupportive seat provided an opportunity to demonstrate refinement and willpower and thereby morality.
More Smart Designs That Got No Love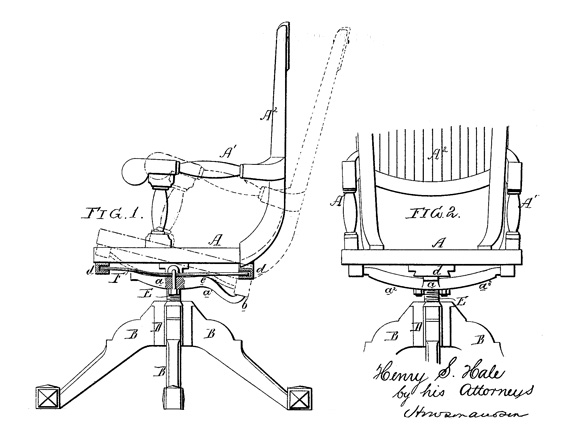 Despite general skepticism about patent seating, the late 19th century was an exceptionally innovative time in chair design. Engineers and doctors used studies of bodily movement to create chairs that made tasks like sewing, surgery, hairdressing, and dentistry easier. This period saw the development of chairs with adjustable backrests and seat heights, seat-tilt tension, and other features that would be recognizable in ergonomic chairs more than a century later. "By the 1890s, the barber's chair raised and lowered, reclined and revolved on a hydraulic mechanism," Pynt writes, noting that this would not be used in office seating until the middle of the 20th century.
Perhaps because of their love of the rocking chair, Americans were far more comfortable with movement in their chairs than their European counterparts. Still, these chairs didn't have what it took to make their way into the parlor. Aside from the whole Victorian notion that discomfort was classy, patent chairs didn't have the refined look that made people want to show off their purchase. Consequently, most people continued to sit on stiff, elaborately embellished chairs. When they cooed at innovation, it was generally aesthetic. Even in the office—aside from certain very specialized fields—patent chairs were rejected.
Frank Lloyd Wright's Larkin Building Chairs, 1904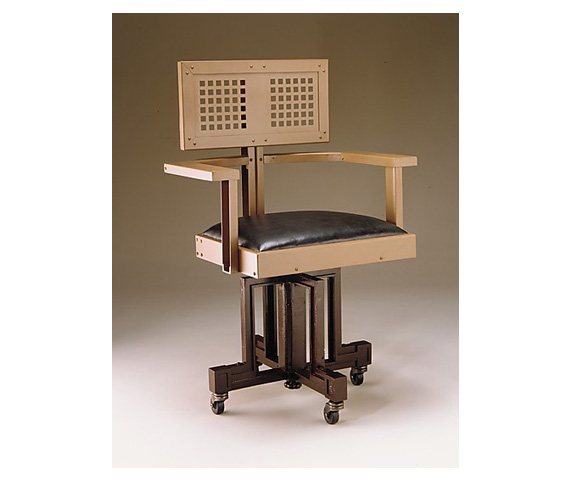 Although many aesthetically influential office chairs emerged at the beginning of the 20th century, it was a bad time for body-conscious design. Frank Lloyd Wright, for example, crafted a number of impressive chairs, but like other chair-designing architects, he was less interested in matching the chair to the human body than to the surrounding décor. In a couple of instances, he did acknowledge human movement. The Larkin Office Building, which he designed in 1904, featured three-legged office chairs for typists. When the typist leaned forward, the chair tilted with her. When complaints emerged about what became known as "the suicide chair"—because of its frightening instability—Wright defended his design, claiming that it forced good posture. (According to Edward Tenner's book, Our Own Devices, Wright attempted to install the same three-legged chair in the Johnson Wax building in 1939 but received so much resistance that he eventually added front legs.)
The executive chair he created for the same building, still considered one of the greatest office chairs of all time, had a swivel mechanism for height adjustment. The chair, which now sits at the Metropolitan Museum of Art, was not particularly body conscious in any other way, which is why its elevated status continues to make many an ergonomist cringe.
The fact that Wright designed two utterly different chairs for two types of worker was representative of the time. Chairs indicated one's status within the company, even from afar. At the time, men usually had one type of chair, and women had another; something that did not change for many decades.
The 1920s, When a Backrest Made You Lazy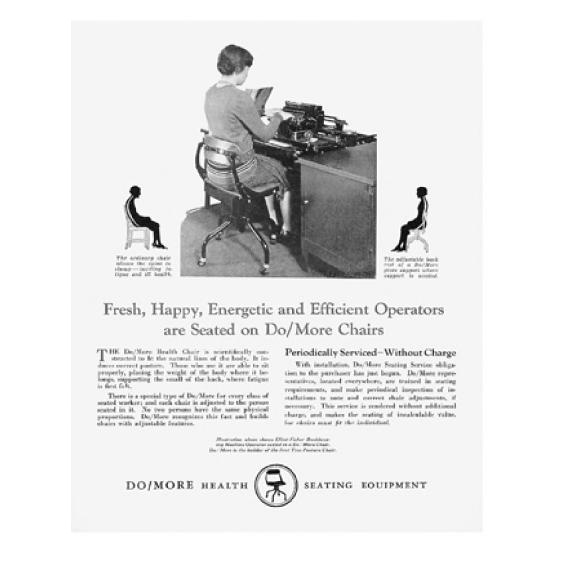 In the 1920s, the notion was prevalent that sitting comfortably made for laziness, and it was not uncommon to see workers laboring in factories on backless benches. Reacting to complaints of declining productivity and illness, particularly among women—a growing presence in the workforce—a company called Tan-Sad marketed a swiveling chair with a curved backrest that could be adjusted to suit the height of each worker. Around the same time, William Ferris created the Do/More Chair, which he marketed as helping to prevent hemorrhoids, kidney trouble, constipation, and a whole host of other problems caused by slouching in competitors' chairs. Later models also promised to tone executives' abs.