Published by

Growing Food and Community
Organic farming apprentices foster careers in social justice.
For years, Karen Washington's friend urged her to apply for the apprenticeship program in organic farming at the University of California, Santa Cruz. But Washington, a Bronx activist who founded a community garden in a vacant lot in 1988, had always assumed it would be impossible to take off six months from her day job as a physical therapist – until she finally asked her boss for a leave and, to her surprise, he consented.
In 2008, Washington moved to Santa Cruz to live for six months at the university's Center for Agroecology and Sustainable Food Systems, (CASFS) which trains about 40 apprentices a year in organic and sustainable agriculture on its 30 acres of fields and orchards in a season that runs from April to October.
"Every morning, we'd wake up and look out and see the fields," says Washington, who aspired to learn all she could and bring that knowledge back home to break new ground in the Bronx. "It was magnificent to be able to eat food you grew with your own hands."
CASFS's roots go back to 1967, when the university established its first three-acre organic garden on campus, long before the movement to grow food without chemical additives and pesticides was trendy – or even had a name.
"We like to think of ourselves as the mother ship of organic agriculture training," says Daniel Press, the executive director of the center since 2012 and an environmental studies professor at UC Santa Cruz for more than two decades.
Since the CASFS apprenticeship began, more than 1,400 students have graduated to start their own organic farms and market gardens. Others share the skills they've learned through urban gardening projects, youth gardens and farms, school and college farming programs, and apprenticeships on their own farms. A number of graduates work in international programs in sustainable agriculture; many have helped advance organic farming through marketing and policy efforts.
In addition to training new generations of organic farmers, CASFS provides classroom and field experience for undergrads and conducts trailblazing research.
Agroecologist and UC Santa Cruz professor Carol Shennan is leading the research effort to grow strawberries without the need for fumigants or chemicals. Researchers bury a carbon source, such as rice bran, into the future strawberry beds and give the soil a good soaking to force out the oxygen. Then, microbes consume the carbon and release chemicals that zap deadly fungi and worms plaguing the region's strawberry crops.
"In four years, we've gone to 500 commercial acres in the region using this technique," Press says. "This is the capital of strawberry growing in the area, so this is very practical, commercially relevant work that's being done right here."
Research is vital, but so is the center's training mission. Apprentices like Washington spend about 700 hours in the field, rotating through three areas of the farm, and another 300 hours in the classroom, where they study sustainable farming methods and plant biology while also tackling the newest and toughest issues of social justice, food security and agricultural labor. The food they grow is sold at a campus farmer's market and through a Community Supported Agriculture program, or CSA, and even used in campus dining halls. They cook together and learn from each other.
"I learned how to grow food, but I also learned how to grow community," says Washington, who was the oldest in her group at 54 and just one of several people of color. She was dismayed to learn through their field trips and her own research how few African Americans were participating in agriculture.
In 2010, Washington cofounded Black Urban Growers, a volunteer group that builds networks and community support for urban and rural farming, and she also cofounded the Farm School in New York City.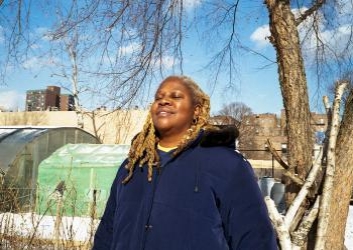 "We found a lot of people couldn't get to California, so we replicated a sort of CASFS program in NYC," says Washington. In 2014, she received a prestigious leadership award from the James Beard Foundation for her work revitalizing Bronx neighborhoods through urban gardens and her national appearances to promote green jobs, healthy diets and community gardens.
Like Washington, many of the apprentices who flock to the farm center are city dwellers who hope to apply their newfound knowledge to urban farming ventures. Alumni have gone on to start nonprofit programs, such as Soil Born Farms in Sacramento, an urban agriculture and education program for youth and adults founded in 2002 by CASFS alum Shawn Harrison. Participants also come from all over the world. The oldest apprentice thus far has been a 69-year-old retired brigadier general from India, who applied what he learned back home to help rural communities.
Washington, who is now retired from physical therapy, is teaming up with some fellow CASFS alumni to buy land in upstate New York, start their own organic farm and eventually supply their farmer's markets in the city. Their hope is to be operational in the 2015 growing season. Speaking of her time at CASFS and UC Santa Cruz, Washington says: "For me, going out there was a gift."