Published by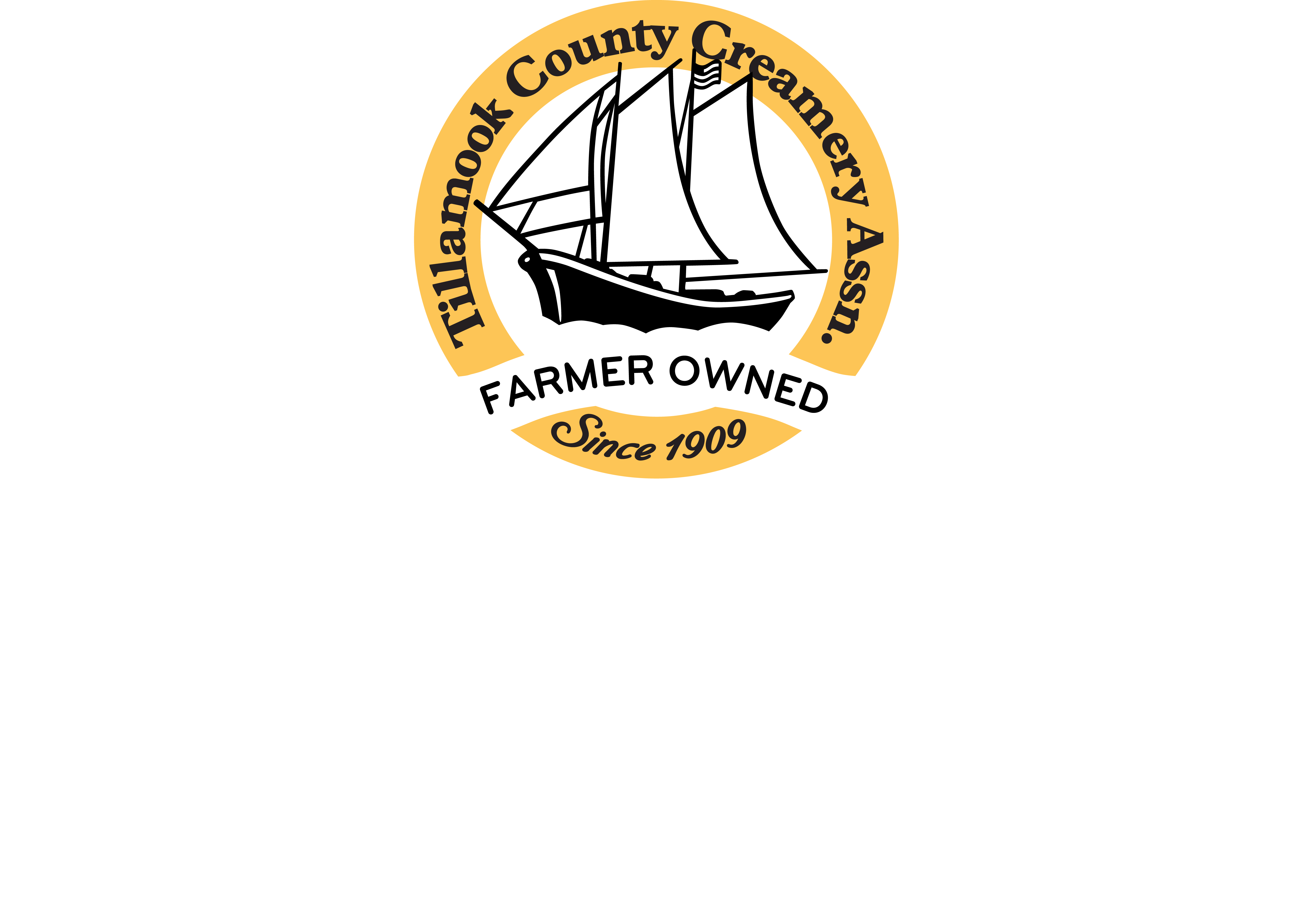 Tastes of Dairy
A Photo Essay with Recipes
Why do ingredients made with care taste so good? The grandmas of the world say it's because of a largely unpublicized sixth flavor profile: after sour, salty, bitter, sweet and umami comes love. From sauce made with heirloom tomatoes hand-picked ripe off the vine to cheese made with farm-fresh milk using age-old techniques, love is the flavor that comes through in every bite.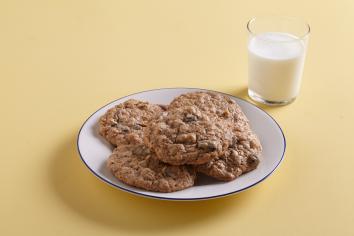 In her 15 years as a food professional, developing recipes for newspapers, magazines and websites, Portland-based food writer Danielle Centoni has learned this lesson firsthand. "It makes a big difference when you know where your food comes from and how it got there," she says. "You can taste when there's craftsmanship behind a product."
Case in point: her hearty vegetable soup with cheddar cheese dumplings, a weeknight favorite among her two kids. "A rubbery store brand of cheese doesn't cut it," says Centoni. "I won't use anything but Tillamook Cheddar. It's like the cheesemakers have done all the hard work in creating flavor, taking the long road so I can have a short cut."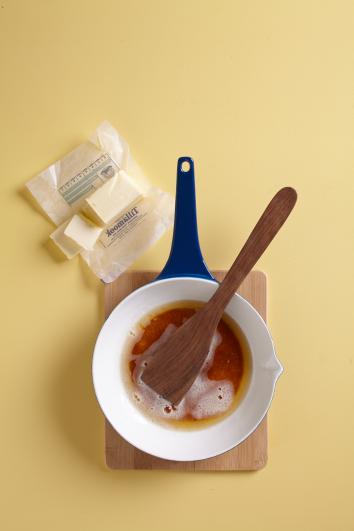 Centoni is just as particular about her ingredients when she's baking. "I go all-in for pure vanilla, fresh spices, pasture-raised eggs and creamy butter made by Tillamook, a farmer-owned dairy cooperative based on the Oregon coast. Basically, if I'm going to commit to dessert — and the extra gym time — it better be worth it."
In her kitchen, there's not a tub of margarine or block of shortening to be found. "They taste terrible," says Centoni. What's worse: "You can't brown them—and brown butter is a reason for living." When butter is heated until the milk solids caramelize and turn a nutty brown, you end up with toffee-scented liquid gold. "It makes everything taste better. I've drizzled it on green beans and steak, mixed it into pancakes, spooned it over crepes."
Most recently, brown butter inspired Centoni to create a soft and chewy oatmeal cookie that's a caramel lover's dream. "The brown bits in the butter gave the dough a distinct butterscotch flavor. As soon as I tasted it I knew I had to go over the top with some chopped toffee candy."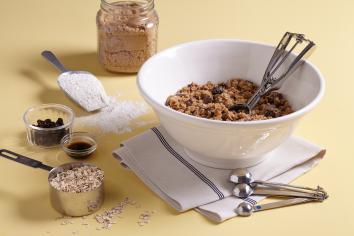 As a working mom—even one whose job is to cook—Centoni admits that getting dinner on the table every night is a challenge. To stack the deck against falling into the take-out trap, she's learned to stock the fridge with an abundance of high-quality, go-to ingredients. Knowing the care that went into producing the food inspires her to come up with meals that make the most of it. "If you start with the freshest, most flavorful ingredients," she adds, "you're already halfway there."
_____________________________________________________________________________________
Toffee-Brown Butter Oatmeal Cookies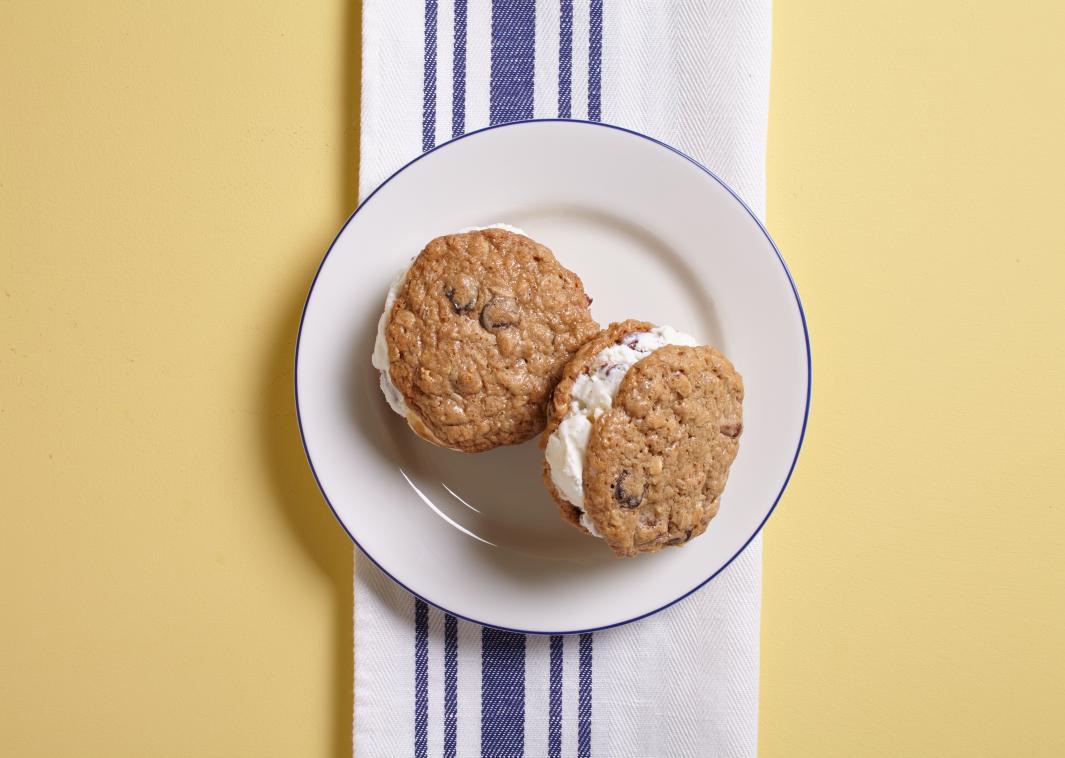 "I'm always on the lookout for ways to use to use brown butter, which is how I came up with these cookies. Using melted butter results in flatter, softer cookies (as opposed to fat and cakey) that are perfect for ice cream sandwiches. They're addictive on their own, but they're incredible with a scoop of vanilla or cinnamon ice cream sandwiched in between. If you really want your knees to buckle, reach for Tillamook Caramel Butter Pecan."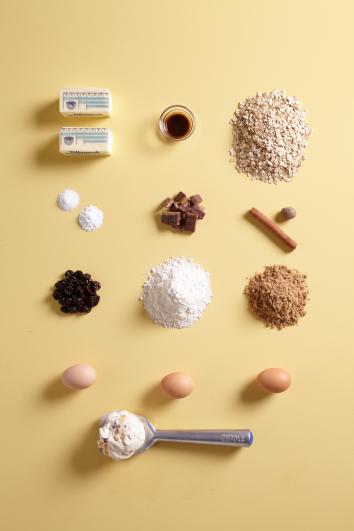 The ideal ice cream sandwich requires a soft cookie, so the ice cream doesn't squish out the sides with each bite. Made with molten brown butter, molasses-rich brown sugar, dried cherries and an extra egg, these are the perfect texture.
Preheat oven to 350 degrees. Line two rimmed baking sheets with parchment paper.
1 cup (2 sticks) Tillamook Unsalted Butter
1 ¾ cups packed dark brown sugar
1 ½ teaspoons vanilla extract
1 ½ cups all-purpose flour
1 teaspoon baking powder
1 ½ teaspoons ground cinnamon
1/8 teaspoon ground nutmeg
1 teaspoon salt
3 cups rolled oats
3 large eggs
3 toffee candy bars, 1.4-ounces each (such as Heath), chopped into ¼-inch pieces (1 cup)
1 cup dried cherries
Set a medium sauté pan (with a light-colored interior) over medium heat. Add the butter and heat until melted and foamy. Continue cooking, stirring occasionally with a rubber spatula to keep the milk solids from sticking to the bottom of the pan, until solids are dark amber. Remove from heat and pour the butter and solids into the bowl of a stand mixer. Add the brown sugar and vanilla, and allow to cool for 5 minutes.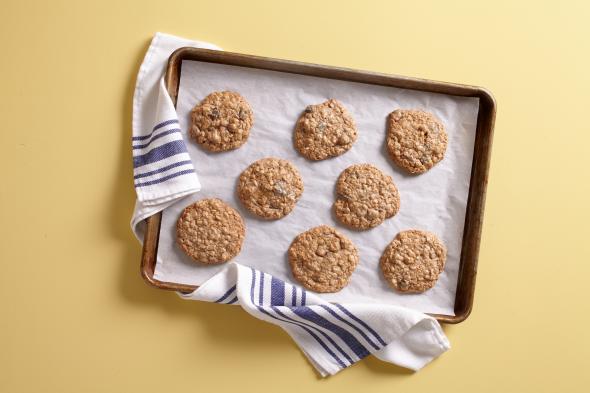 In a medium mixing bowl, whisk together the flour, baking powder, cinnamon, nutmeg, salt and oats.
Place the bowl on the stand mixer and beat the butter and sugar on medium speed until blended, about 1 minute. Add the eggs, one at a time, beating well after each addition. Reduce speed to low and add the dry ingredients, mixing just until combined. Stir in the toffee bits and cherries.
Arrange two-tablespoon-size portions of the dough 2 inches apart onto the prepared baking sheets. (You should be able to fit 8 per sheet. If the dough has been refrigerated, flatten the mounds with the palm of your hand.) Bake in the upper and lower thirds of the oven until cookies are beginning to brown around the edges, about 15 minutes, rotating baking sheets from top to bottom and back to front halfway through. Transfer to wire racks to cool.
To make ice cream sandwiches: Scoop about 1/3 cup of ice cream onto the underside of a cookie, then top with another cookie. Freeze sandwiches until ice cream is firm, about 30 minutes.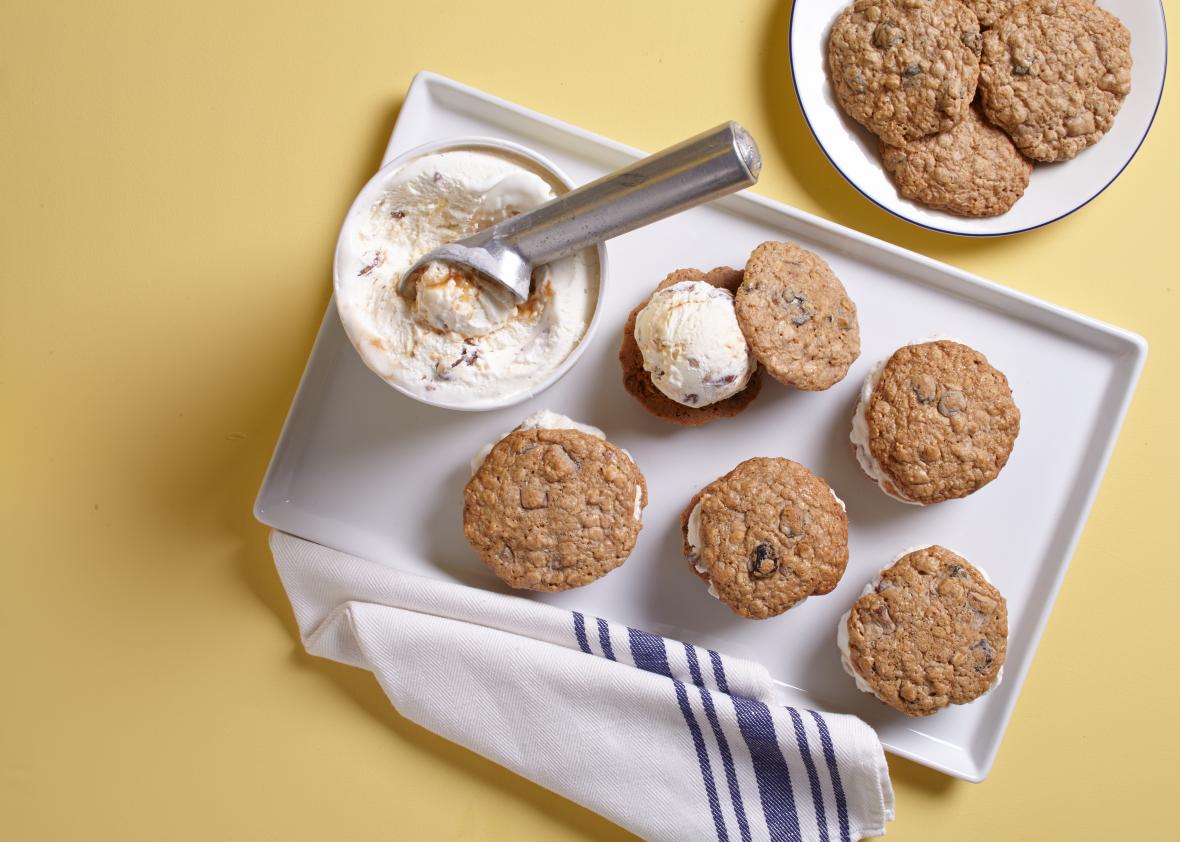 _____________________________________________________________________________________
Tomato-Vegetable Soup with Cheddar Cheese Dumplings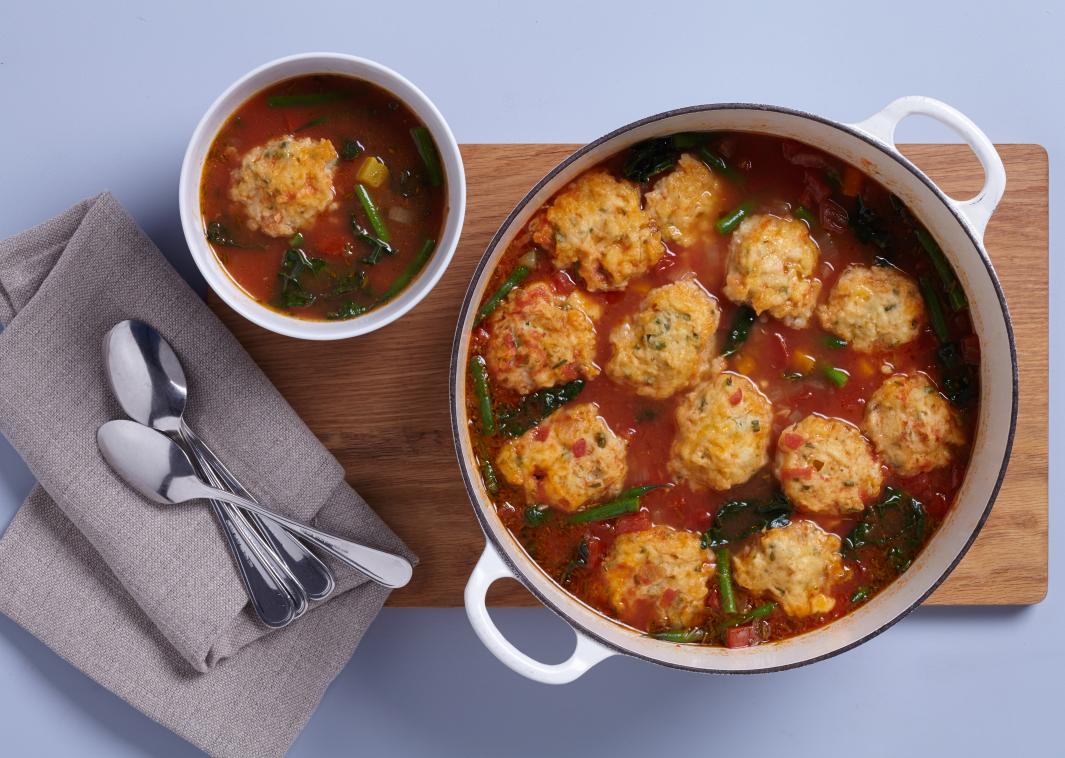 "Tomato-based soups are my all-time favorite weeknight dinners. They're fast, healthful, and I can use up whatever leftover vegetables I have laying around. In spring it might be peas, carrots and radish tops. In summer, corn and zucchini take a star turn. When the weather cools, it's all about winter squash and kale. Plus, the soup gives me the perfect excuse to make a quick batch of cheddar cheese dumplings that cook right in the broth."
This hearty soup with fluffy dumplings features the classic flavor pairing of tomatoes and cheddar cheese. Tangy buttermilk both lightens the dough and enhances the dumplings' cheesy flavor. Each one is stuffed with a nugget of cheddar that melts as it cooks.
1 tablespoon olive oil
1 large yellow onion, diced
1 cup peeled, diced carrots (about 2 medium-sized carrots)
3 cloves garlic, minced
4 cups diced tomatoes (about 4 large, or 2 15-ounce cans)
6 cups chicken or vegetable broth
½ teaspoon smoked paprika
1 tablespoon chopped fresh rosemary
1 bay leaf
1 teaspoon salt, plus more to taste
1 1/3 cups all-purpose flour
1 1/2 teaspoons baking powder
1 teaspoon salt
1 teaspoon dry mustard powder
2 tablespoons cold Tillamook Unsalted Butter, cut into cubes
½ cup buttermilk
1 large egg
4 ounces Tillamook Sharp Cheddar Cheese, half grated, half cut into 12 small cubes
¼ cup chopped fresh chives, plus more for garnish
1 1/2 cups diced delicata squash (about 1 small)
2 cups chopped kale leaves
¼ pound green beans, trimmed and cut into 1-inch pieces (about 1 cup)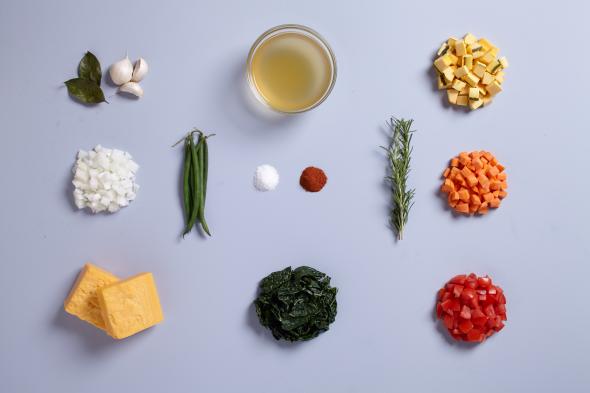 To make the soup: Set a large, 8-quart soup pot or Dutch oven over medium-high heat. Add the olive oil, onion and carrot. Sauté, stirring occasionally, until onion is softened and translucent. Add the garlic and sauté until fragrant, 1 minute more. Add the tomatoes and their juices, stirring to scrape up any browned bits from the bottom of the pot. Stir in the broth, smoked paprika, rosemary, bay leaf and salt. Taste and adjust seasonings if desired.
Bring to a boil, reduce heat to medium-low, cover and simmer for 10 minutes to allow the flavors to meld while you make the dumplings.
To make the dumplings: In a medium mixing bowl, combine the flour, baking powder, salt, and dry mustard. Cut in the butter with a pastry cutter or fork until reduced to pieces the size of coarse cornmeal. In a separate bowl or large measuring cup, beat the buttermilk and egg together. Stir the liquid ingredients into the dry until just combined. Stir in the grated cheese and chives.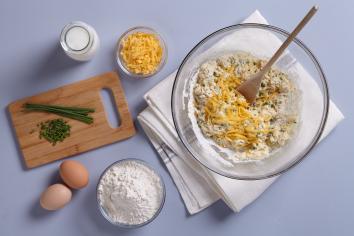 Use a tablespoon to scoop up 1 rounded portion of the dough. Insert a cube of cheese in the middle and top with a little more dough to enclose the cheese. Scrape the dumpling out onto a lightly floured cutting board and repeat with the remaining dough and cheese cubes. You should have about 12 dumplings.
Stir the diced squash, kale and green beans into the soup. Increase heat to medium-high and bring back to a simmer. Evenly arrange dumplings on top of the simmering soup, cover, and allow dumplings to poach for 12 to 15 minutes until cooked through.
Divide soup between 6 bowls, garnish with chopped chives and serve.