Published by

Your Lawn Wasn't the Only Victim of the Drought
Discover its effects on dairy farmers and the price of your milk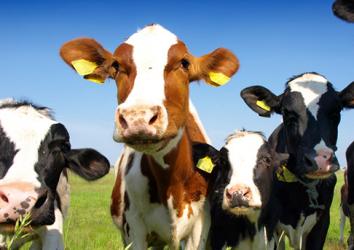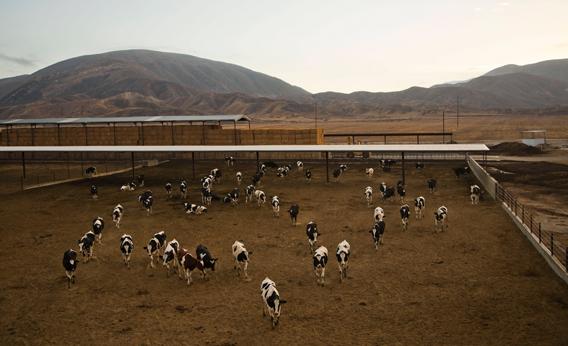 Jim Davenport fell in love young. But unlike other teenage boys of the 1970s, he wasn't consumed by imported rock and roll, blonde beauty Farrah Fawcett, or the dream of following in Neil Armstrong's lunar footsteps. When he wasn't in school, Jim worked alongside his grandfather and father on their dairy farm in Litchfield, Conn., enamored by the prospect of one day owning his own herd of milk cows.
Now 52, Jim has earned an animal science degree, married University of Connecticut classmate Karen, and settled on a farm just 2 miles west of the three-way intersection of the New York, Connecticut, and Massachusetts state lines. He and Karen have two barns and 140 acres of grasses and corn. With just 130 cows, their dairy, Tollgate Holsteins, produces 1.7 million pounds (about 204,000 gallons) of milk per year, enough protein to meet the recommended daily allowance of 1,250 people for an entire year.
But this picturesque small dairy—the one Jim ignored Zeppelin, Farrah, and a million other distractions for—is facing an unprecedented financial crisis. Across the country, dairy farmers are swimming in red ink. And though it's not the first time the market's turned sour—in 2009 rock-bottom milk prices forced hundreds of farmers out of business—this year things are even worse. If being a dairy farmer were like riding a roller coaster, 2009 was the loop-de-loop. This summer's drought was the gut-wrenching vertical drop.
The 2012 drought was the worst in a half-century, affecting more than half of the counties and 60 percent of farms in the United States. The corn and soy crops were especially hard hit. At the end of the May planting season, just 3 percent of the corn crop was expected to be poor or very poor; by the third week in September, it was 51 percent. The USDA now predicts that American farmers—corn suppliers to the rest of the world—will harvest 13 percent less corn and 14 percent less soy than last year. If they're right, it will be the lowest corn yield since 1995. Pasture lands are also parched. In May of this year, the USDA rated 19 percent of American pasture lands as poor or very poor; by late September, that amount had nearly tripled.
At first glance, it might seem that a drought would be bad news for grain producers. However, some grain farmers' losses are covered by crop insurance, and because emerging middle classes around the globe are demanding more food, feed, and fuel, grain producers are effectively collecting a scarcity premium. The price paid to corn farmers rose from $6.07 per bushel in January to $7.63 per bushel in sun-scorched August. Soy growers' prices rose from $11.90 per bushel to $16.20 over the same period.
The farmers whose livelihoods are on the line are the ones who raise grain-fed animals. Across the country, dairymen and dairywomen are searching desperately for the cheapest, highest-quality grain and grass in America. Two hours north of Wall Street, Jim Davenport and his wife buy soy and corn to supplement the feed they grow on their farm. Last month, they paid $669 per ton for soy-based protein supplements and $446 a ton for distiller's grain, a by-product of corn ethanol production. Five years ago, Jim said, those rates would have been closer to $280 and $180 per ton, respectively.
The problem is, milk prices haven't risen to meet the ballooning input costs. Dairy producers are "price takers": That is, they don't set the price for the goods they sell. Instead, they operate under complex federal and state pricing systems, which means that it takes months for milk prices to respond to the market. In the meantime, farmers can't pass any of their excess costs onto the companies that buy and process their milk. This August, farmers received an average of $17.80 per 100 pounds (or about 12 gallons) of milk, but the USDA estimates that dairy farmers' total production costs—including feed, labor, and overhead—averaged $28.04 per hundredweight. This means farmers had to cut their costs by finding new efficiencies and innovations on the farm, letting workers go, or reducing their herd size—or they could watch their bank accounts hemorrhage savings.
Nearly 2,000 miles due west of Jim and Karen Davenport's spread, dairyman Chris Kraft is in a similar financial crunch. He and his wife, Mary, own the Badger Creek and Quail Ridge dairies in Fort Morgan, Colo. The Krafts grew their operation from 240 to 11,000 cows and acquired 1,000 acres of farmland where they grow corn and alfalfa for their black and whites. Despite this expansion, their farms still have the down-home character of a family-run operation. Chris keeps careful watch from his iPad-enabled "mobile office," a gray and black GMC pickup truck. The Krafts' 21-year-old son, Stratton, is back from college, learning the business end of the family trade.
Like the Davenports', Chris and Mary's expenses have grown by as much as 30 percent, while milk prices have barely gone up. "I have never paid this much for feed," Chris said. He needs to bring in somewhere between $18 and $19 per hundredweight of milk just to break even, but for the past several months, he's gotten $16 or $17. Chris tried to put the financial reality in terms a cubicle-dweller could appreciate. When farm costs exceed revenues, he said, it's like going to work every day, including on weekends, for no pay. In fact, it's like paying your boss to let you put in 15-hour days.
Luckily, America's dairy producers are a hardy bunch. Asked if the drought had changed his long-term plans, Jim Davenport laughed. "I'm too stupid to quit," he joked. "You've really got to love it to work for this pay." Despite starting his days at 3 a.m., Jim enjoys being his own boss. Besides, he says, "you can eat lots of chocolate without gaining an ounce; you work it off on the farm." And he's proud to contribute something tangible to the economy.
Chris Kraft is holding fast to his farm and the life he and Mary have built for their children. He hopes the drought will bring attention to the difficult work of producing milk and will inspire customers to "think behind the shelf ."
But for penny-wise shoppers, the drought's effect on the prices of our yogurts, cheesy pizzas, and gourmet coffee creamers cannot be ignored. In the first half of 2012, the average price of a gallon of whole milk actually fell by 18 cents, to $3.40. Between June and September the price increased by just 7 cents. The USDA predicts that milk prices will continue to rise and consumers will feel the effect at the supermarket by early 2013.
The higher retail price of milk won't ease the pressure on dairy farmers, who will continue to suffer the effects of the drought for months to come. Fear not, though, these farmers are committed to their way of life; to providing nutritious, safe food to a growing population; and to taking care of the land they've inherited. Their dedication makes it possible for those farm kids, who today can't see themselves as anything but future dairy farmers, to pursue the passion they learned from their parents and grandparents.
In our global economy, a problem for one is often a problem for all. Does this summer's drought have international implications? And if times are so tough, how are American dairy farmers managing to survive and thrive? Stay tuned for the next articles in "Behind the Shelf: How the Drought Is Affecting Dairy."